WATERFALLS AND WATER FEATURESby Kuert Outdoor Living

There is almost nothing more calming and beautiful than water. Whether it shoots into the air from a fountain, cascades down rocks from a waterfall; or even enhances your surroundings with the stillness of pools and ponds. Regardless of how you achieve it, if you want to beautify your home or business, just add water as a wonderful element to enhance those areas. Waterfalls, water fountains, ponds and man-made water features always add beauty, serenity and value to your home. The professionals at Kuert Outdoor Living understand the significance of water features and they work with people to help them discover the water features that will best meet their needs and enhance their lifestyles. So check out some of the water options below, use your imagination... and if you need assistance we recommend that you call the professionals at Kuert Outdoor Living… and let them help improve the quality of your life!
Rockwood
Not everyone can live on a quiet lakeshore, but anyone can enjoy the calming sound of water on their backyard patio. Waterfall kits are easy to build and essentially maintenance free. These above-ground designs are ideal when in-ground ponds and waterfalls are not suitable. Waterfall kits easily blend with other Rockwood pavers and wall block systems, and include all plumbing/connections. Electric service to the waterfall feature is required. Available in Desert, Bluestone and Santa Fe colors.
Compact Waterfall Kit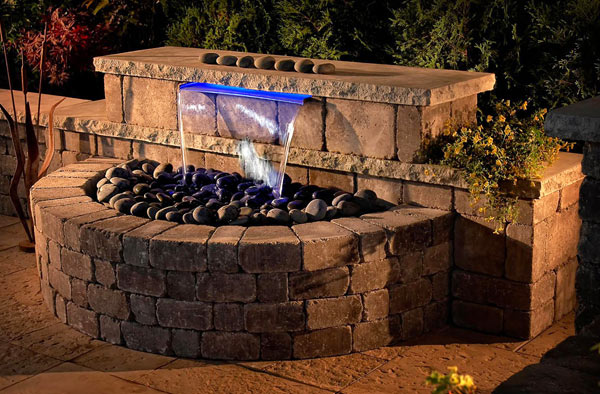 Grand Waterfall Kit

For more information click here.
Rosetta
Outcropping Retaining Wall Block
Rosetta Outcropping is perfect for any water feature designed with the look of a stream found in a natural setting. With the dependability of a manufactured wetcast concrete product, they'll stand up against any environmental condition. From a simple cascade style waterfall to an elaborate natural setting, to an elegant, dramatic layout with lighting, Outcropping from Rosetta adds the "Wow" factor to your water feature design.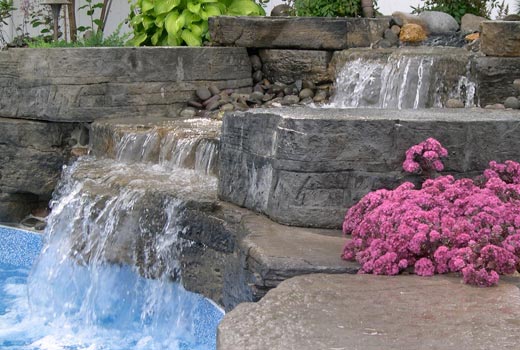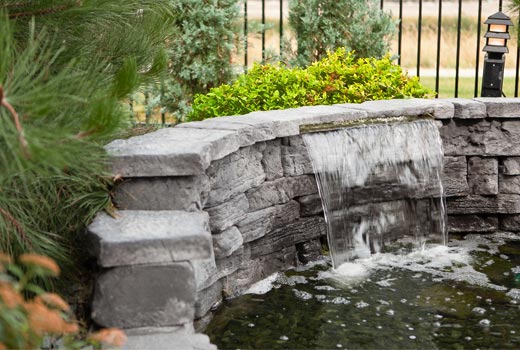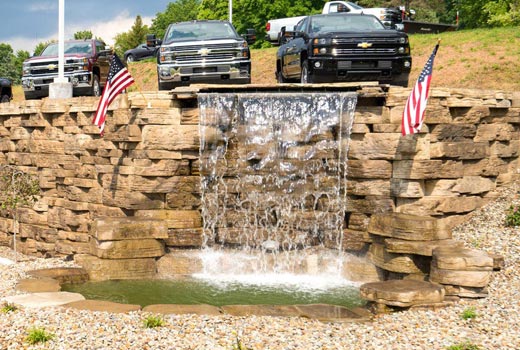 Use Outcropping for other retaining walls to tie into your water feature, giving the whole landscape a cohesive, natural appearance.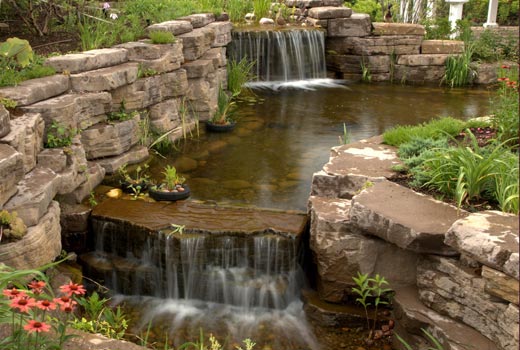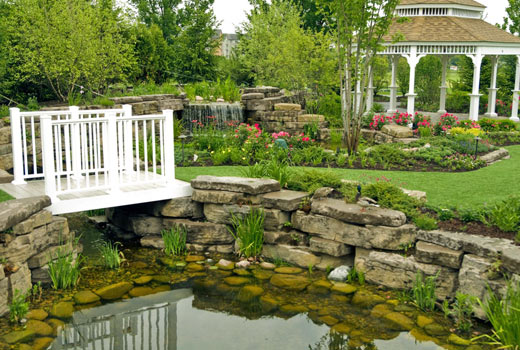 Rosetta Outcropping is available in the following colors.


If your imagination has begun giving you some ideas for your backyard – or even your business property – or you want to see more, call or visit the creative professionals at Kuert Outdoor Living… and let them help you get your ideas into the real world of improved outdoor living for you. Clicking any of the links below will help get you started!
Grills & Accessories
Fire Features - Fire Pits & Fireplaces
Outdoor Kitchens & Outdoor Living SpacesOutdoor Furniture, Canopies & PergolasPavers & EdgingRetaining Walls & Free Standing WallsLandscape Supplies & Landscape ToolsConcrete & Concrete Tools

Or visit the Kuert Outdoor Living Showroom at
KUERT OUTDOOR LIVING
2129 W. Wilden Avenue, Goshen, Indiana
574.312.7557


KUERT SUPPLY CENTER
3113 Lincolnway West, South Bend, Indiana
574.239.0058


KUERT CONCRETE
3402 Lincolnway West, South Bend, Indiana
574-232-9911
1101 W. 13th Street, Rochester, Indiana
574-224-2414
18370 U.S. 20, Goshen, IN 46526
574-293-0430
155 West CR600 North, Warsaw, IN 46582
574-453-2340