OUTDOOR KITCHENS
AND OTHER OUTDOOR LIVING AREASBy Kuert Outdoor Living
There is nothing like outdoor living when it comes to adding days to your spring, summer and fall seasons, to entertaining family, friends and co-workers or for beautifying your backyard. All of this while adding value to your home at the same time. Outdoor Kitchens, Outdoor Patios, Outdoor Fireplaces, Outdoor Fire Pits, gorgeous Patio Walkways lined by flowers, grasses and plants... it all adds up to great experiences right at home and more enjoyable times with those you care most about.
If you are in the market for more enjoyable outdoor living, then there is certainly one local company that can help you achieve your goals and that's Kuert Outdoor Living. They have virtually everything you need to turn your backyard into your own personal paradise.

Check out some of the products and supplies below. They may stimulate some ideas to make your outdoor kitchens or other outdoor living areas come to life.
KUERT OUTDOOR HARDSCAPE BRANDS
FOR CREATING BEAUTIFUL OUTDOOR KITCHENS AND OTHER MAGNIFICENT OUTDOOR LIVING AREAS







County Materials Outdoor Living Ideas
by Kuert Outdoor Living


Small Space = Intimate Moments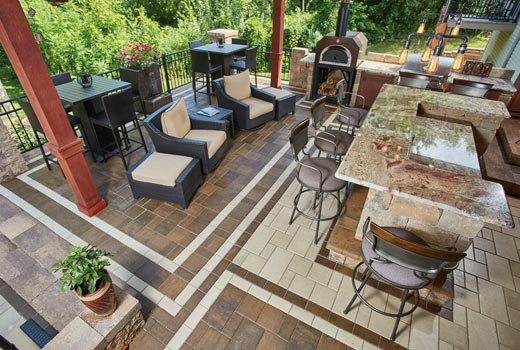 Here's a great design for a limited space, that includes all the essentials for an outdoor meal, entertaining friends or just a relaxing evening.
Products Used: Summit Stone Landscape Units, Tribute Retaining Wall, Crest Bullnose Pavers and Elements Paving Stones.
Patio With Cafe Table, Fire Pit and Kitchen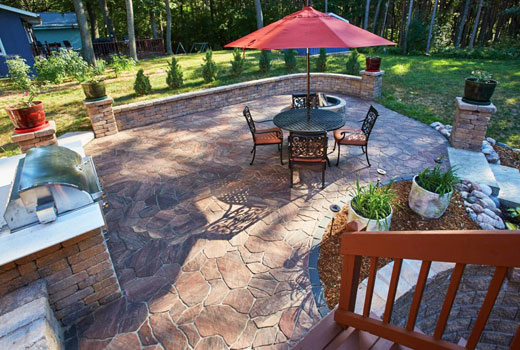 A perfectly peaceful setting should have all the necessary elements for a relaxing afternoon or evening with family and friends.
Products Used: County Block Retaining Wall, Destination Pavers, Summit Stone Landscape Units, Oversize Landscape Step Units.
The All-In-One Outdoor Living Area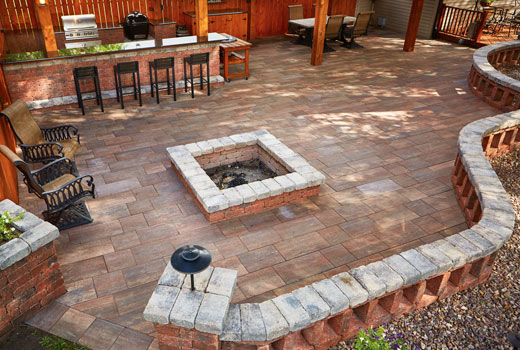 This beautiful patio has it all. The outdoor kitchen and living space includes a dining area, grilling appliances and bar area, as well as a fire pit, seat walls, lighting and space for additional furniture.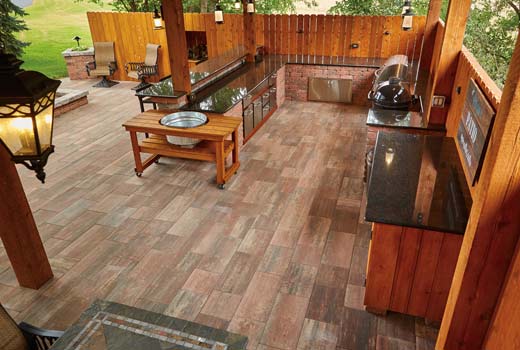 The walls and all the kitchen enclosures are constructed of Summit Stone and the pavers are Grand Milestone.
Lakeside Masterpiece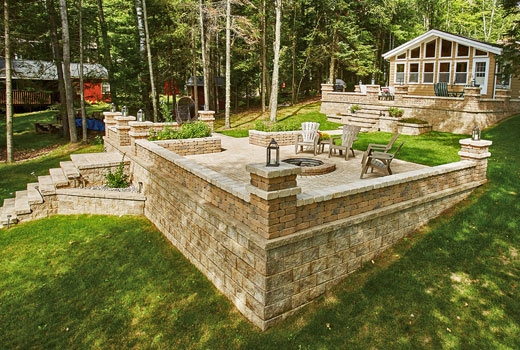 Built for relaxation, large gatherings, and to offer an unbeatable lake view, this backyard patio ties together many hardscape features that are great ideas for patio upgrades. Consisting of two main levels, the first level, closest to the house was designed for outdoor dinner parties. The second level, designed around a fire pit, is lower, since the property slopes to the lake.
Products Used: Elements Pavers Tumbled, Summit Stone Seatwalls, County Block Retaining Wall Units.
For more information about County Materials products available at Kuert Outdoor Living Centers click here.


Reading Rock Block Outdoor Living Ideas
by Kuert Outdoor Living


Reading Rock offers many styles of freestanding wall block, wall caps, pavers and edgers to help you create exactly the style outdoor living space you're after.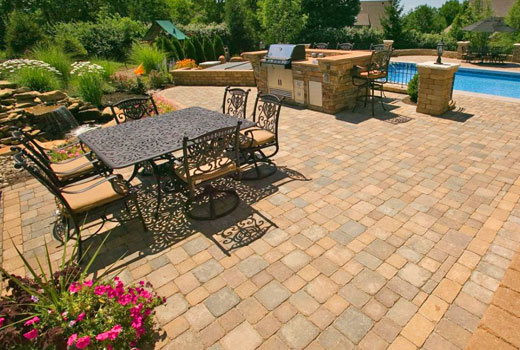 Oxford Tumbled pavers create a traditional look that is timeless and inviting. They can be used individually or in a combination of three distinct shapes to create various patterns and add beauty to sidewalks, patios and courtyards. Here they are combined in three sizes to connect walls and columns of Bedford Tumbled wall block.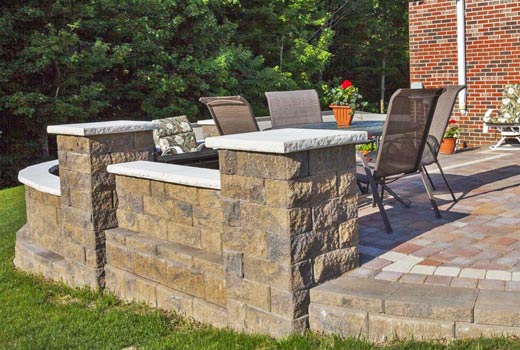 Even a small patio area is beautiful when designed with AB Courtyard wall block in Hickory Blend color and paired with Oxford Tumbled Pavers in one of the Blended Colors such as Hampton Blend or Heritage Buff.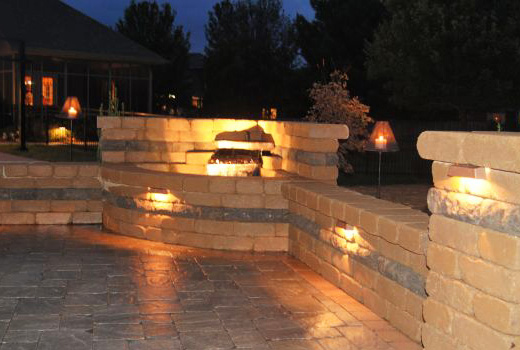 This inviting corner of a patio utilizes Bedford Tumbled wall block with Riversedge accent block and Oxford Non-Tumbled Pavers to beckon you to sit awhile and enjoy the sight and sound of gently falling water.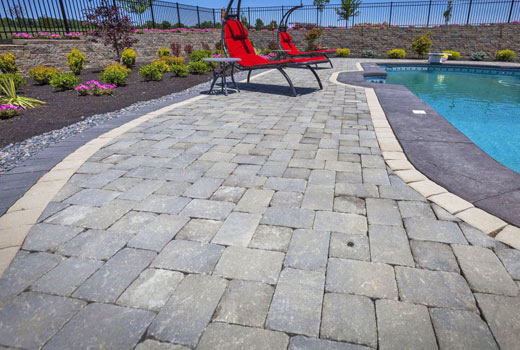 Nothing says "old world" quite like the look and feel of weathered and worn Coldstream Pavers, for a comfortable, relaxed atmosphere around your backyard pool.

For more information about Reading Rock materials available at Kuert Outdoor Living Centers click here.


Rockwood Outdoor Kitchen Kits
by Kuert Outdoor Living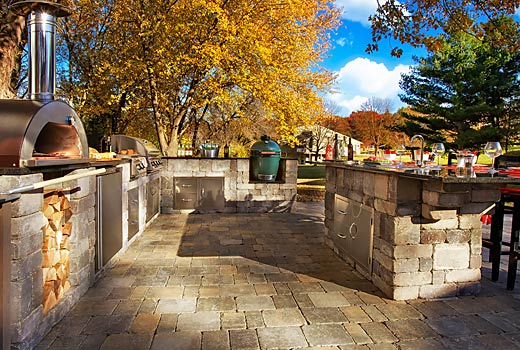 These affordable, ready-to-assemble outdoor living kits come complete with everything needed to build on a properly prepared base. Each kit includes easy-to-read, step-by-step instructions, concrete adhesive, construction gloves, precut block and steel reinforcements when required. Kit components (grill & fireplace inserts, doors, etc.) are sourced from manufacturers with decades of experience in outdoor applications. Like Rockwood's world-renouned retaining wall products, these outdoor living kits are known for their appearance, dependability and efficiency. The kits feature Rockwood Retaining Walls' multi-piece, tumbled Lakeland wall block. Its linear design and aged appearance fit well in landscapes of any style or decor.
Grand Island Bar & Grill Kit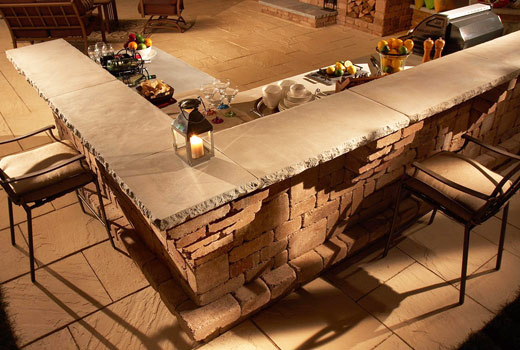 For outdoor living enthusiasts who love cooking and entertaining, the Grand Island Bar/Grill series is a wonderful addition to your home's backyard. What better way to spend time with your friends and family, relaxing and cooking in your own unique outdoor living area. The Grand Island Bar Series is modular, making it easy to design and build large kitchen and entertainment areas. Available in Santa Fe, Desert, or Bluestone colors plus Indiana Limestone Mantels.
The full kit is customizable and following are some of the optional components.
Grill Surround Module Kit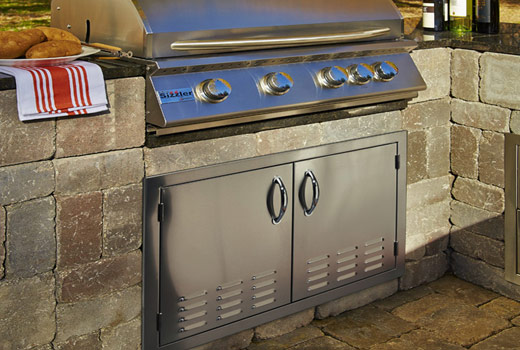 For use with standing grills, 60" opening
4" foot rail, 96" W x 18" top bar, 18" W x 30" side tops
2.25" H Silver Creek chiseled edge wet cast tops


Island Cabinet Kit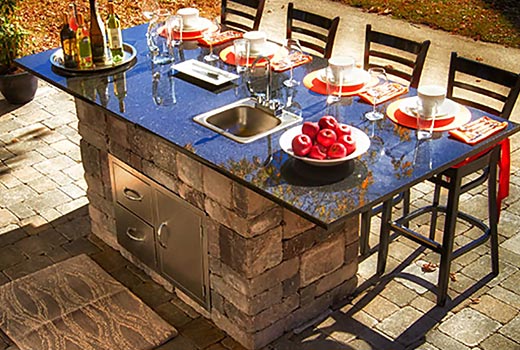 The Island cabinet is the centerpiece of your outdoor kitchen. It's large enough to seat six adults and has over 28 sq. ft. of surface for prep, dining and entertaining. The center storage area comes with two stainless steel drawers and a single door. Available with or without the sink.
Two easy-glide stainless steel drawers and magnetic close door
Choice of granite and cabinet color
DIMENSIONS:
Island: 65" W x 32.5" D x 37" H
Top: 90" L x 45" W


Prep Center Cabinet Kit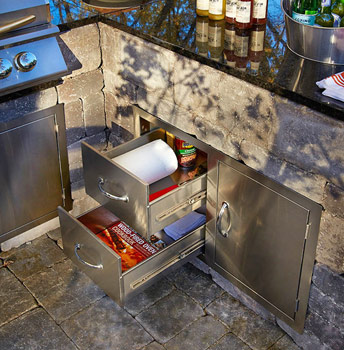 Summerset doors and drawers offer attractive, easy to install flush mounting hardware. Doors feature magnetic latches to keep them closed, secure and orderly.
Two easy-glide stainless steel drawers and magnetic close door
Choice of granite/cabinet colors
DIMENSIONS: 48" L x 28" W x 37" H


Side Burner Cabinet Kit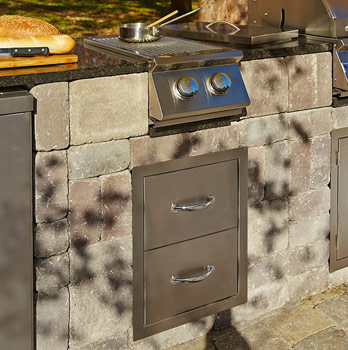 Combine the comfort of an indoor kitchen range with all the benefits of being outside. Specially designed for performance and function, Summerset's double side burner is the perfect addition to your outdoor kitchen. Summerset drawers are completely enclosed to protect against animals and insects.
#304 stainless steel construction
Push-to-turn knob ignition
Easy-glide, enclosed stainless steel drawers
24,000 BTU solid brass burners
19.5" x 10.5" cooking surface
Protective stainless steel cover
Choice of granite/cabinet colors
DIMENSIONS: 32" L x 28" W x 37" H
Smoker Cabinet Kit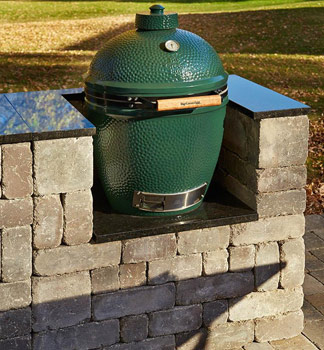 DIMENSIONS: 40" W x 28" D x 37" H
24" W x 24" D opening
Choice of granite/cabinet colors
Compact Bar Kit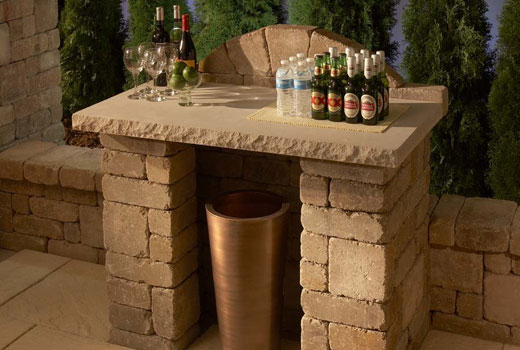 What better way to spend time with family and friends, relaxing and entertaining in your own outdoor living area. The four foot wide Compact Bar is ideal for any outdoor living room, large or small. Whether you're hosting a large gathering or a small get together, you will appreciate the extra countertop space for serving beverages, snacks, and hors d'oeuvres. Can be built with closed or with a 20" wide open front (pictured aboe). Available in Santa Fe, Desert, or Bluestone colors.
Compact Bar Base:
44" x 24" x 47.5" H
Top: 48" x 24" x 2.25" plus decorative backsplash
Pub & Bistro Table Kit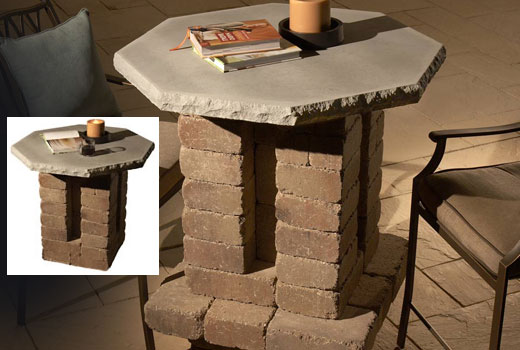 You'll never again have to worry about storing your furniture during bad weather or over the winter. Every outdoor dining and living room needs to include functional and attractive furniture and these tables are easy to maintain, will never blow away in a storm and will outlast all others. With this kit you can build either one Bistro Table or one Pub Table.
DIMENSIONS:
Bistro Table Base: 20" x 20" x 30" H
Octagon Top: 36" x 36"
Pub Table Base:
20" x 20" x 30" H with 4" Footrail on all sides
Octagon Top: 36" x 36"
Other modules and options are available. See your Kuert Outdoor Living Center and talk to a knowledgable Outdoor Living Expert.


For more information about Rockwood Retaining Wall products available at Kuert Outdoor Living Center click here.







Rosetta Outdoor Kitchen Ideas
by Kuert Outdoor Living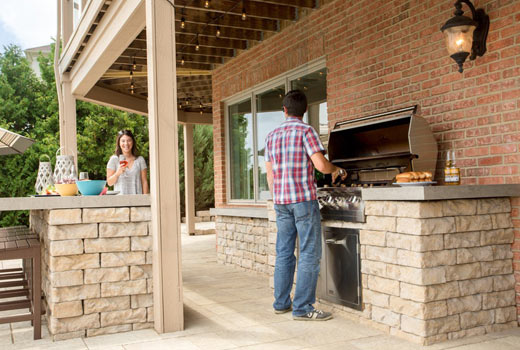 An outdoor kitchen can smooth out the transition between preparing a meal and enjoying it with friends and family on the patio. Products shown here are Dimensional Wall block and Dimensional Flagstone pavers.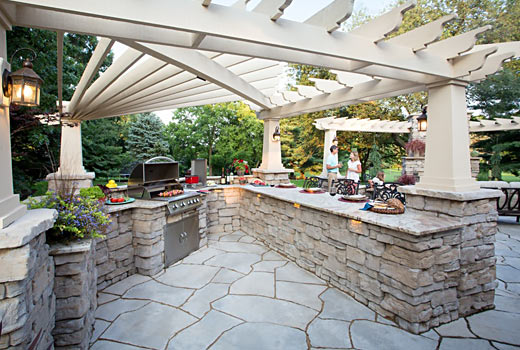 For a casual outdoor living space design with lots of natural texture you can't do better than Rosetta Belvedere Wall block and Grand Flagstone pavers.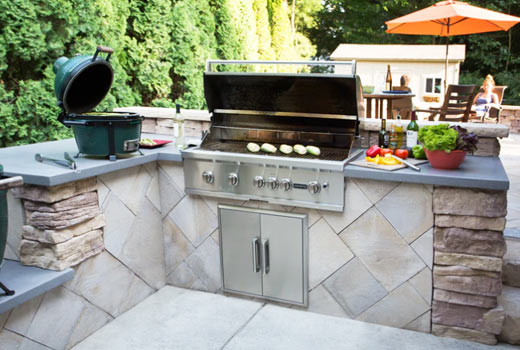 It's easy to enjoy the outdoors when you can fix dinner in the fresh air of a patio kitchen and then enjoy that dinner in your fresh-air dining room! Products shown are Belvedere Wall block and Linear Flagstone.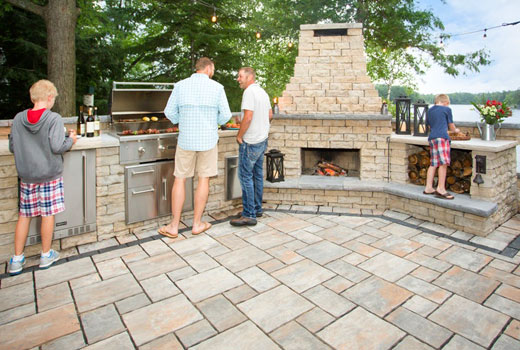 Dimensional Walls are adaptable so you can use them as stone appliance surrounds or even a fireplace. Complemented nicely by Dimensional Flagstone.
For more information about Rosetta Walls, Steps and Accents available at Kuert Outdoor Living Centers click here.

Check out all of these pavers, wall blocks, kits and accessories plus everything else you'll need to build the Outdoor Living Space of Your Dreams at Kuert Outdoor Living Centers.

Grills & AccessoriesWater Features & WaterfallsFire Features - Fire Pits & FireplacesOutdoor Furniture, Canopies & Pergolas
Pavers & EdgingRetaining Walls & Free Standing WallsLandscape Supplies & Landscape ToolsConcrete & Concrete Tools

Or visit the Kuert Outdoor Living Showroom at
2129 W. Wilden Avenue, Goshen, Indiana
574.312.7557
KUERT SUPPLY CENTER
3113 Lincolnway West, South Bend, Indiana
574.239.0058
KUERT CONCRETE
3402 Lincolnway West, South Bend, Indiana
574-232-9911
1101 W. 13th Street, Rochester, Indiana
574-224-2414
18370 U.S. 20, Goshen, IN 46526
574-293-0430
155 West CR600 North, Warsaw, IN 46582
574-453-2340