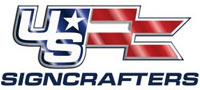 US Signcrafters
The Highest Quality, Most Affordable, Most Creative Signs... You'll Ever Find.
Looking for a new image? Looking to bring more traffic into your business? Looking to make it easier for customers to find you? Maybe you're simply changing your brand. Whatever your intention, US Signcrafters, Inc can assist you by providing you with high quality signage that stands out from the crowd. In fact, when it comes to custom signs, US Signcrafters has been delivering the highest quality, most effective signage in Michiana for just about 3 decades. Most importantly, US Signcrafters have put an emphasis on value... and that has helped them stand out from all other sign manufacturers in the northern Indiana, southern Michigan marketplace.US Signcrafters actually started out as a small local sign and graphics provider in 1991, However, today they have grown to become a leading source of visual solutions when it comes to brand and image. The company offers a substantial variety of products and professional services and they have the ability to provide their products for customers in the local, regional, national and even international markets.



Growth & Diversity... Benefits the Customer
The company has certainly diversified over the years and in fact, now operates under two divisions, US Signcrafters which focuses on developing unique and effective custom signage as well as fulfilling the graphic needs of their customers. The other division, Building Impressions, provides customers near and far with custom architectural fabrication. Both of these divisions have unique advantages, products and services that make the collective efforts nearly unbeatable.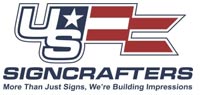 U.S. Signcrafters, Inc. concentrates on the high end, creative and clever design, fabrication, installation and service of custom signs. Their graphics always seem to be spot on according to the developers, architects, builders and agencies they work with. They have a laser focus on applications within corporate, retail, commercial, industrial and institutional signs. In addition to all of that, as a service to their customers, US Signcrafters offers large format digital printing, banners, and vehicle graphics.


Building Impressions is the specialty fabrication division of the company which inevitably provides concepts, designs, creative ideas and final productions for building accents as well as for those areas of their customer's buildings where they want to to make a strong first and lasting impression; This includes specific areas of a structure such as the building's facade, entry or foyer, or maybe a lobby. Anywhere the customer wants to make a statement. Building Impressions has an exceptional reputation with not only building owners but their architects, designers and builders as well.
Why Two Divisions / Companies Are Better Than One
The management at US Signcrafters made a very conscious decision to develop a second division and keep the two independent in thinking and approach. They strongly believe that by having 2 divisions with separate abilities and purposes keeps the company diverse, laser focused and better able to meet different customers needs. "Through our two divisions, our organization provides custom designed and turnkey produced signs, graphics and custom architecturally fabricated components. We aim our resources to arrive at creative visual solutions for your brand and image. Having 2 divisions, both with different abilities and approaches help us do a better job of that. Our reliable reputation was built over the past twenty-five years of being in business with a diverse portfolio of projects that showcase our range of ability and reach through each of our divisions." says Jeff Trenery. "The products and services we provide are put on display with every project. Therefor we understand the effective and aesthetic impressions require quality design and production, both key for long term relationships."
For more information on the 2 companies and the differences between them click here:
https://www.ussigncrafters.com/contact/



The US Signcrafters Difference
Let's start with the fact that experience and knowledge is half the battle. US Signcrafters certainly has the experience considering they have been in business in the Michiana area for over 30 years. And when it comes to experience the US Signcrafters group is nearly impossible to beat, with many of their key players being employed at the company or at other sign companies for decades.
Next is the mission that US Signcrafters holds true to. Listen to the customer, understand their objectives, execute based on those objectives and treat those customers fairly and honestly at all times. This philosophy has not only garnered business for the company but it has kept satisfied customers for years and years.
While these are very significant "Competitive Advantages" in the sign business (or any business as far as that's concerned) those are not the only competitive advantages that US Signcrafters brings to the table as US Signcrafters president, Jeff Trenery, shares. "We focus on innovation, we think that when we innovate we create opportunities to "cut through the clutter" for our customers. By designing, creating and manufacturing unique signage, it in turn makes us unique. Our customers appreciate that and it has helped us build quite a unique portfolio and that has certainly helped to promote and sell US Signcrafters.
The video below shows that by understanding a customer and their objectives US Signcrafters can take the ball and run with it to develop the perfect sign for a customer, in this case Hubbard Hill. This video show the process of actually manufacturing the sign itself.
The US Signcrafters Market Area
While the company has no problem making signs for companies and organizations all over the country, their main market is northern Indiana and southern Michigan. They are very proud to service the following markets:
South Bend, Mishawaka, Granger, Elkhart, Goshen, Syracuse, Warsaw, Nappanee and Bremen, Indiana as well as Niles, St. Joe, Benton Harbor, Berrien Springs, New Buffalo, Michigan
"We actually produce signs not just locally but regionally, nationally and even internationally, but I personally enjoy working with local companies, churches, schools, hospitals and other local organizations", says Steven Tucker, a representative of the company. "I prefer to sit directly across from our customers, face to face, and clearly understand and identify what we can do to help them with their signage needs. That doesn't mean that we don't provide products and professional services for customers at the national and international levels, we do. And we do that very well. However, I enjoy dealing with the local organizations."


The US Signcrafters Products and Services
US Signcrafters offers a vast and diverse arsenal of products and services. What's more, they are always adding to that arsenal to meet customer's ongoing demands and due to the creativity of the business itself. As US Signcrafters has grown, so has their capabilities in signage and manufacturing. Below are some of the company's offerings:
A Frame Signs
Architectural Signs
Awning Signage
Backlit Signs
Cabinet Signs
Canopies
Channel Letters
Commercial Signs
Custom Metal Signs
Dimensional Architectural Signage
Directional Signs
Flag Banners
Flag Mount & Blade Signs
Electronic Message Centers
Entrance Signs
Freestanding Pylon Signs
LED Illuminated Signs
Marquee Signs
Mats & Floor Signage
Monolith & Pylon Signs
Monument Signs
Ornamental Brackets & Posts
Point of Purchase Signage
Pole Signs
Printed Temporary Signage
Reader Boards
Roll Up Banners & Standees
Routed & Blasted HDU & Cedar Signs
Three Dimensional Signs
Vehicle Wraps
Window Graphics
Needless to say US Signcrafters also has a multitude of services and installation abilities; diversity in project management, surveys and code checks and other significant areas in the signage industry.
For more specific information regarding types of signage and availability contact them at (574) 674.5055

The US Signcrafters Portfolio
The US Signcrafters Portfolio is as diverse as it is interesting. It's obvious that their team has a focus on not just quality manufacturing but first impressions as well. Their signage seems to always be creative while meeting the needs of their customers.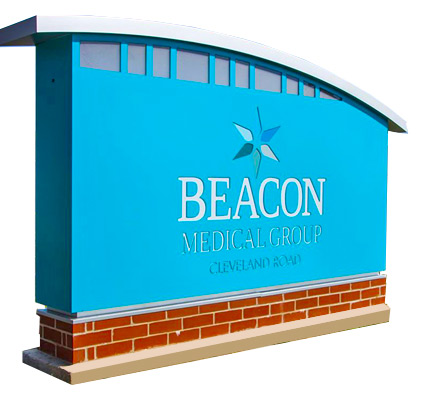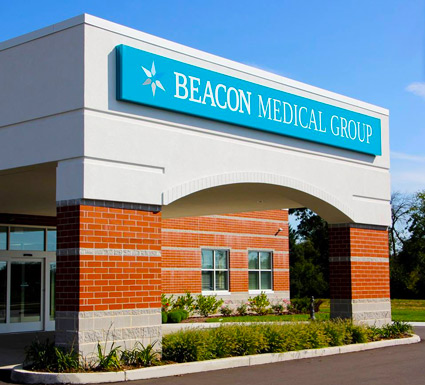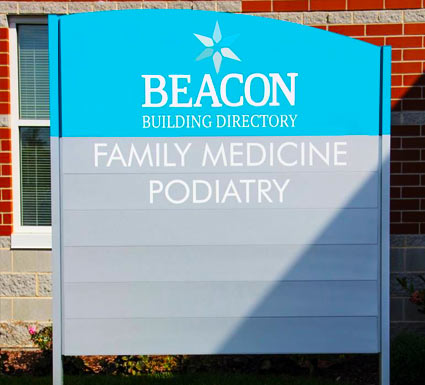 The Beacon Medical Group Signage above represents what a signage campaign can look like if professionally orchestrated. This campaign includes a Monumental sign a cabinet sign and a directional sign.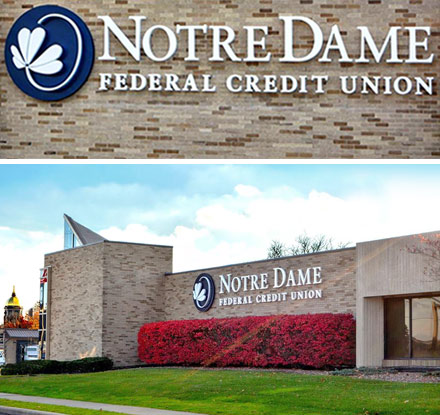 US Signcrafters developed this Notre Dame Federal Credit Union Sign which proudly invites members of the credit union inside. It is bold yet tasteful... just as the customer ordered.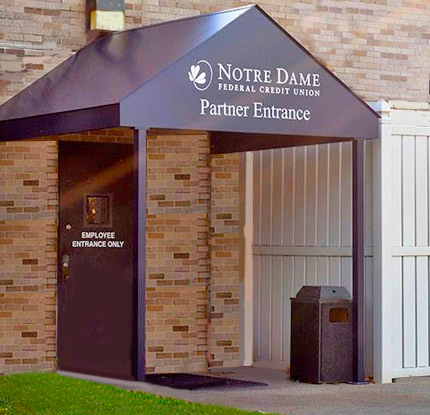 As US Signcrafter customers often do, Notre Dame Federal Credit Union has ordered multiple signs from the company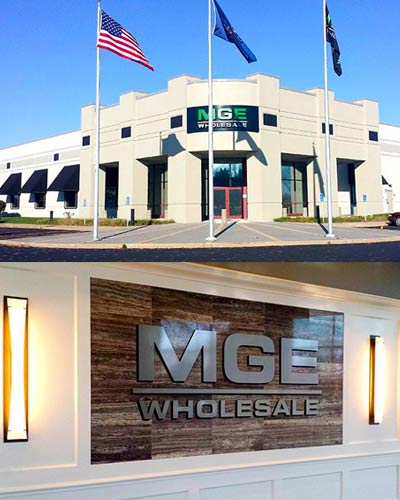 Another example of US Signcrafters customers who order multiple signs is MGE Wholesalers who the versatile sign company manufacture both exterior and interior signs. Both signs are unique in appearance yet they bot are very distinctive and serve their purpose well.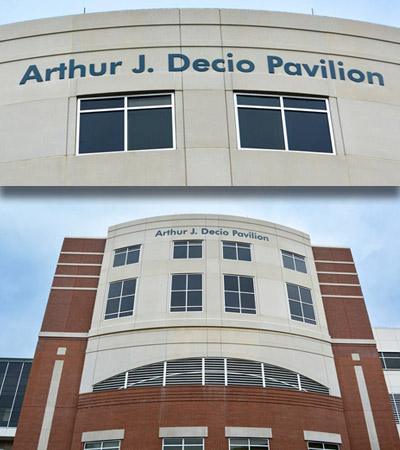 Organiztions large and small commission US Signcrafters to create their signage. In the case above Notre Dame hired the company to produce the Arthur J. Decio Pavilion signage which announces the building to visitors.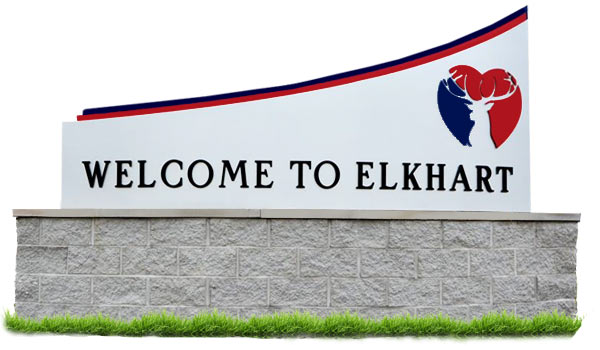 Government Agencies often use US Signcrafters to design and or fabricate signage for them as in this case with a monument sign produced for the City of Elkhart, Indiana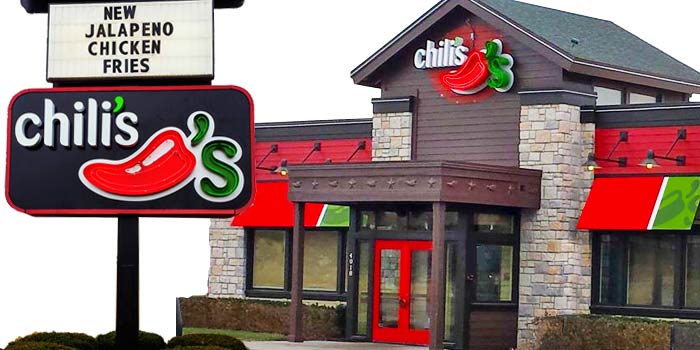 The Chili's Restaurant Signage pictured here includes a pole sign with Cut Out Letters and neon lighting as well as a reader board. On the building US Signcrafters added a channel letter and a logo which also features neon lighting for a double impact.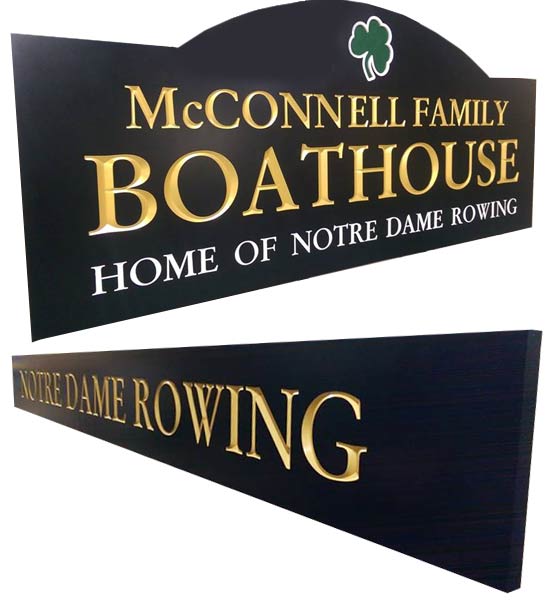 You'll find this sign just outside of the Notre Dame Rowing Team's McConnelly Family Boathouse. Another example of the variety of signage produced by US Signcrafters. Under the McConnell Family sign is another sign for the Rowing Team that US Signcrafters manufactured for Notre Dame.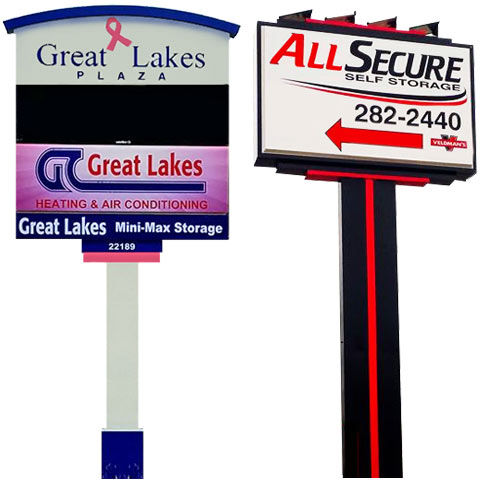 Two local companies that counted on US Signcrafters for designing and manufacturing pole signs for their businesses. The Great Lakes sign features video while the All Secure sign is backlit.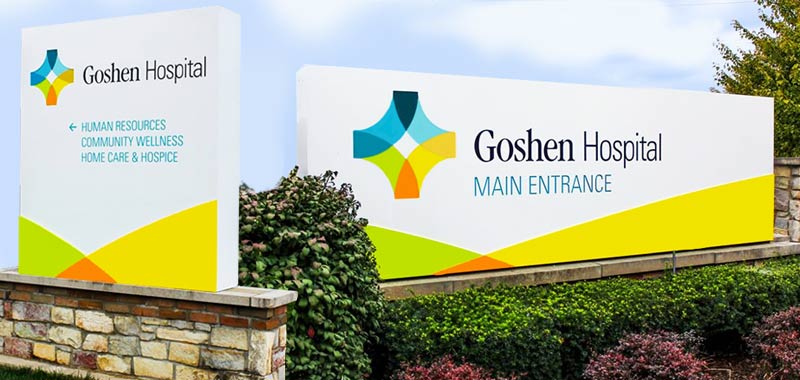 US Signcrafters produces many styles and types of signs for the Health Care industry. These signs for Goshen Hospital serve as another good example of the variety of signage that US Signcrafters produce for the healthcare industry.
The interesting video below shows how US Signcrafters actually produces and installs a vehicle wrap for one of their customers- AAA Turf Control.
All in all, US Signcrafters is a tough competitor, a creative force in the sign industry and a great community partner. Jeff Trenery says that as the president of US Signcrafters, he is unconditionally committed to making every customer's experience a positive and productive one. Seeing the company's approach, attitude toward customers and their final product, that's a statement that can easily be bought into.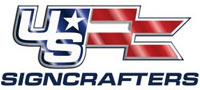 US SIGNCRAFTERS
ussigncrafters.com/
216 Lincolnway, East Osceola, IN 46561
574-674-5055
800-659-6319
email- info@ussigncrafters.com