GET OUT AS FAST

AS YOU CAN
ESCAPE DOWN UNDER
Exciting Rooms Just Waiting For You To Break Out Of! Escape rooms are interactive/life-like games designed to challenge your mind. These games are typically intended for groups of 2–6 or 8 people. The players are put into a room (or rooms) and the challenge is for them to escape through search and observation, trial and error and careful analysis of situations where they gather information, codes and solve puzzles that lead to their next challenge... until they fail or they are successful in escaping "the room". Virtually all escape rooms are based on escaping with within an allotted time frame.
In Goshen, Indiana you will find a company, Escape Down Under, that has not 1, not 2, but multiple escape rooms awaiting you and your friends. In most of the Escape Down Under escape rooms there is a one hour time limit. You could try it alone but we suggest you bring friends, in fact in the Escape Down Under rooms you can invite up to 7 more guests (for a total of 8 players) to participate in a game.
If you're wondering about the name, Escape Down Under did not come from an Australian game, the games are not themed anything Australian (at least not as of this time) nor are its owners of Australian descent. The company is actually located in the basement of the Old Bag Factory in Goshen and tucked away nicely in the "down under" in Goshen's popular mainstay.
MULTIPLE ESCAPE ROOMS FOR MORE CHALLENGES AND MORE FUN!
The toughest part of a night at Escape From Down Under (other than trying to get out of a room in the time allowed) is trying to figure out which Escape Rooms you want to play that day. With multiple escape rooms to choose from Escape Down Under gives you several options, several atmospheres or themes and many, many puzzles to solve. If you like escape rooms, you'll absolutely dig Escape Down Under!

Fright At The Museum
An Escape Down Under Escape Room Everyone in town knows that the curator of the local museum is a weird dude to be sure… maybe even dangerous. Now there's rumors that he's been studying magic… maybe even the black arts. Museum employees are afraid that he might be getting in over his head and he could possibly unleash something very bad, even catastrophic. Do you know some friends that you could convince to help you investigate this? It would have to be while the curator is out, which isn't very often or for very long at a time… maybe only an hour or two. Are you up for that? If so, click here.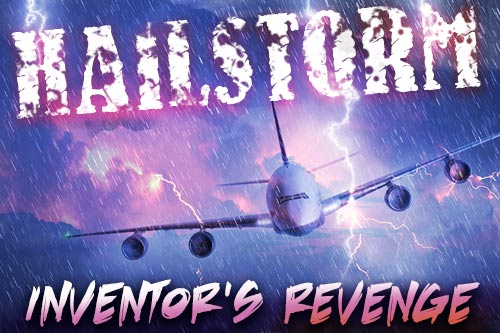 Hailstorm: Inventor's Revenge
An Escape Down Under Escape Room
Are you a tech-savvy gizmo wizard (or think you are)? What if you learned that a mad scientist had invented a weather-altering machine that would wreak havoc on the entire planet if he launched it? Would you be brave enough to try and stop that from happening? If your high-tech brain is telling you "Oh Yeah!" then you should get on board with this high-tech game. Click here to make a reservation.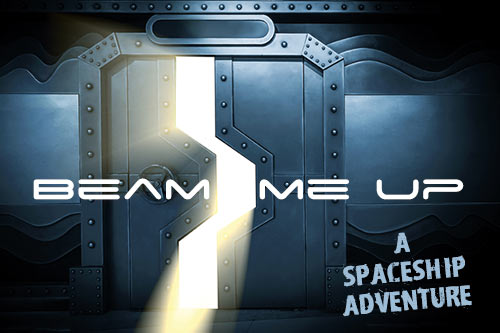 Beam Me Up
An Escape Down Under Escape Room
This exciting escape room brings a totally different theme and set of problems for those locked inside; as well as an all new challenge. You and your group are taking a tour of the X-303 un-manned NASA space probe, prior to it's scheduled launch into the galaxy to gather information from other planets, moons, etc. Suddenly the hatch locks and the rocket launches! Don't panic. You simply need to find the clues and solve the puzzles to operate the trans-portal device and beam yourselves home! You have 60 minutes to do this, because after that you're bound for outer space! Click here to make a reservation.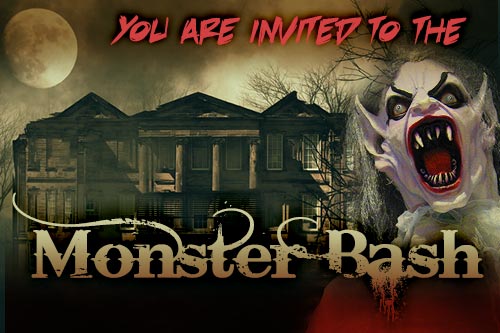 Monster Bash
An Escape Down Under Escape Room
(Open During The Halloween Season)
What if you received an anonymous invitation to a Halloween party with instructions to not come alone and wear your spookiest costume? What if the party address was the Old Bag Factory in Goshen, Indiana, but the party was underground… UNDER the Old Bag Factory? Now this is requiring some spirit of adventure, wouldn't you agree? But what if it's a trap? What if the host doesn't intend for anyone to ever leave the party? How can you know for sure what will happen? After all, it IS Halloween season. There's only one way to find out… answer the RSVP and make that reservation!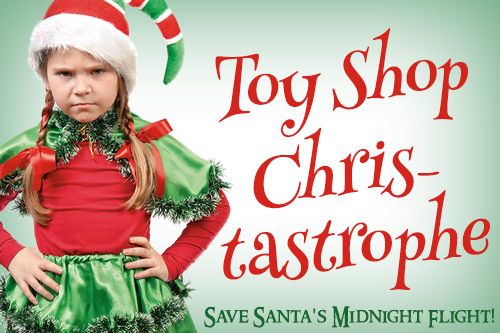 Toy Shop Chris-tastrophe
An Escape Down Under Escape Room
(Open During The Christmas Season)
It's Christmas Eve and Santa's elves have reported Santa's magic toy bag full of toys has been stolen! The elves have tracked down the "suspect" (AKA the thief) and it turns out he's a greedy toy store owner. But they need help to get the bag back. Someone will have to break into his store and find the bag before the midnight flight is scheduled to leave. An elf hat would be good cover for this operation, but not mandatory. Click here to make a reservation.
Don't Wait Another Minute! Reserve your times for you, your friends, your family and your co-workers to experience the fun and excitement of the Escape Down Under Escape Rooms! Call or email today and have a BLAST!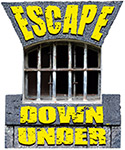 Escape Down Under is located in the 'Down Under' of
the Old Bag Factory!
1100 North Chicago Avenue
Goshen, Indiana 46528
Phone: 574-370-5886
Email: booking@escape-downunder.com