Schmidt Furniture
Custom Amish Cabinetry & Fine Furniture


Schmidt Furniture has been building fine selections of custom cabinets and Amish furniture since 1976. They have skilled craftsmen that utilize time tested approaches of the past with a concentrated focus on quality and never, ever cutting corners. These Amish craftsmen build their artistic kitchen cabinets, bathroom cabinetry, bedroom furniture, entertainment centers and other types of custom Amish built furniture by using mortise and tenon face frames, frame and panel cabinet sides, and dovetailed drawers. This is the kind of quality that you will only find in true Amish hand-built cabinetry and furniture.
Our custom cabinets are built out of the wood species of your choice. Schmidt's skilled and highly trained artisans incorporate old-world, proven furniture making approaches with the latest techniques in finishing such as glazing, spray-on staining, wiped staining, tincturing and hand rubbing. Their cabinets are coated with durable state-of-the-art finishes which requires minimal care. This is just part of what makes Schmidt Furniture one of the finest Amish, custom made cabinetry and furniture companies in the country.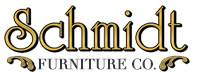 You Need The Right Materials
Schmidt always invests in the highest quality, select lumber such as mahogany, cherry, quartersawn red and white oak, ash, maple and walnut to build their beautiful, long-lasting furniture. Once these quality woods are put into the hands of true artisans the transformation begins.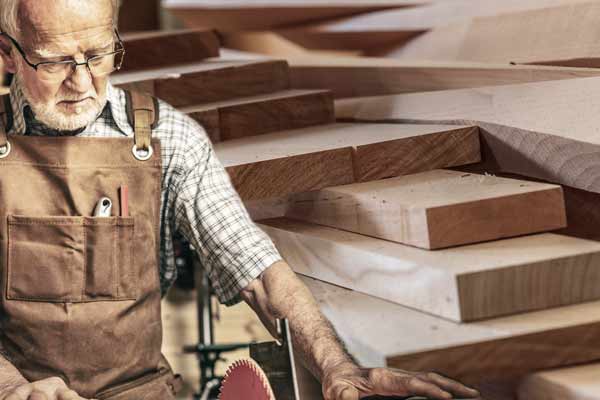 A Little About Schmidt Furniture
Building cabinets and furniture is a legacy in the Schmidt family, who come from German-Swiss lineage with Amish roots. Stephen Schmidt and his son Leonard Schmidt, the owners of Schmidt Furniture, began building cabinets over 40 years ago in Stephan's home workshop, after apprenticing at a local cabinet shop. Since that the company has grown and evolved and garnered a reputation for creating and building high quality Amish Custom Cabinetry.
Over time Stephen built a store along with a complete shop in the small town of Wakarusa, Indiana. It was a great decision since the area is so centrally located between Chicago, Indianapolis, Detroit/Grand Rapids and even Columbus/Cleveland. This location has enabled Schmidt to service the entire region efficiently and effectively.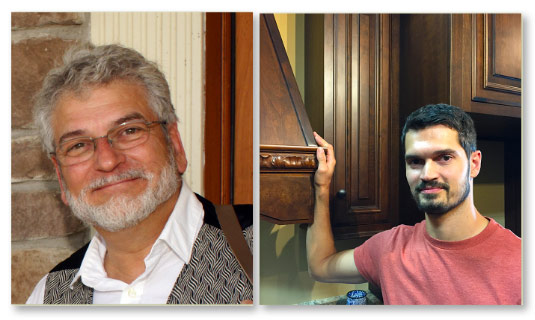 Schmidt Furniture Company owners, Stephan & Leonard Schmidt
Dedicated to their legacy of delivering fine Amish custom cabinetry and furniture to their customers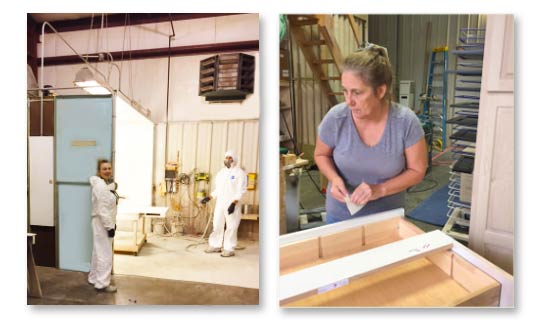 Schmidt Furniture Company employs skilled team that always focus on quality cabinets and fine furniture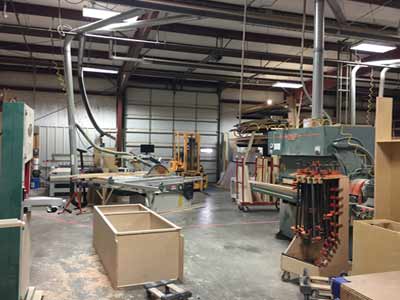 Schmidt Furniture store and furniture building facility in Wakarusa, Indiana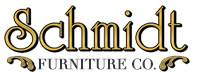 The Schmidt Furniture Difference
SCHMIDT HAS THE HISTORY
With well over 4 decades of of experience building fine furniture and cabinetry, the Schmidt Furniture Company provides their customers with the very finest of Custom Amish Cabinetry and Amish Quality Furniture. Schmidt has an impeccable reputation in all of the markets that they service including: Northern Indiana, Southern Michigan, and the Chicago area, for delivering what their customers have come to expect, the finest Amish quality furniture anywhere.
It begins with their mission which Stephan Schmidt established decades ago. This mission of hard work, honesty and meeting their customer's demanding expectations have carried over to his son Leonard and his talented team. Add to that Schmidt's fine craftsmanship and the fact that they have experience of over 40 years in producing the finest cabinetry and furniture and you can see where the quality comes from.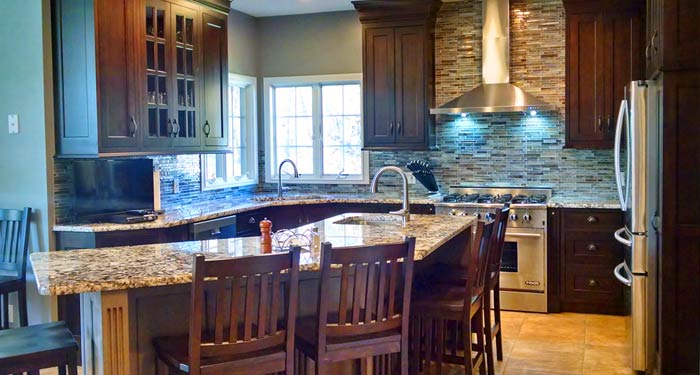 "Our contractor recommended Schmidt Furniture
when we were building our new home.
We looked at their work and instantly loved it.
Stephan Schmidt offered many ideas and
made some specific recommendations after
understanding our lifestyle and our objectives.
We worked hand-in-hand with Schmidt
along the way and they delivered
the absolute perfect kitchen
and bathroom cabinets."
Lori Davis - North Shore, Chicago
SCHMIDT HAS THE EXPERIENCE
There is no doubt about it, Schmidt is one of the most experienced Amish Custom Cabinet makers in the midwest. With decades of making fine furniture and high-end custom cabinets coupled with extremely talented cabinet makers and designers, Schmidt has a huge edge when it comes to custom cabinetry.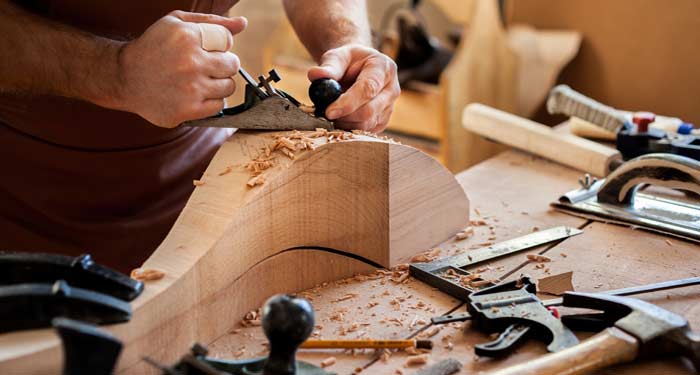 "We like the fact that they know what they're doing.
When you talk to Schmidt staff they get it.
They understand quality, custom cabinetry;
but they also understand what
customers are looking for in
that level of cabinets.
They certainly were spot on
with our cabinets
We love these guys!"
Nancy Manning - Carmel, Indiana
SCHMIDT HAS THE REPUTATION
AND BUILT IT ON HONESTY AS WELL AS QUALITY

Some builders and contractors, and even cabinet companies, try to fool the unsuspecting public by using inexpensive materials and poor workmanship. Often they apply expensive counter tops, such as granite or quartz. The truth eventually comes out that the cabinets or furniture is inferior but its way too late by that time. At Schmidt they are very upfront with customers about everything from the quality of wood and other materials that they use right down to the manufacturing process itself. This honesty and openness has served Schmidt very well according to Stephan Schmidt. "We like to be transparent with our processes and with the manner in which we conduct our business. I like to have customers that know exactly what to expect from us and nothing less.
To his point Stephan discusses types of cabinetry with his customers, ranging from stock cabinets that are mass produced in factories to semi-custom cabinets, which are a step up from stock the big difference is you can change dimensions of the boxes; and finally custom cabinets which are the preferred cabinet if the customer can afford them. This is another huge competitive advantage of Schmidt Furniture. Schmidt strongly advises that you learn the difference between types of cabinets... and of course the difference between the cabinet makers that you are interested in.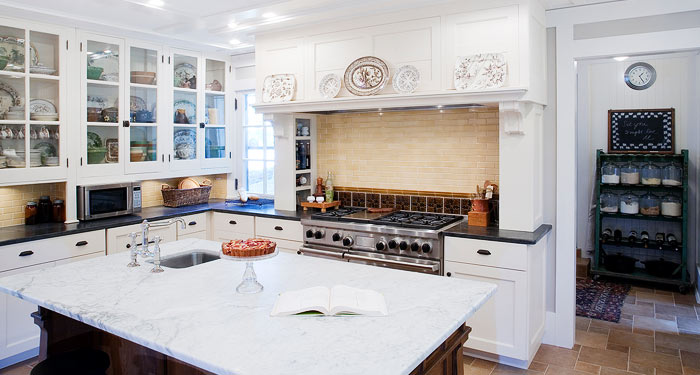 One of the best bits if advice before you purchase cabinetry is to understand the different types of cabinets and know the difference between the cabinet makers you are considering
"We remodeled our home and
Schmidt did our custom cabinets.
We would never use anyone else.
They delivered the finest quality
most beautiful cabinets.
They were a delight to work with.
They're surprisingly affordable!
What else could you ask for?"
John Mayfield - Granger, Indiana
SCHMIDT HAS THE RIGHT PRICES
THEY PRODUCE THE HIGHEST QUALITY AMISH CUSTOM CABINETS FOR THE PRICE OF REGULAR CABINETS
Probably the biggest surprise when it comes to Schmidt cabinets and furniture is price. Stephan Schmidt and his son Leonard both take pride in the fact that they provide real, all-wood, custom-made Amish custom cabinets for almost the same price as most consumers pay for semi-custom-made cabinets. This is especially surprising when you consider the quality of the materials, design and workmanship that goes into every piece of furniture or cabinet that Schmidt hand makes.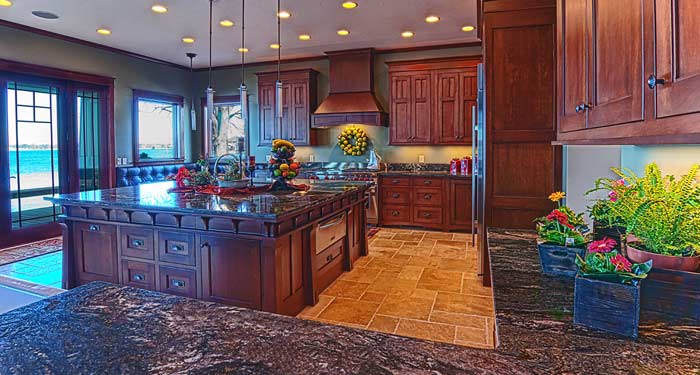 "Seriously.
I never give testimonials
but Schmidt earned this one.
They were so patient while
we made changes.
They were gracious and polite.
When it was all said and done
they delivered the perfect
high-quality kitchen cabinets,
island and pantry shelving.
Schmidt is simply amazing!"
Linda Jones - St. Joseph, Michigan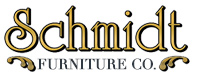 Schmidt Furniture Company Products
You'll have to see the Schmidt quality for yourself to truly appreciate it.
The best we could do was to showcase a few of their beautiful, high quality, Amish Custom pieces.

SCHMIDT AMISH QUALITY CUSTOM CABINETRY
With over decades of experience in building furniture, Schmidt constructs kitchens and kitchen cabinetry using tried and true methods such as mortise and tenon front frames, frame and panel construction and dovetail drawer boxes. They feature feature both solid cherry and quarter-sawn oak... at extremely reasonable prices.
Handcrafted Amish Quality Kitchen Cabinets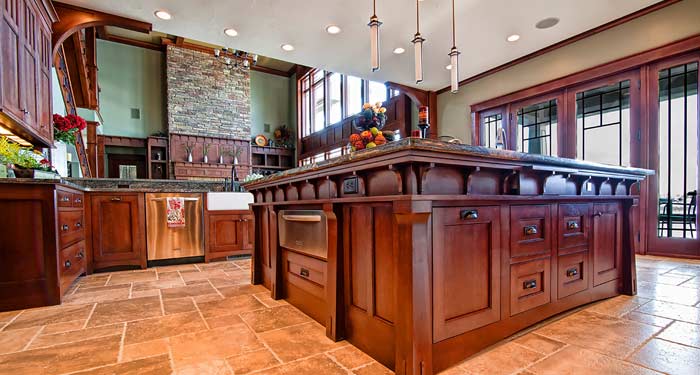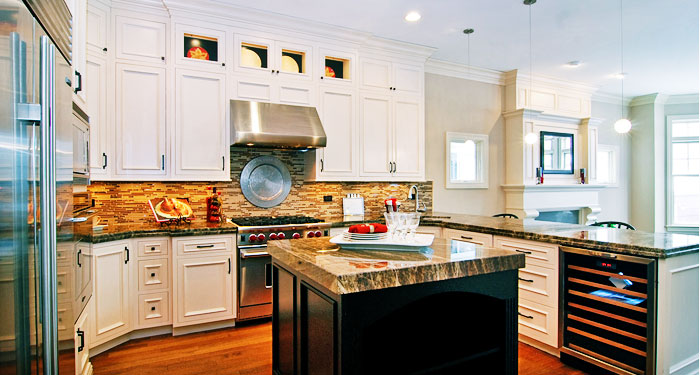 To see more examples of Schmidt's Custom Amish Built Kitchen Cabinetry click below:
Schmidt Kitchen Cabinetry
Schmidt Quality Bathroom Cabinets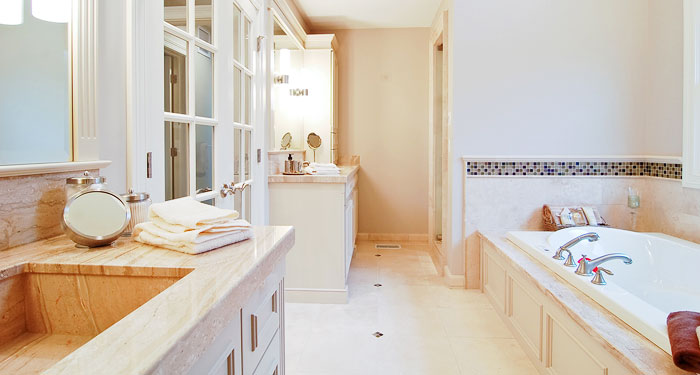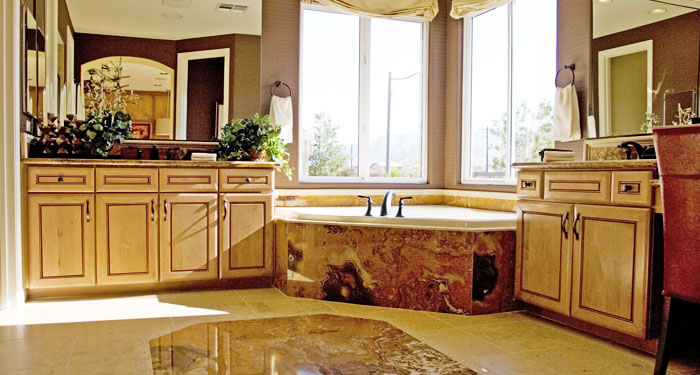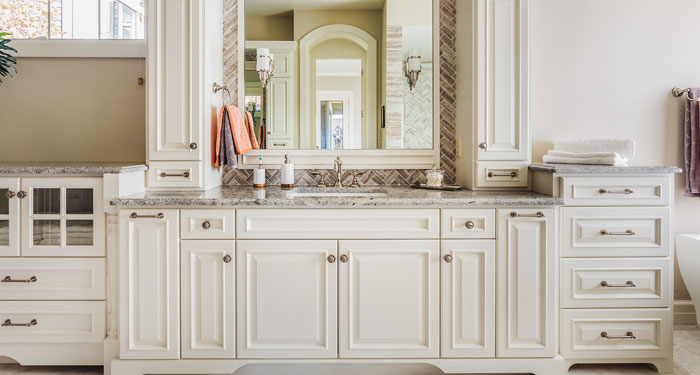 See more Schmidt Beautiful Bathroom Cabinetry here:
Schmidt Bathroom Cabinets
Schmidt Built-In Wall Cabinetry & Furniture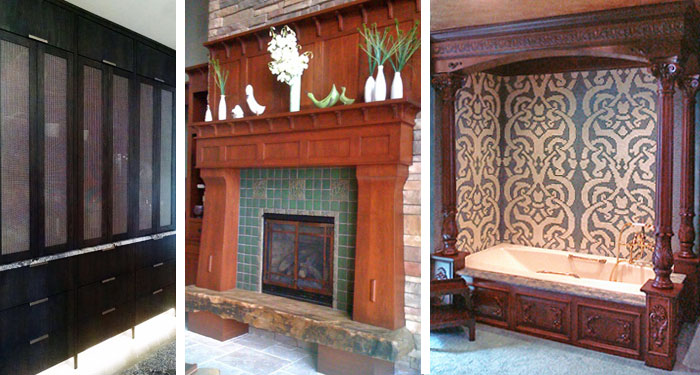 For more information on Schmidt's Built-In Furniture- Schmidt Built-In Furniture
Schmidt Mission Style Furniture, Shaker Style Furniture & Bedroom Furniture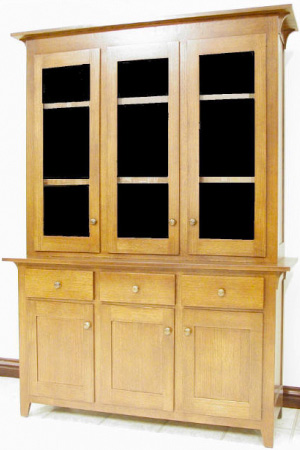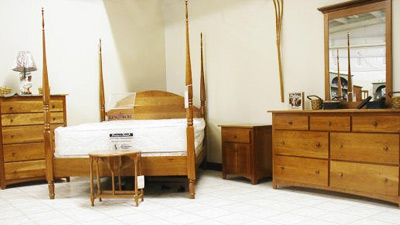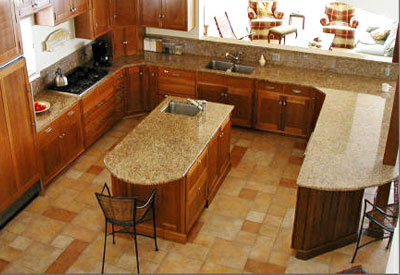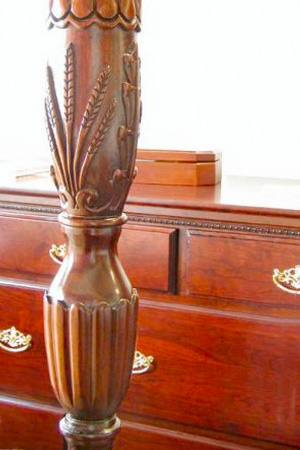 See more Schmidt Mission Furniture here- schmidt mission style furniture
See more Schmidt Shaker Furniture here- schmidt shaker style furniture
See more Schmidt Shaker Furniture here- schmidt bedroom furniture


Schmidt Furniture Company
Amish Quality Custom Cabinets & Fine Furniture
since 1976
903 Nelsons Parkway - Wakarusa, IN USA 46573
574.862.2200
schmidtfurniture.com
Check Out These Other Quality Home Service Providers
Lechlitner Door Stump Roofing
Not Just A Garden Center
TimberTiger Pro Roofing
Kuert Outdoor Living
Weathertite Seamless Gutters
Borntrager Roofing
Pro Roofing & Construction
Exterior Arts
JJamco Construction
Raber Patio Enclosures
Stump Metal Roofing
Energy Efficient Roofing
Midland Engineering
Mishawaka Menards
Sherwin Williams Granger
Woody's Electric
La Rocco Floor Coverings
Pride Pool Service
R & R Swimming Pools
Great Hardwood Flooring
Tudor Hardwood Floors
Michael's Floor Coverings
Jack Laurie Home Floor Designs
Granite Proshop
Dark Star Marble & Granite
Shoreline Smart Homes
Horizon Landscapes