Raber Patio Enclosures
Outdoor Patios, Outdoor Furniture, Gazebos, Pergolas... and So Much More
Raber Patio Enclosures & Furniture has been a reckoning force in the Michiana community for decades. Tucked away nicely in the small town of Shipshewana, Indiana, Raber has been building patio enclosures and outdoor furniture for over 3 decades. They do it with pride and they pay serious attention to detail. What most people do not realize about Raber is their diversity in products. They of course are known for their patio enclosures and sunrooms however they also provide the community with a whole lot more when it comes to outdoor living. Here is the short list of products from Raber.
Patio Enclosures/Sunrooms
Decks
Railings
Pergolas
Gazebos
Pavilions
Gazebos
Play Sets For Kids
Windows
Arbors
Swings
Fire Pits
Picnic Tables
Outdoor Furniture
and a whole lot more outdoor related items.
Raber Helps Improve the Quality of Your Life
Family, Friends, Good Food and Blessings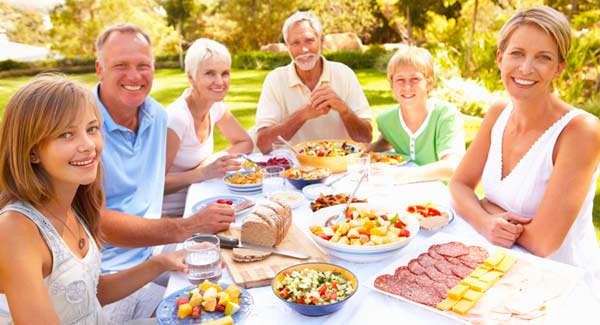 There is always something special that comes with being outdoors with family and friends. Raber Patio Enclosures understands that principal very well. One of their main missions is to help bring jy to their customers' lives by providing products that enhance their experiences with their friends and with their families. Being outside and spending precious time with the people you love most is naturally enjoyable. Add to that extra comforts like outdoor furniture, the protection from the elements with gazebos and pavilions, the festive atmosphere when you enjoy the outdoors on your deck or patio... and of course play sets for the kids.
These are the things that bring even more joy to your life and enhance your precious time with family and friends.
I chose Raber Patio Enclosures
for my deck facing the lake.
They gave me several ideas
about my screen room and
after I made my choice
they gave me a date they would
come and install the room.
They were on time, efficient and
very comfortable to work with.
I've since hired Raber to
install my back porch screen room.
Thank you Raber for an awesome job!
YVONNE CONSTANT - MIDDLEBURY, INDIANA
PATIO ENCLOSURES & SUNROOMS
by RABER PATIO ENCLOSURES
Designed to keep you comfortable all year long and to fit your lifestyle, a quality sun room by Raber Patio Enclosures extends your use through all seasons. These rooms are great for keeping warm and dry even when its cool and wet outside... but at the same time you get to let nature in!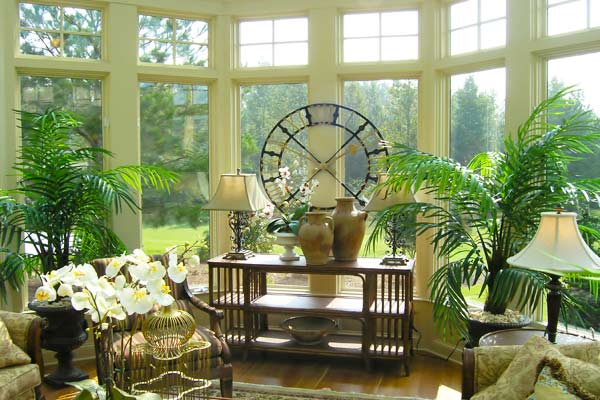 Stretch your Season
Whether you just want to extend the season a little or a lot, a Raber Patios room enclosure can deliver your dreams, on time and on budget!
Customized to You
After an in-depth consultation to determine how and when you intend to use the room, Raber provides you with a layout, design and floor plan to approve before they start. This communication minimizes or eliminates communication issues between Raber and their customers and improves their overall satisfaction!
Built to Last
The Raber Construction Team works fast, yet they take great pride in building superior vinyl sunrooms and patio rooms. Beautiful craftsmanship, exceptional engineering, expert technology and a solid warranty are all part of each product that Raber Patio Enclosures delivers to their customers!

Watch how some of Raber's Sunrooms are built in just 1 day!
See Raber's Sunroom Gallery here:
https://raberpatios.com/outdoor-spaces/sun-rooms/
For free estimate and financing information call Raber Patio Enclosures at 260.768.7100


OUTDOOR SPACES

PERGOLAS, PAVILIONS & GAZEBOS
by RABER PATIO ENCLOSURES
Relax. Refresh. Renew in your own private paradise, by Raber Patio Enclosures:
Enjoy the cool shade, the privacy that comes with these structures, protection from bugs (when screened) and the beauty, charm and elegance of these wonderful, private retreats. These are the perfect place for hot tubs, hammocks and your favorite outdoor furniture. They're also great places for dining with friends and family!

PERGOLAS
Pergolas have an open roof with criss-crossing slats and rafters, creating a great space for cooking, eating or just sitting.
Gazebos usually have half walls with balusters and railings, or are screened. Here are our lines of Pergolas:
Urbana Vinyl Pergola
Outback Wood Pergola
Mendoza Wood Pergola
Riviera Wood Pergola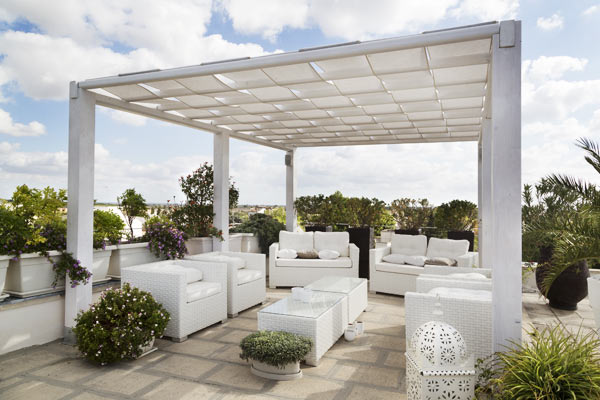 This beautiful and cheery Pergola is just one example of the type of outdoor structures that Raber provides their customers.
See some other Pergola styles below: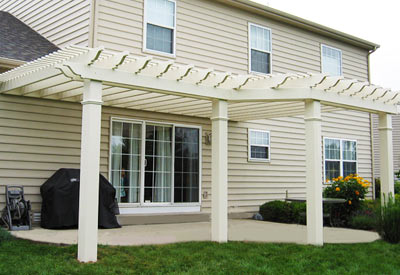 Custom Vinyl Pergola with Regular Shade



Wood Riviera Pergola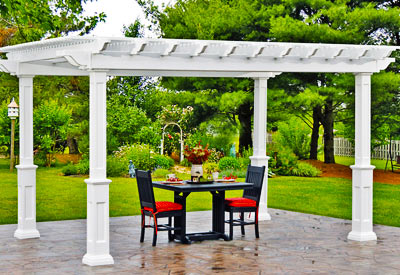 Vinyl Urbana Pergola with Regular Shade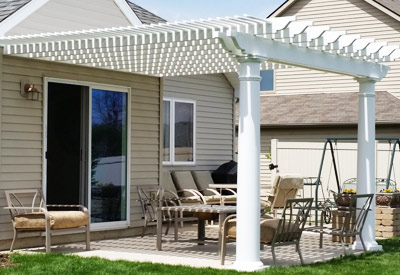 Vinyl Urbana with Deluxe Shade
PAVILIONS
Pavilions have a pitched roof design, more like a traditional house. They don't have walls, and are framed with posts. See Raber's Pavilion examples below:
Victoria Vinyl Pavilion
Hampton Wood Pavilion
Cascade Wood Pavilion
Breckenridge Wood Pavilion
Frontier Wood Pavilion
Prairie Wood Pavilion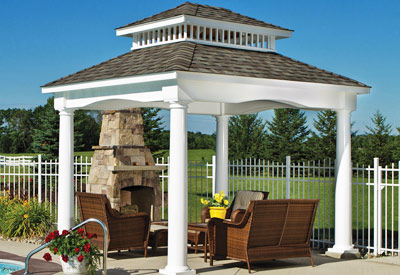 Victoria Vinyl Pavilion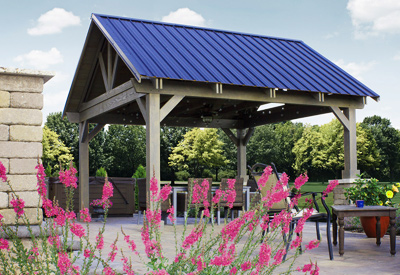 Breckenridge Wood Pavilion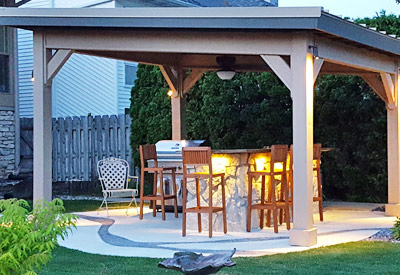 Prairie Wood Pavilion

GAZEBOS

Gazebos have a solid, sloped roof, often with a cap, and come in octagonal, oval or round shapes. Below is Raber's line of Gazebos:
Vinyl Octagon Gazebo
Vinyl Oblong Gazebo
Vinyl Rectangular Gazebo
Wood Octagon Gazebo
Wood Oblong Gazebo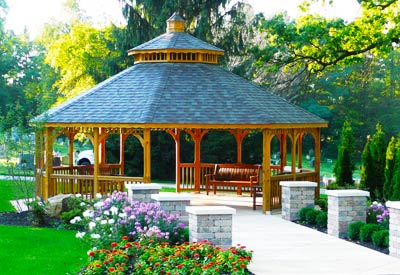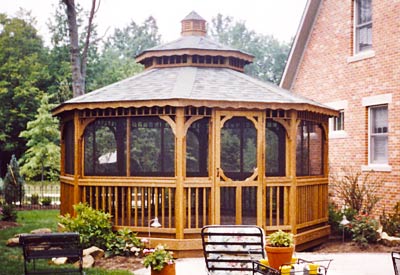 Octagon Wood Gazebos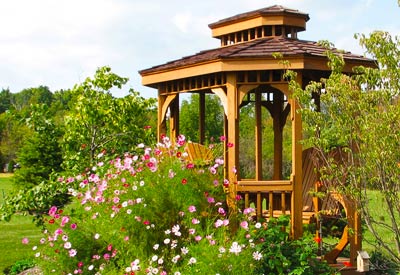 Oblong Wood Gazebos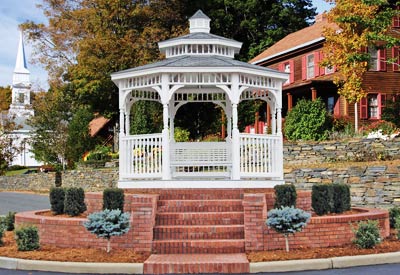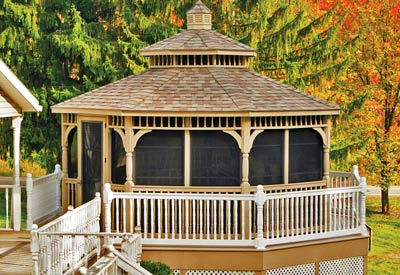 Octagon Vinyl Gazebos
See More Pergolas from Raber Patio Enclosures:
https://raberpatios.com/outdoor-spaces/pergolas-gazebos/

Raber Gazebos Built-In-A-Day
When you have a vision for your backyard, sometimes the route from beginning to end can be a long one...
but not with the talented craftsmen at Raber Patio Enclosures on the job!
Here the complete a gazebo build ~ completely! ~ in one day!
DECKS & RAILS
by Raber Patio Enclosures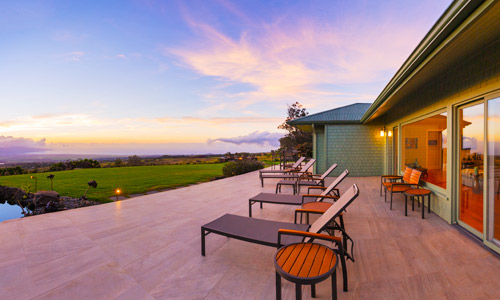 Add Space with an Outdoor Deck
A custom built deck from Raber Patios gives you extra space for your family. It gives you a defined area for a grill, furniture, potted plants, and so many other things. You can use it as storage by storing some things underneath to free up the yard. Railings can be added to enhance the look and safety.
Raber Decks are a Good Investment
The cost of a deck is relatively inexpensive in comparison to other home improvement project and totally worth the investment. Imagine your place in the sun, entertain in luxury; escape in supreme comfort, Raber Patio Enclosures takes deck design to a whole new level. Enjoy nature in a dramatic departure from ordinary planks and drab details, using Clubhouse Decking which is the first of a new generation of PVC decking that incorporates advanced material science, world-class engineering, and patented performance manufacturing to produce a deck that is stunning in every kind of weather. YEAR, AFTER YEAR.
Raber Builds Decks Quickly While Ensuring Quality
Raber Deck additions can be built in just a few days. If you're looking to add space to your home this is one of the quickest ways to do so. On the other hand, home additions can take months, but a deck can be completed much more quickly.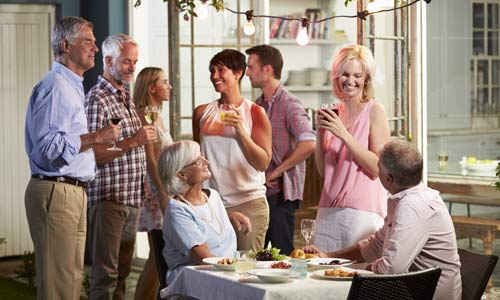 Outdoor Entertaining on the Deck
Decks are the perfect place to entertain both friends and family, host a neighborhood gathering or of course hold a barbecue.
Enjoying the outdoors with the people you care about most is really what its all about.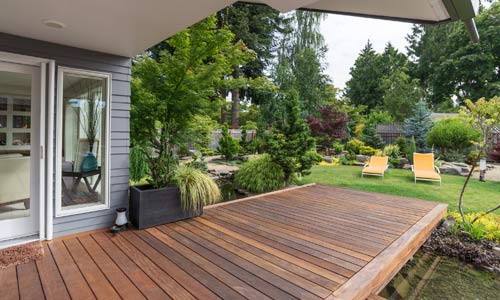 Add Curb Appeal by Adding A Deck by Raber
You can create cozy curb appeal with our custom design. There are so many different design options when it comes to Raber Patios decking, which means you can create any kind of look with your deck. You can design it to enhance the existing qualities of your home. Play off what's already there: build to complement the home's existing shape, and choose colors to accent the shutters or other features of your home.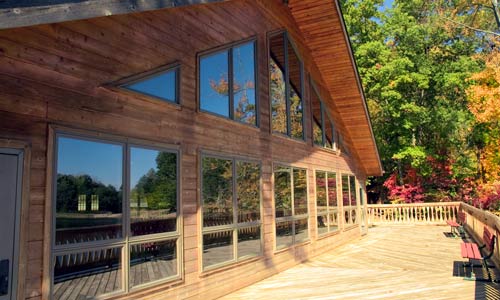 Home Value Increases
A quality deck from Raber can increase the value of your home due to being a sought-after feature for future home buyers who want to see a family-oriented outdoor space. Raber builds on ground level as well and second story and even roof decks are an options if that's what you are in the market for.


RABER PATIO ENCLOSURES & FURNITURE
655 S Van Buren St, Shipshewana, IN 46565
260.768.7100
raberpatios.com