Outdoor Living
Is One Of The Fastest Growing Trends In The Country. Behind That Movement ARe The improving Hardscape Products and Services Available To Today's Home Owner. With help from Many of The Region's best landscape designers, Hardscape Experts and Industry suppliers, ZZZippy Helps You
Turn Your Yard Into
Your Personal Paradise
BY NIKKI ROBERT

It's one of the fastest growing arenas in home improvement - Outdoor Living. Patios, decks, dining spaces, kitchens, water and fire features… they're all part of a new lifestyle. The industry is growing substantially and for several reasons. First, these new outdoor spaces can improve the quality of your life. In most cases, these areas are designed less for necessity and more for luxury, entertainment and personal enjoyment. Secondly, outdoor living expands the walls of your existing home, adding more usable space without a total home makeover (but with similar benefits). Furthermore, when you add to your home through outdoor expansion, you do not have the same tax implications as when you expand the home itself, as Jayne Flanagan, president of Michiana Brick and Building Supply, points out.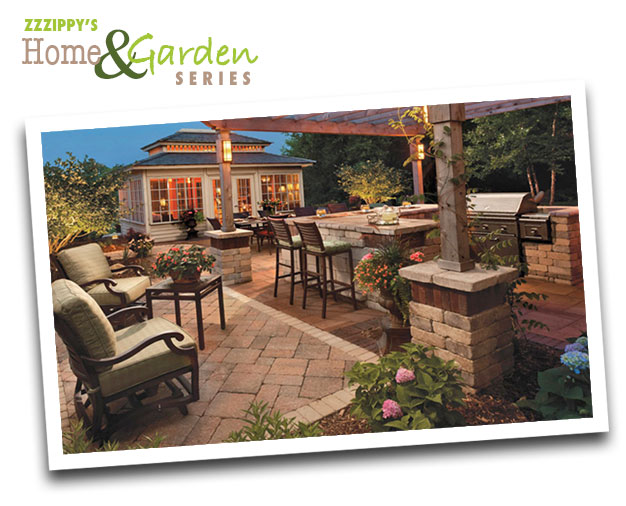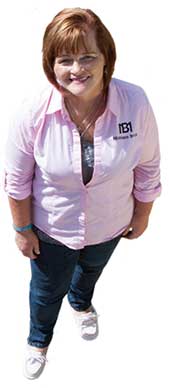 "One big
advantage of
outdoor living
is that you're
adding living area
to Your home,
which increases
its value, but not
the taxable value
(because you're not
physically adding
a room)."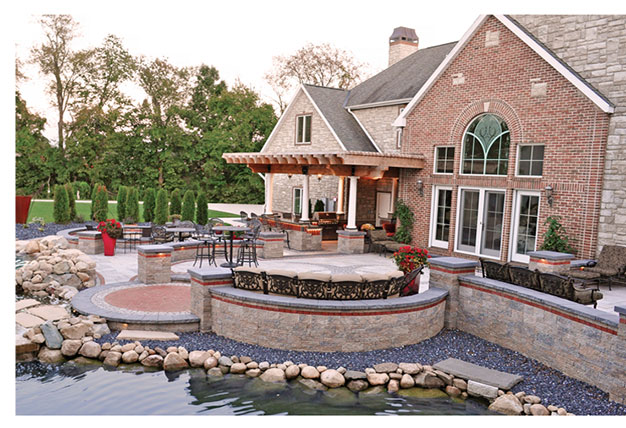 This design was created to be both functional and aesthetically appealing. Not Just A Garden Center (the designer and major contractor) accomplished both objectives by instituting a well thought out plan and executing right down to the finest detail. Michiana Brick was chosen to be the main supplier for this lavish project.
We've all seen the colorful magazines, catalogues and websites featuring stunning pictures of beautifully designed outdoor living spaces; winding walkways, stone sitting walls and dining areas. And of course you have outdoor kitchens that include wood fire pizza ovens and grills that could compete with many restaurant kitchens. Let's not forget the peaceful waterfalls cascading into swimming pools, the warmth of built-in fireplaces and bonfire pits. These are just a handful of the many options available to today's outdoor living enthusiast.
So what are the trending areas in outdoor living today? Flanagan believes outdoor kitchens are topping the charts. "One of the hottest areas of outdoor living today is outdoor kitchens. Adding an outdoor kitchen is like adding another room to your home. It's great for family and perfect for entertaining." Randy Meert, president of New Frontiers, agrees. "Outdoor kitchens can really make a difference in "quality of life" for people. Our customers love them… and they use them year-round." However, Meert, who has operated his local landscaping firm for well over 30 years, sees a vast diversity of projects in the field.


"Today we are designing and installing a wide range of projects. some small and simple while others are extravagant. We've done everything from built-in grills and fire pits, to gigantic life-size waterfalls."
According to Randy, some of the projects become quite lavish. "These developments can be impressive. We've actually transformed some backyards into areas that resemble tropical islands. One of the most significant changes we've seen is that landscaping has gone from something you look at to something you experience."
Steve Fidler, who has deep roots in the community with his company Kuert Concrete, has recently entered the outdoor living industry with his new organization, Kuert Outdoor Living. Fidler's belief runs parallel to Meert's. "At Kuert Outdoor Living, we're trying to help local people capture "experiences" or make that emotional connection at home. We're helping our customers realize more time with family and friends. Personally, I think we're going to see less vacations and more staycations. One of our goals is to assist our customers in creating a resort in their very own backyard."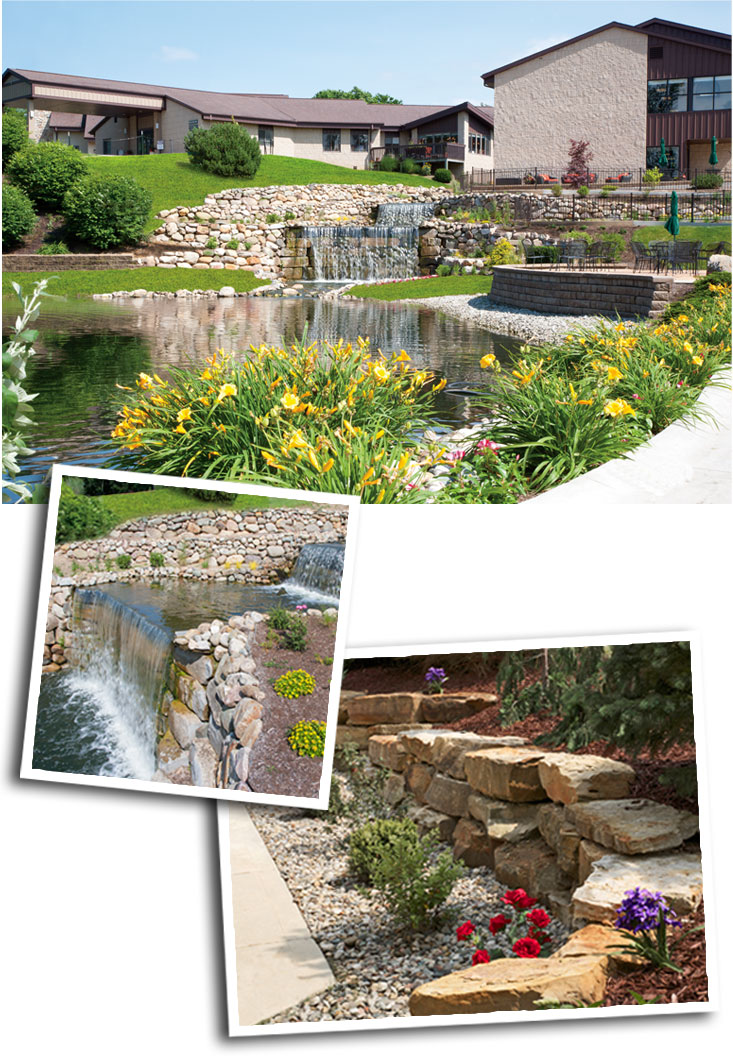 This beautiful water feature at Elkhart's Hubbard Hill
was designed and installed by New Frontiers,
a well-respected regional landscape/hardscape
company. New Frontiers' founder and president,
Randy Meert, says that hardscaping
is spilling over from the homeowner to
small businesses and corporations alike.

"People come
here, see what
we've done
with our
displays and
it generates
ideas, or
at least
establishes
a foundation
for them to
build from."





We have a close partnership with vendors like, Unilock, Belgard and Techo-Bloc. These companies assist us by providing the next design generation for outdoor living supplies and are all instrumental in helping us help our customers to stay on the leading edge of the industry". One of Old Fort's customers put it this way. "I don't have a lot of time. At first I started looking through catalogues but eventually decided to visit a couple of the local companies who have outdoor displays. Within twenty or thirty minutes half my work was done. I could see the materials, the options, the colors and the different features, first hand. All of the portfolio pictures in the world couldn't do that for me." Jayne Flanagan agrees. "People come in with very little idea of what they truly want or what is available to them. After visiting our displays they walk out with all kind of ideas."

As the world of outdoor living expands, so do the products. Many local suppliers seem excited by the onslaught of new goods. Jagger is seeing this first hand "We are seeing more and more new products coming at us all the time now. We often showcase new products which just keep getting better in design and in aesthetics. People visit us and are blown away by our displays and products. Next thing we know, we are delivering portions of, or even complete displays to their backyards." Another supplier that is excited about the industry's new products is Boyd Harwood of Rose Brick & Materials in South Bend. Harwood commented on a couple of products that have just recently been added to the Rose product line. "One of the things that we've seen that's brand new to the market is a concrete molded product that resembles a wooden plank. Just that one item has generated some fair interest already. One of our major vendors is starting to manufacture products from natural stone that are pretty cool. It's kind of exciting to see so many new products hit the industry. Steve Fidler believes that new products can be great, but often a bit of a challenge.



"This industry is so vast that we really need to be on top of it all the time. We need to keep our eye on what's going on and our finger on the pulse of the industry. Staying aware of all the products available to our customers today is a little Challenging, but Kuert is committed to staying on top of it."

With all of the benefits of outdoor living, so many wonderful products, ideas and opportunities, this new lifestyle can be extremely rewarding. All it takes to make it a part of your life is a good design, the right supplier, either the right contractor and/or the ability to build it yourself… and of course the money to make it happen. However, that's where you might be surprised. Today it's certainly possible to make a beautiful and enjoyable outdoor living area for much less than you might imagine since many of the products have become more affordable than ever. Of course, there are also discriminating home owners that have poured in excess of $250,000 into their backyards locally.
Following are some useful tips and good advice offered by ZZZippy and several of the region's top professionals in the outdoor living industry. Hopefully, this will help you by establishing the foundation you need to create Your Personal Paradise.
Kuert has several displays in their Goshen location and a handful in South Bend. Fidler feels these displays facilitate ideas and inspire visitors. "Our displays help our customers dream a little. When they visit us, we often hear, 'We want something just like that.' It really helps customers envision possibilities" There are other local companies that have also invested in displays to help their customers see products in a real life environment, including Michiana Brick (who has several beautiful displays) and Old Fort Building Supply, a locally owned building materials company, which has been in the industry for over 30 years. Old Fort recently rebuilt several of their displays. "We build displays for one reason, to help our customers see first-hand what they are able to do with these great products," Rob Jagger, president of Old Fort insists.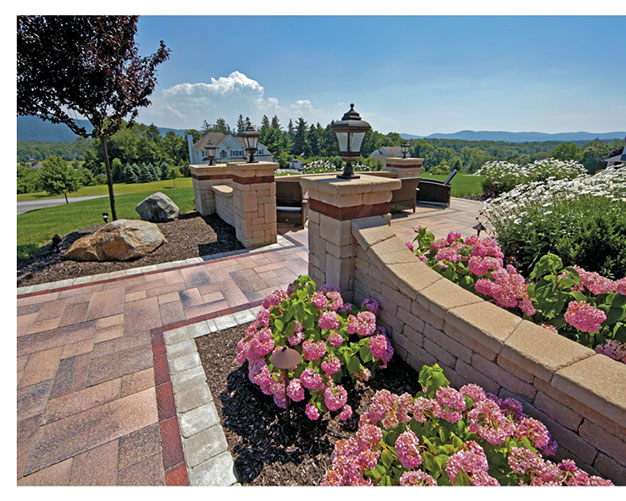 The materials for the attractive setting above are from Unilock, one of the leaders in the outdoor living industry. This project showcases what homeowners can achieve with garden areas, sitting areas and walkways.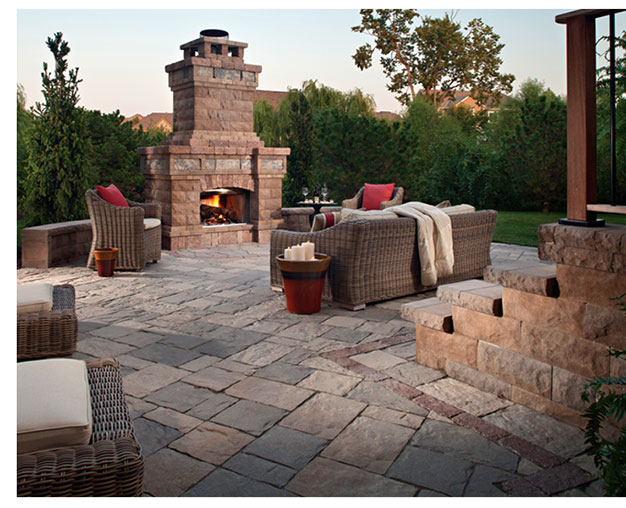 This gorgeous outdoor living room is just one example of what is available from today's suppliers. This lifestyle is becoming more and more popular, keeping families home and improving the quality of their lives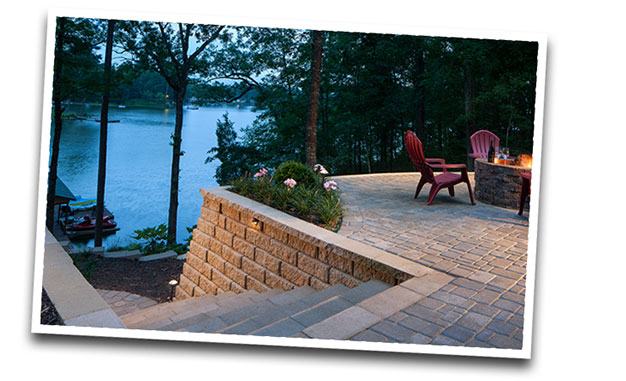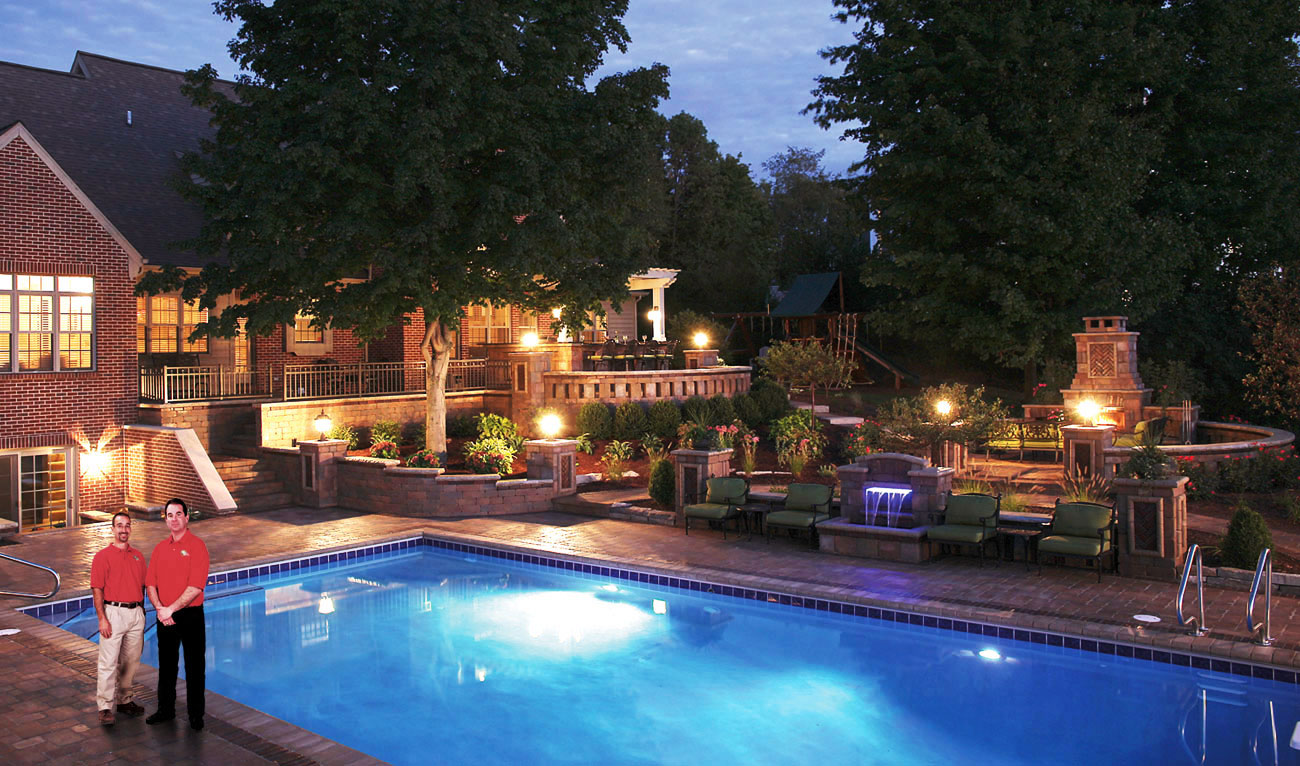 Creating Your Personal Paradise...
Getting Started
Your Objectives

As with most things in life, to be successful you should start with a sound understanding of Your Objectives or the goals that you want to achieve with your project. Brett Parks, owner of Not Just A Garden Center (a local company that consists of a landscaping firm and a garden center/nursery) has similar beliefs.

"I strongly believe that to have a successful outdoor project the customer needs to have a strong sense of what their goals are. Usually we sit down and help them develop or define their objectives. This serves as a guide throughout the project for us and for them."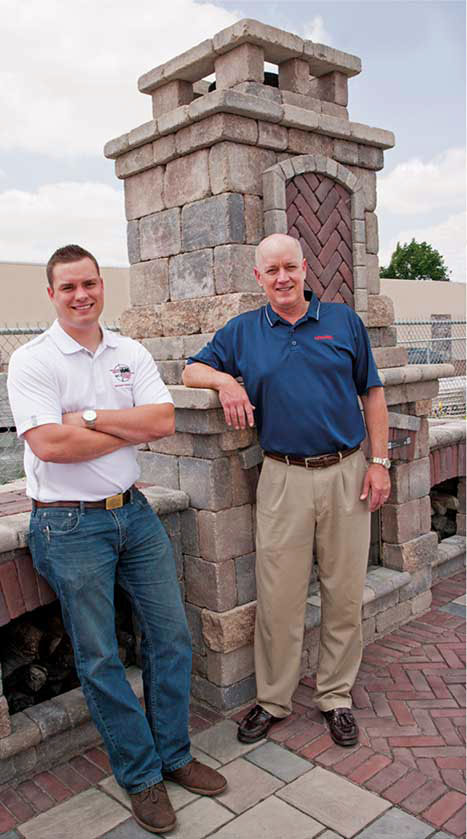 Bill & Kyle Jagger stand beside a fireplace that is displayed at Old Fort Building Supply. According to suppliers in the Outdoor Living Industry, these displays have become very popular in assisting customers in their design and planning process.
The stunning patio above was designed and installed by
Lovisa & Barone. In some cases, contractors will pick their subs, in other cases the homeowners will make thoses choices. The building materials for this project were supplied by Old Fort Building Supply in South Bend
.
Part of a spectacular water feature in this Michiana back yard makeover, this beautiful, lighted waterfall cascades six feet into a reflecting pool, helping to set a peaceful, early evening atmosphere.

Your Plan
Outdoor space designs and techniques are very similar to those employed by interior designers or architects. These professionals can help you develop your plan but should do so by closely following your objectives. Parks explained how his team creates the plan. "All existing structures are entered into our 3-D design software. We take our customer's objectives and implement them into the plan. We move puzzle-like pieces around until the flow, size and overall placement make the most sense."
If you've developed a good plan by staying true to and consistent with your objectives, you are on your way to a successful project.
Your Team
Unless you are a do-it-yourselfer you will need to get serious about Your Team. Finding the right team is vital to ensure a finished product that you will be happy with. Your team should focus on your objectives and of course they should work from your plan. Your team may consist of landscapers, landscape architects, designers, architects, or others that have experience in creating outdoor living areas. However, proceed with caution when hiring a landscape/hardscape contractor. While this industry has many honorable and talented professionals, it also has its share of shady characters. Some even approach unsuspecting potential customers with "portfolios of jobs" and "a hundred" testimonials of "happy customers". What you might not see are the "hundred miserable customers" that the company has left in the dust. That contractor might also use their "big name supplier" as a reference. Of course what do you think that supplier will tell you when the contractor is spending tens or even hundreds of thousands of dollars in materials from them? Beware of those "in the deal together". Getting the right references is vital if you're taking on a decent size project.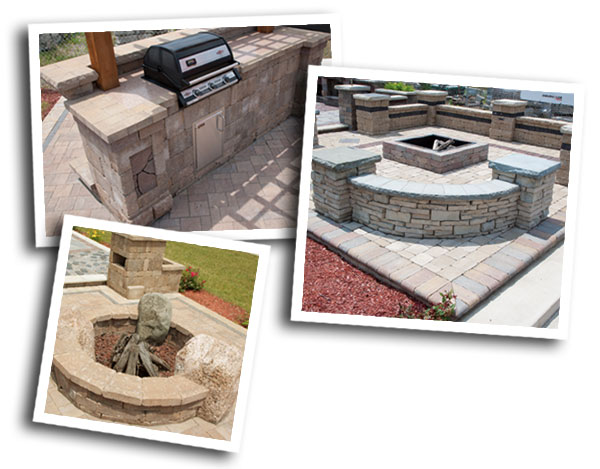 Old Fort Building Supply has constructed some handsome display examples of ways to create your backyard paradise, including a stone outdoor kitchen area with a redwood pergola and built-in grill, numerous fire pits, seating walls and patio surface ideas.

When you're building your team, there may be other vendors you may wish to consider: masons, electricians, plumbers, excavators, home theatre and sound system engineers and others. Bill Duxbury, partner in Lifestyle Consulting, a regional home theatre company, points to what his organization is experiencing. "One of the things that we have seen recently is the addition of outdoor theatres and of course sound systems in our customer's yards. Having these little luxuries brings a whole new level of quality to outdoor living. Being able to watch a sporting event or a movie outside under the stars or to just hang with friends while music from a quality sound system plays either as a backdrop or a focal point is really a significant part of today's lifestyle. More and more landscapers and architects are adding us to their team to help their customers complete the outdoor experience. We are also getting a lot of consumers who contact us and want us to put together an outdoor electronics package as part of their mix."

Duxbury, who also owns a popular security company, believes that protection is becoming a necessity for some of his customers who expand into outdoor living. "We are installing a lot more outdoor cameras and security systems. When people make an investment in their backyards they want to protect that investment."
Thomas Lovisa of Lovisa & Barone commented on what he feels are important issues when searching for the right team, "The experience and quality of work related to difficult projects, a good resume', and having the right sub contractors that can handle the entire project helps; those are important issues. We run the entire project from start to finish. That's the selling point of our company. "
So when you begin choosing your team, make sure you consider the many options available to you and make certain you bring on the right team players.
Your Suppliers
Your suppliers are those companies offering the products and/or materials that you need to create your Outdoor Paradise. There are many considerations, depending of course, on your objectives and your plan. Take the time to review your suppliers carefully. However, like choosing the right team, some caution needs be to taken when choosing your supplier. "Trust your local suppliers when it comes to outdoor products." warned Brett Park, "It's easy to be drawn to the larger companies based on what initially looks like good prices, but we have found that in the case of outdoor living, you are better off to buy products from reliable, locally owned companies. We do the drop test: if you pick up a paver, for instance, and drop it on concrete the paver will often shatter if it's cheap. There are manufacturing differences between the box stores and the local suppliers."
Many "box stores" have a reputation for luring customers based on price. Be cautious. There are significant differences in the quality of "look alike" or "similar" products. The last thing you want is to shortcut the quality of your project in an attempt to save money. Jane Flanagan offers this guidance. "Be leery of the box stores when it comes to outdoor living supplies. You want someone with 'real world experience' in choosing the right products and that certainly is not the chain stores. Higher quality products at very competitive prices are available from local professionals that know and understand the business. At Michiana Brick, we do things like lead customers to products that have a higher aggregate content for durability. What may be surprising is the pricing; its right in line with the big box stores - just better quality. The fact is, our products have warranties, some even lifetime warranties."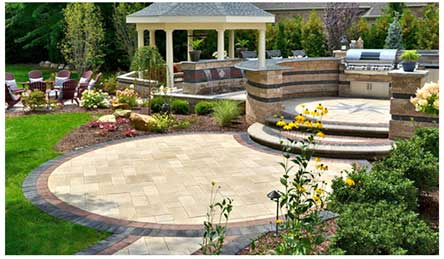 Jagger supports Flanagan's belief. "In our region there are several top-notch manufacturers of outdoor supplies who stand behind their products. Every manufacturer has an occasional problem but our suppliers back their products up, which protects our customers. Our longevity is based in part on being able to stand behind those products. Plus, when you consider our selection, service and our pricing it makes no sense to shop the chains."
Thomas Lovisa believes that developing a winning situation is critical and that it all begins with design. "We design sites to fit the home owner's usability/flexibility. A winning design for the home owner is one that incorporates everything they desire into the project for the budget they have. When that comes together it's a win-win."

Your Personal Paradise

When your plan comes together with the help of your team and suppliers who have followed a well orchestrated plan, which was developed maintaining your objectives, you will finally realize your personal paradise. If all of these ingredients come together (and there is no reason that they shouldn't) you can begin to enjoy Outdoor Living at its finest. The experts all agree that when you develop the right environment, you realize a huge benefit, or as Randy Meert says, "We're making home a very special and unique place, a place where people want to be again." At the same time Jagger is committed to the belief that this investment is one that pays off over and over. "We're helping keep kids home and families closer… that's major."
However, Steve Fidler may have summed it up best, "I enjoy being in an industry that actually helps people experience better quality lives by providing something that delivers them many years of joy and happiness. It's exciting to me to help our customers build and enjoy their personal paradise."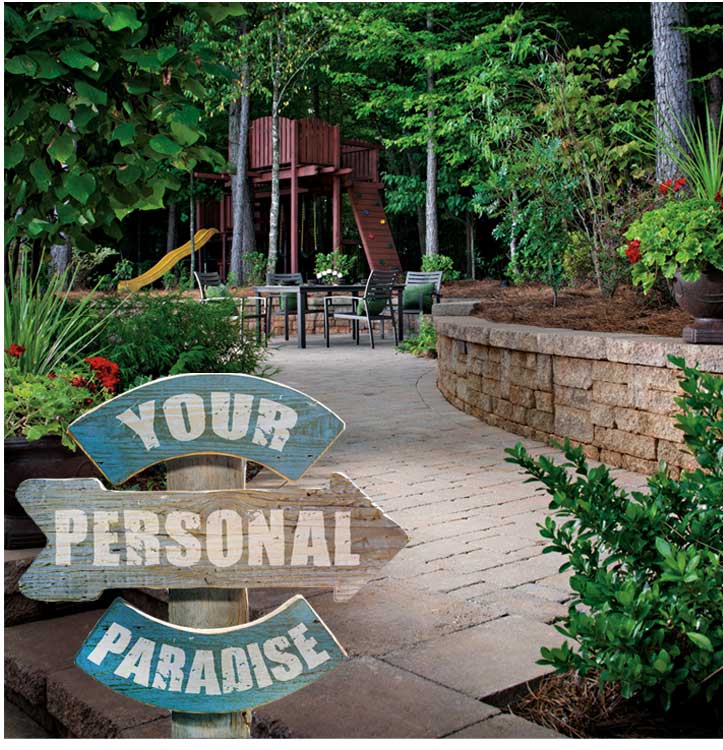 Need Help Creating Your Personal Paradise?
For more information or assistance regarding your outdoor project, call ZZZippy at 574.259.5959. A ZZZippy Tele-hostess will provide you with free assistance, advice and/or recommendations on professionals and suppliers in the Outdoor Living Industry. You can also search our online directory for everything you need to get started, including: Landscapers, Patio Furniture, Sound Systems, Swimming Pools, Building Materials, Brick & Stone, Outdoor Grills, Electricians and pretty much anything else that you need to create your Personal Outdoor Paradise.