Necrotic CreationsANIMATRONICS • PROPS • DECOR
Stacy and Robert Santos are business owners with pure passion. The first time you meet them you can see it in their eyes and hear it in their voices. However what they are really passionate about is Halloween... and everything related to it! All you have to do is speak to them for a moment or take a look of any one of their countless products (which they design and manufacture themselves. The Santos couple are co-owners of Necrotic Creations... one of the best Haunted House Prop makers in the entire country. Necrotic Creations design and create a myriad of animatronics, haunted house props, escape room props and all types of decor for effect!
Stacy is extremely creative and designs much of the product that Necrotic Creations produces. She is a talented artist and has the ability to bring her products from paper to real life. Robert is also very creative and is known for his attention to detail. His dedication to accuracy and timeliness are nothing less than impressive according to co-workers. Seeing their finished Necrotic Creations products is testament to their talent and commitment to excellence.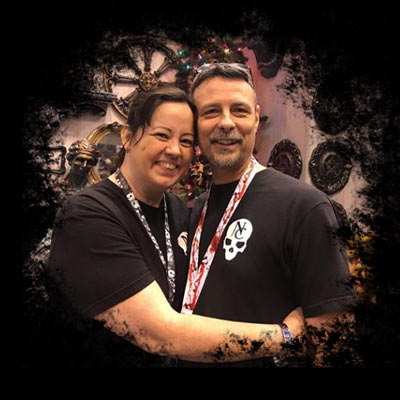 Necrotic Creations Masterminds - Stacy & Robert Santos
According to the couple, the Haunted House and Dark Attraction industry is growing and with that growth there are increasing demands for realistic looking props and décor. Necrotic Creations mission is to provide those high-quality, realistic props without "killing" haunted house owners budgets. This is where Robert believes the rubber meets the road. "Our sincere passion for Halloween (and everything haunt related) fuels our enthusiasm to build the best, the most original, and frighteningly creepy haunt products on the market today. Furthermore we do that at prices haunters can afford."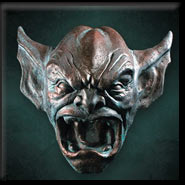 I have seen some of the
most realistic props in
the entire Haunted House Industry
but there is nothing,
and I mean nothing as realistic as
Necrotic Creations props.
Charles Payton - Creative Assistant Father Timeless Diaries
Necrotic Creations
Specializing in hauntingly realistic…
Necrotic Creations is obviously dedicated to the goal of providing highly detailed and realistic Halloween props and haunt décor to their customers. This is evidenced by taking a quick look at their cast selection of Haunted House Props (of course they also provide Escape Room Props and props for other Specialty and Theatrical Events). Seeing these props in their environment is exciting. When adding Necrotic Creation props to a well done set the final product is chilling. They enhance an environment and literally bring it to life!
NECROTIC CREATIONS ADVANTAGES
– High Quality Resin decor and accents

– Foam and latex props for static displays and pneumatic mechanisms
– Custom designs built to customer's specifications to make (making their nightmares come to life)
- Great emphasis is placed on exceptional customer service and quick turn around
- Original creations and products
- Proudly made in the USA from quality materials
- Controlled Pricing making it possible for buyers to afford high-quality props