HAUNTBOTS
The Best Prop Controllers and Digital Audio Products for the Haunted House Industry
If you are in the Halloween Event business where you have Haunted Houses, Corn Mazes, Hayrides or other spooky events, you need to have professional Prop Controllers and Digital Audio Controllers... that is if you really want to have that Scare impact. And if you know anything about the haunt industry you certainly know HauntBots, one of the very best suppliers in the Haunted House Industry, especially when you're looking for controllers or "brains".

If you're not familiar with controllers and you're in the haunted house business (or getting into it) you will soon see how important they are to your haunted house. Pete Rondau, founder of HauntBots explains. "Prop Controllers and Digital Audio Controllers are one of the most important investments you can make in your haunted house. That goes for Home Haunts as well as large commercial Haunted Attractions. Haunted House owners across the board are becoming more and more sophisticated and they're haunted houses and Halloween events continue to become bigger, more realistic and sometimes more complicated. While there is certainly a need for animatronic controllers and special effects controllers, they don't have to be complicated or difficult to use. At HauntBots we make quality controllers for controlling sound, animatronics, lighting sound and other special effects.
Another thing that Pete says is that you don't have to spend huge amounts of money when it comes to Haunt Prop Controllers. "It's as simple as understanding what you want to achieve with your effect. That's the case in any special effects- sound, video, props, it doesn't matter. Once you've done that you just need to match the desired effect with the controller that will pull it off. One of the things we pride ourselves on at HauntBots is helping customers find the right controller to achieve the special effect or effects they are looking for. Plus, we ensure our customers that we at HauntBots offer the best prices on Prop Controllers for Haunted Houses and other venues... all things considered.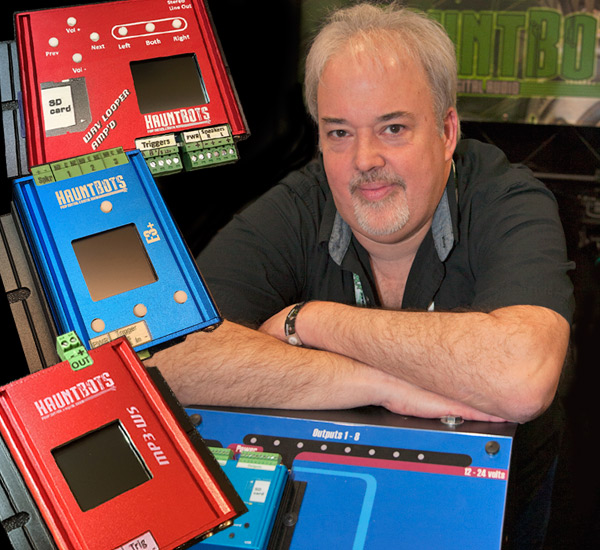 Pete Rondau, owner and founder of HauntBots Prop Controllers and Digital Audio Controllers, helps haunted house owners and others in need of special effects controllers find the right controller for their props, lighting, sound, sound effects animatronics, video and other special effects.
We ensure our customers
that we at HauntBots always
offer the best prices
on Prop Controllers for
Haunted Houses
and other venues