Dapper CadaverWhen You Need Realistic Haunted House Props
Dapper Cadaver is a specialty prop shop which has a reputation for providing Quality death-related props, haunted house props, a variety of scientific props and escape room props as well as other themed decor and oddities. Designing and manufacturing the most realistic, high quality props continues to be the mission of Dapper Cadaver as they have broadened their lines of haunt props as well as their reputation in the haunt industry.
Dapper Cadaver has an long term reputation as a leader in:
Haunted House Props
Escape Room Props
Props for Theatrical Plays & Stage Shows
Movie Props
Props for Television Commercials
Props for Theme Parks
Unlike most prop makers in the industry, Dapper Cadaver offers their props for rental as well as for sale. They also offer custom props to their Haunted House customers, Escape Room customers and for theatrical venues.
The company started as a smaller prop shop as many do. Founded by BJ Winslow and his wife Eileen in 2006. These two have a passion for not only their cool and differentiating props but also for the haunted house industry and the haunt owners that steer this unique industry. Located in Sun Valley, California, Dapper Cadaver is surrounded by many other prop houses and knew from the beginning that they had to do things different to stand out in the crowd.... and that they did by offering more interesting horror props, more intense props and more unusual props.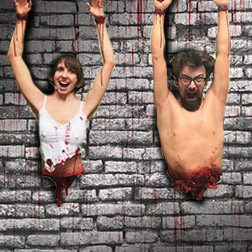 Owners of Dapper Cadaver, BJ & Eileen Winslow, just hanging around via of their Photo Ops Product
Dapper Cadaver Professional Props Video courtesy of jdkix video