Springer Dental Care
Better Smiles, Whiter Teeth, Better Oral Health
This Friendly Group of Dentists Are Delivering The Kind Of Results Their Patients Are In Search Of!
There are a lot of dentists in Michiana. The key is to find the right dentist for you and your family. One way to do this is by finding a source that narrows the playing field to only the best (like the ZZZippy Best Dentists Program). Then find a dentist that is located within a reasonable distance from you. Finally gather the vital information that you are suits your needs (dental services offered, type of dentists, their bedside manners, etc.). When you start doing those things you will see exactly why Springer Dental Care is such a great choice for so many dental patients in Michiana. First Springer Dental has not one, but three dentists offices in the Elkhart County market. There is a Springer Dental Care in Elkhart, a Springer Dental Care office in Goshen and a Springer Dental Care office in Millersburg. All three offices with friendly, caring, approachable and talented dentists. With the myriad of services that these dentists offer, combined wit their experience and skills, it's no wonder that Springer Dental Care is considered one of Michiana's Best Dentists!

HOW SPRINGER DENTAL CARE IS
Creating Beautiful Smiles In Elkhart, Goshen & Millersburg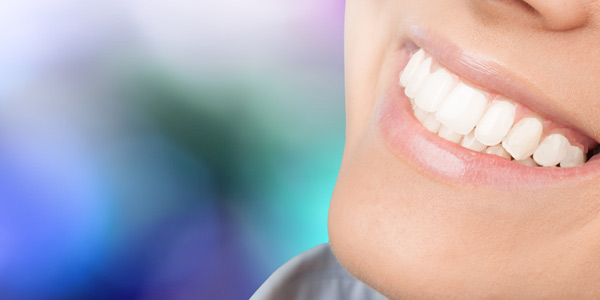 For a beautiful smile that will last a lifetime, you may very well consider Springer Dental Care! Their unique blend of compassionate and professional customer service with state-of-the-art equipment and techniques enables them to provide their patients with exceptional dental care. With their three locations (Elkhart, Goshen and Millersburg, Indiana) they make dentistry even that much more convenient for those that they serve.
What's more, at each individual Springer Dental Care Office you find dentists dedicated to helping patients feel as comfortable and relaxed as possible. At the same time, because of their vast experience and skills they can assist you in reaching your goal of getting the smile of your dreams.
With the latest technologies combined with the talent of these docs, Springer Dental Care patients get the best of both worlds. According to their patients, this is an unbeatable recipe for success. According to Dr. Troy Springer it's all about truly caring for the patient. "At Springer Dental Care, we believe our success comes for a combination of things we do right, of course. However, the thing we do best, the thing we are known for and the thing that our patients appreciate the most is the fact that we genuinely care about them, about their health and about their oral health goals."
"I have gone to Springer Dental Care
for over 7 years.
My husband and both of our children
are also patients there now.
We love doctor Springer!
He is not only talented,
he is also the nicest, most caring
dentist we have ever found!"
Shelia Simpson- Elkhart, Indiana
"We started going to Springer Dental
a couple of years ago.
Since that time they have changed
both my husband's and my lives
by giving us the smiles
that we always dreamed of.
Thank you Dr. Springer!"
Kathy Davis- Niles, Michigan
"I typically don't do testimonials,
but, I typically don't like dentists.
That is until I met
my dentist at Springer Dental.
I cannot say enough great things
about her and her staff.
I assure you, I will never go to a dentist
other than Springer."
Matt B- Goshen, Indiana
SPRINGER DENTAL CARE DENTISTS... STANDOUTS AMONG MICHIANA DENTAL PROFESIONALS
When it comes right down to it, quality of the health care that you receive will be a direct correlation of the health care provider you choose. That's why Springer Dental Care has such rave reviews and continues their journey of happy, healthy patients. The dentists at Springer are not only kind, caring and friendly, they are also talented and experienced professionals. These are the kind of dentists you want caring for you and your family.
DR. TROY SPRINGER DMD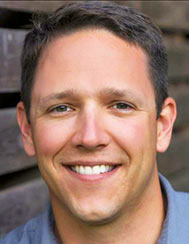 Dr. Troy Springer hails from Harrisburg, PA. He has followed his family tradition by attending Goshen College where he played basketball and received a Bachelor of Arts degree in Biology. That's where he met his future wife Catie. Troy then attended the University of Pittsburg School of Dental Medicine where he graduated with honors. Dr. Springer returned to Indiana in 2009 and has been practicing dentistry here since that time.
Dr. Springer is considered by his patients to be not only a skilled and very experienced dentist, but a caring and friendly one as well.
DR. SHELLIE GODINA DMD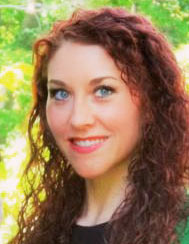 Dr. Shellie Godina is a Hoosier who grew up in New Paris and is a graduate of Fairfield Jr.-Senior High School. She then attended the University of Indianapolis and gaduated summa cum laude with a Bachelor of Arts degree in both Chemistry and Biology. Dr. Godina then attended the Indiana University School of Dentistry and graduated with honors. Dr. Godina is admired by patients for her bedside manner.
DR. ERIC STEFANSKI D.D.S.

Dr. Eric Stefanski grew up on a lake in Kalamazoo County, Michigan, where he developed a passion for fishing, sailing and all manners of water sports. He graduated from Gull Lake High School and moved on to the University of Michigan in Ann Arbor to obtain a Bachelor of Science degree with majors in Biology and Anthropology-Zoology. He extended his stay in Ann Arbor by graduating as a Doctor of Dental Surgery from the University of Michigan School of Dentistry.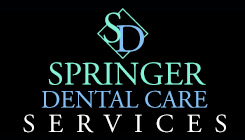 SPRINGER DENTAL CARE SERVICES
Springer Dental Care provides a surprisingly wide range of dental services and treatments including: routine preventative cleanings, crowns and bridges, extractions, root canals as well as cosmetic treatments such as teeth whitening. In addition, for the comfort of some patients they also offer sedation options including nitrous oxide to help their patients feel at ease during your visit.
Springer strongly believes that the best way for a patient to maintain their oral health, besides regularly visiting the dentist, is to be educated on their dental health. According to all three docs at Springer Dental, this helps their patients be proactive with their oral hygiene at home. The Springer team works hand in hand with their patients to ensure they are empowered to make the right dental decisions. This is just one more reason that Springer is ahead of the curve when it comes to dentists in Michiana.
GENERAL DENTISTRY
Springer Dental Care, offers a very wide range of general and cosmetic dentistry services. Whether you have a cavity or you want to whiten your smile, they have a variety of options, and will work with patients to determine which treatment is best for their individual needs. They are passionate about making sure patients are always comfortable during their appointments by providing compassionate and gentle care. One of the advantages that they have is that they offer all of the their services at all 3 Springer Dental Care offices (Elkhart, Millersburg, and Goshen).
DENTAL BONDING by SPRINGER DENTAL CARE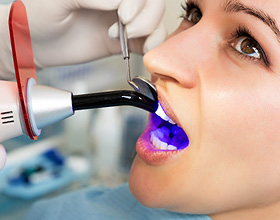 Dental bonding is a relatively inexpensive procedure to improve the appearance of your smile. Springer Dental use a high-intensity curing light to apply a tooth-colored resin, made of a combination of glass and plastic, to the teeth. This can be used to fill in gaps, chips and cracks as well as cover up discoloration. Bonding can usually be completed in just one visit and in about 30 minutes to an hour. With proper oral hygiene, a bonding treatment can last anywhere from three to 10 years.
CROWNS & BRIDGES by SPRINGER DENTAL CARE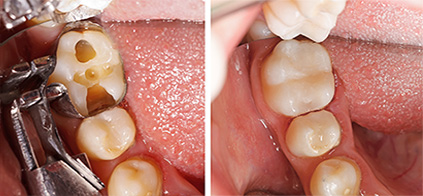 A crown is a treatment completed on a tooth that is decayed, discolored or broken. It helps restore the tooth's strength and functionality. The crown is a tooth-colored, porcelain cap that is placed over the tooth to protect it from further damage. This procedure typically takes about two visits. The tooth will be shaped and prepared to fit inside of the crown during the first visit, and you will receive a temporary crown. At the second visit, you will receive your custom-created crown.
A bridge is a device used to fill in a gap in between teeth. Crowns are placed on the teeth on either side of the gap, to support a third crown placed into the gap. It is important to take care of your crown or bridge with proper at-home care.
DENTAL IMPLANTS by SPRINGER DENTAL CARE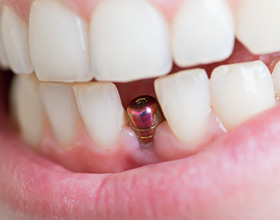 Dental implants are a long-term solution for a missing tooth. They not only improve the aesthetic appearance of your smile, but they also improve your ability to chew and speak. In addition, implants reduce the risk of teeth shifting and jaw bone deterioration that can result from missing a tooth.
This procedure by the docs at Springer Dental Care involves placing a titanium screw into the gap to replace the tooth's root. After a couple of months, the screw will meld to the jawbone, which means you are ready for your restoration. The restoration usually is in the form of a custom-created crown placed over the titanium screw. Implants can be used to replace one or multiple teeth. Proper dental care is essential to making sure your implant lasts a lifetime!
FILLINGS by SPRINGER DENTAL CARE


Fillings are used to fill in holes in the tooth that are caused by decay and cavities. They protect the tooth from further damage and restore its strength. Springer dentists create fillings out of amalgam silver, gold, or, for the most natural look, a tooth-colored material. Their tooth-colored options include a composite (plastic and glass), porcelain, or a glass ionomer (glass and acrylic). Composite fillings are the most popular choice for their subtlety and strength.
ORAL CANCER SCREENINGS by SPRINGER DENTAL CARE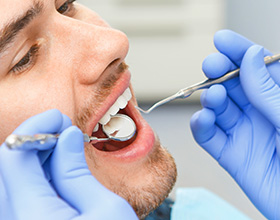 Oral cancer often isn't detected until it is too late. That's why it is so essential to see the dentist regularly for an oral cancer screening. At Springer Dental Care, they include a screening in your regular teeth cleaning appointments. They check for any sores or discolorations along the tongue, lips and gums. Many of these are harmless, but if they detect anything suspicious they will take a tissue sample to have it tested.
ORTHODONTIC TREATMENT by SPRINGER DENTAL CARE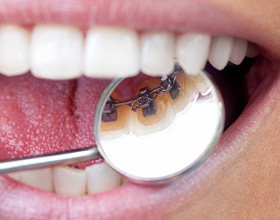 You can begin orthodontic treatment at any age; it's never too late! Not only will having straight teeth help you to feel more confident in your smile, but it also improves your chewing and speaking functions and prevents jaw bone damage. It is a gentle process that works over time to make a huge difference in your smile. Options include metal braces, ceramic braces, clear aligners and lingual braces (placed on the back of your teeth rather than the front). All of these options are effective, so we will work with you to determine which orthodontic option is best for your needs and lifestyle.
After the treatment is complete, Springer provides patients with retainers, which are essential to making sure their teeth stay in position!
PORCELAIN VENEERS by SPRINGER DENTAL CARE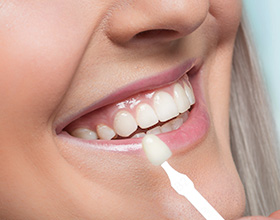 Porcelain veneers are thin yet very durable tooth-colored shells that are bonded to the front of existing teeth. Veneers are used to improve the appearance of the teeth. They can extend a tooth that is too short, cover up chips and cracks, fill in gaps, or give the tooth a whiter look. We will work with you to determine what you would like to fix in your smile and then help you decide if veneers are a good treatment option for you.
TEETH CLEANING by SPRINGER DENTAL CARE

It is recommended that you visit the dentist twice a year for a regular teeth cleaning. This is essential even if you are brushing twice a day and flossing daily, because at a teeth cleaning, Springer dentists will check for signs of decay, cavities, gum disease and oral cancer. These dental problems are most treatable when detected early. Plus, they use special tools to remove plaque and bacteria, cleaning your teeth more thoroughly than can be done at home.
REMOVABLE DENTURES by SPRINGER DENTAL CARE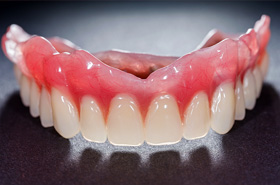 Full and partial dentures are great options for replacing lost teeth, thus improving the appearance of your smile as well as improving your ability to chew and speak. Springer Dental Care dentists always take careful measurements by creating impressions of the upper and lower parts of the mouth. This ensures your dentures fit properly, so they fit securely and comfortably in your mouth. Dentures do take a bit of time to get used to, but once you adjust, you will find that they provide a host of benefits.
ROOT CANALS by SPRINGER DENTAL CARE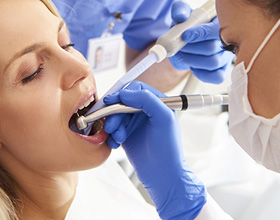 When a tooth is severely decayed or infected, a root canal is performed to save it from needing extraction. Root canals, in actuality, aren't the most painful dental treatment, and they effectively remove the pain that comes from a decayed or infected tooth. During the procedure, Springer will remove the dead, infected pulp from inside the tooth, and then disinfect the inner tooth. Afterwards they use a cement to seal the tooth, protecting it from bacteria and further decay. They sometimes provide a crown to restore the tooth to its former strength.
DENTAL SEALANTS by SPRINGER DENTAL CARE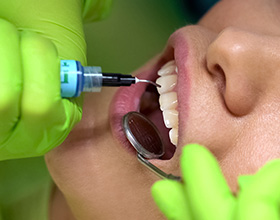 Dental sealants a great option for children to protect vulnerable teeth from decay. Typically these are the back teeth, which are often neglected during brushing. Sealants are invisible caps made of plastic resin that are placed on top of the tooth to smooth out the grooves, making them easier to clean. With proper care, a sealant can last for as long as 10 years!
TEETH WHITENING by SPRINGER DENTAL CARE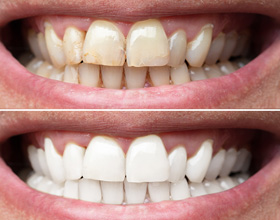 Teeth whitening is one of the most popular options for improving the appearance of your smile. When done professionally, you can see dramatic results in as little as one visit while making sure the procedure is done safely and correctly. All three Springer Dental Care offices offer in-office whitening which involves using a hydrogen peroxide gel on the teeth to bleach away stains and discoloration. The bleach is left on for an hour. They also provide patients with take-home whitening kits. These kit include custom-created mouth trays for both your top and bottom teeth, which you will then fill with a whitening gel.
TMD / TMJ TREATMENTS by SPRINGER DENTAL CARE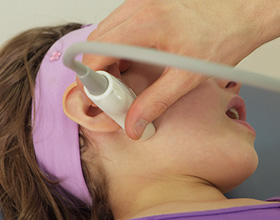 TMD (Temporomandibular disorders) are disorders of the temporomandibular joint, or TMJ. TMD is characterized by jaw clicking, popping, pain and discomfort as well as limited ability to open the jaw. If you are experiencing these symptoms, Springer Dental can help you determine the source of the pain and work to fix it. Over-the-counter pain medications as well as applying ice and heat can be helpful in relieving pain. In the most severe cases, treatments can involve cortisone shots or bridgework.
TOOTH EXTRACTIONS by SPRINGER DENTAL CARE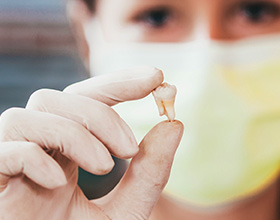 When a tooth is damaged or decayed beyond repair, or if you have a tooth that is causing overcrowding or for the rest of your teeth to shift, an extraction is the best option. In addition, wisdom teeth generally have to be removed because they are impacted, or stuck in the gums, or they are coming in at an angle that threatens the other teeth. Springer Dental Care dentists provide local anesthesia to make this process as painless and comfortable as possible. If you are particularly anxious, they can provide other forms of sedation, such as nitrous oxide, conscious sedation or oral sedation.
After the extraction, they can discuss with you tooth replacement options, which include partial dentures, bridges, and implants.
PERIODONTITIS THERAPY by SPRINGER DENTAL CARE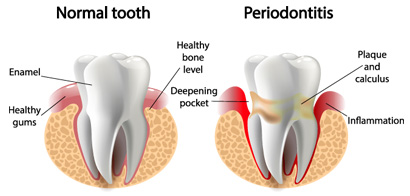 Periodontitis is a disease of the structures surrounding the teeth, especially the gums. When it is left without treatment, it can begin to affect the bones that support the teeth, leading to a loss of teeth.
NUMEROUS PERIODONTITIS THERAPIES
Gum scaling and planing to remove plaque, bacteria and tartar within the gums.
Gum grafting to take gum from a different part of the mouth to replace gum loss.
Periodontal laser surgery to treat gums more safely and painlessly than in traditional surgery.
Periodontal plastic surgery to improve the appearance of affected gums.
Crown lengthening surgery to extend the length of a tooth if the gums have come down too far.
Dental implants to replace missing teeth
The best ways to avoid periodontitis are brushing twice a day, flossing daily and visiting the dentist twice a year for regular teeth cleanings. Gum disease is completely preventable!
SEDATION DENTISTRY by SPRINGER DENTAL CARE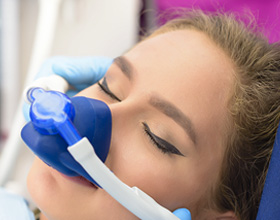 Sedation dentistry is a safe, effective method used to keep patients comfortable and relaxed during dental treatments. Before giving you a sedative, Springer docs will ask you to fill out a health history form to determine which methods are safe to use. Oral sedation includes anti-anxiety medications in the form of a pill that is swallowed or dissolved under the tongue. Nitrous oxide, otherwise known as "laughing gas," is gas that you breathe in to help you relax. It is a conscious sedation treatment that has been used for many years because of how safe it is and because it doesn't produce any side effects after it wears off.
IV treatment involves injecting medication into the bloodstream for quick relaxation and a deep sleep. The amount administered can be controlled, and when given an IV, you won't remember your procedure, which is great news for especially nervous patients. The Springer dentists can help you decide if IV is the right sedation option for you.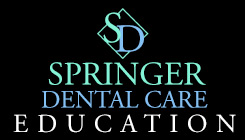 AN INFORMED PATIET IS A HEALTHIER PATIENT

The best way to maintain your oral health, in addition to visiting the dentist twice a year, is to have healthy hygiene habits at home. This involves brushing your teeth twice a day, flossing daily and maintaining a healthy diet. At Springer Dental Care in Elkhart, Millersburg, and Goshen, IN, their dentists believe in empowering patients to make healthy decisions by providing them with the information they need.

SNORING & SLEEP APNEA

Snoring and sleep apnea are not only disruptive to those around you, but they can be detrimental to your health. Sleep apnea is a disorder in which you stop breathing for short periods of time while you sleep and then wake up many times throughout the night (you may not even remember doing so) to catch your breath. This usually results in a snoring sound. Because you are waking up so many times, you are unable to get a good night's sleep, causing fatigue, memory difficulties and trouble focusing and concentrating. It can also cause irritability, morning headaches or high blood pressure.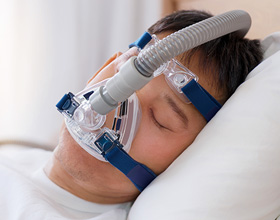 By providing you with an oral device made to open your airways while you sleep, a dentist can help decrease the symptoms of snoring and sleep apnea and allow you to get a better night's rest. If you suspect you may have sleep apnea, speak with your dentist to determine the best treatment plan.
DIGITAL X-RAYS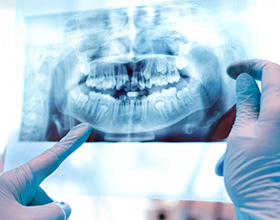 X-rays are important because they can help discover developing dental issues that are unable to be seen during a routine exam. Therefore, by detecting problems early, they create a better chance for success when treatment begins.
Digital x-ray machines are state-of-the art, are extremely safe to use, and they greatly reduce the patient's exposure to radiation. Plus, they quickly produce clear images that can be stored on or sent via a computer.
PEDIATRIC DENTISTRY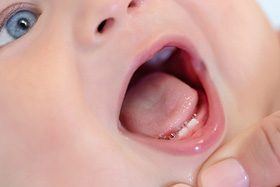 Children should begin seeing the dentist for regular dental exams by the time they are one year old. Children are especially vulnerable to cavities and decay, as it can be hard for a parent to thoroughly brush their teeth, and children usually don't brush as thoroughly as they should. Pediatric dentistry involves taking care of a child's teeth while making them as relaxed and comfortable as possible. Going to the dentist should be a fun experience! There are sealants available to protect vulnerable teeth from decay, and fluoride treatments to build up the child's tooth enamel. By bringing children to the dentist at a young age, they are being prepared for a lifetime of oral health and healthy dental habits.
Find out More About Springer Dental Care Below

With 3 Convenient Locations To Serve Patients
SPRINGER DENTAL CARE ELKHART
3702 E Mishawaka Rd. Elkhart, IN 46517
574-875-6595


SPRINGER DENTAL CARE MILLERSBURG
422 N. Benton St. Millersburg, IN 46543
574-642-4449


SPRINGER DENTAL CARE GOSHEN
Springer Dental Care at Crossroads
57250 Alpha Dr. Goshen, IN 46528
574-875-3817


or visit us at:
springerdentalcare.com