HACKEN ORTHODONTICS
This Granger, Indiana Dentist is Creating Smiles That Rock!


When you meet Dr. Michael Hacken you quickly see his passion, not just for dentistry but for life. Yes, he enjoys dentistry, in fact, you could say that he does indeed love it. He loves being an orthodontist. He says that being a dentist is everything he has always looked for in a profession. It allows him the flexibility to spend time with his family while at the same time giving people the great smile they have always dreamed of… or as he says, "I love creating rockin' smiles!
When he was a teen, his life transformed after his personal orthodontic treatment. "I love to help others feel the same way about their smiles I do about mine. It is very rewarding. Plus what's really cool is that the people that come to me start as patients start but end up as friends. I really dig that. There is also something very rewarding watching my patients' progression from the beginning stages of treatment to the final, beautiful smile that changes their life. It is amazing that I make a living doing something that I love: changing lives, one person and one smile at a time!"
When you meet Dr. Mike for the first time his personality and persona overwhelm you in a positive way. He makes you comfortable immediately and that sets the tone for a great bond. What better way is there to start a dentist patient relationship? There isn't one.
DR. MIKE HACKEN, DMD, MS
ABOUT HACKEN ORTHODONTICS
This dentist is so different, so unique, that one could go on and on about "the Hacken Orthodontic difference". From the moment you walk in to the time you spend with Dr. Hacken, you realize that Hacken Orthodontic is no ordinary dentist. Dr. Mike and his Hacken Orthodontics Team honestly make you feel so comfortable you forget that you are wit a dentist. As in most cases, what sets a company or professional apart are the people, especially the leader. That, hands down is the advantage that Dr. Mike and the Hacken Orthodontic Team have as a serious competitive edge.
I love Dr. Mike and the entire
Hacken Orthodontics staff.
From the first time I visited
I have felt like a friend,
not like a patient.
I can't tell you how important
that is to me.
Randy R - Granger, IN
THE STAFF
The staff members at Hacken Orthodontics are an experienced and talented team, committed to working with patients and their families to create a comfortable, stress-free and rewarding orthodontic experience during every appointment and throughout the process of rebuilding smiles.
ORTHODONTIC ASSISTANTS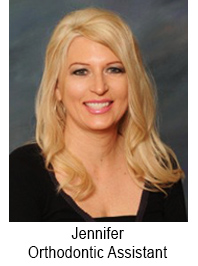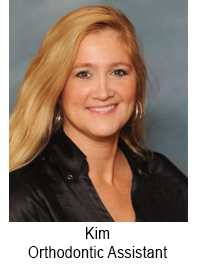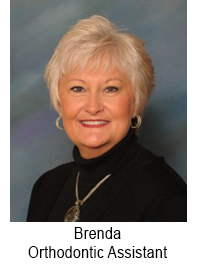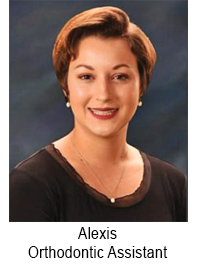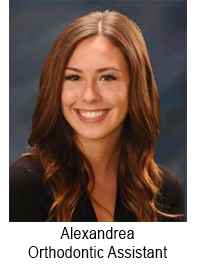 LAB STAFF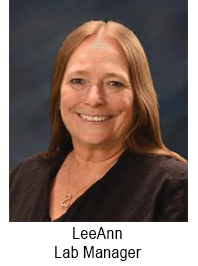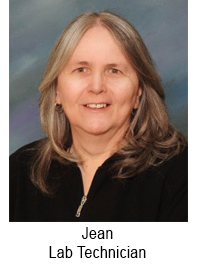 OFFICE STAFF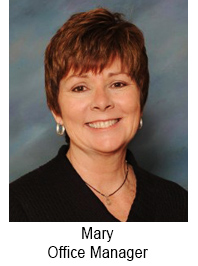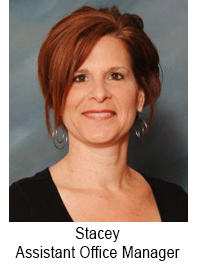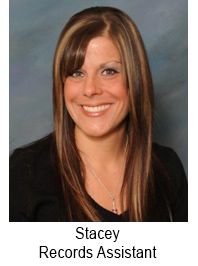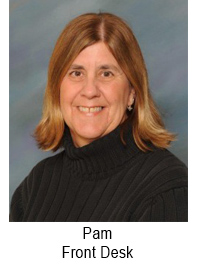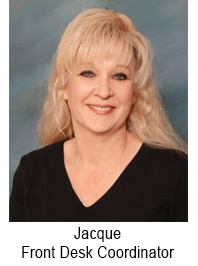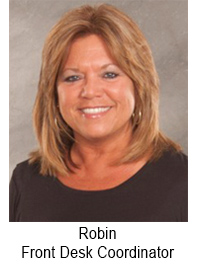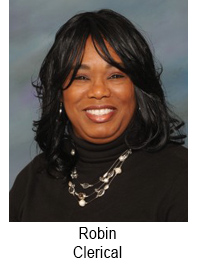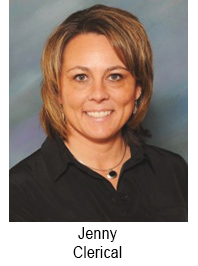 WHAT MAKES HACKEN ORTHODONTICS DIFFERENT?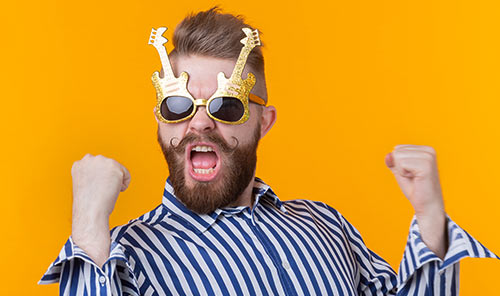 Every patient at Hacken Orthodontics is treated like family. And though you've heard that before, at this practice, it's true. Once the staff gets to know each patient, they greet them by name and display a genuine caring attitude throughout the visit – and throughout the process.
Dr. Hacken believes in concervative treatment, meaning that he recommends only proven procedures that will result in a stable, functional, lovely smile. To this end, through continuing education, Dr. Hacken studies the latest diagnostic technologies and techniques and incorporates proven processes, including 3D Cone Beam CT imaging, into the practice. By embracing modern orthodontic options, he ensures comfortable, accurate diagnostics and treatment.
In addition to offering traditional braces, Dr. Hacken specializes in treating patients with Invisalign® clear aligners. He is able to utilize the process with unparalleled success, even when other orthodontists tell patients they're not candidates for the aligners. The result is adults who longs for a more beautiful smile, but are concerned about your appearance during treatment, can get help.
COMMON ORTHODONTIC ISSUES

Orthodontic problems such as crowding of the teeth, too much space between the teeth, jaw growth problems, protruding teeth, and bad bites can be inherited or caused by injury to the mouth, early or late loss of baby teeth, or thumb-sucking habits.
Most children lose all their baby teeth by age 13, and by the end of their teen years, the jaw bones will harden and stop growing. Receiving early orthodontic treatment as a child can help prevent the need for orthodontics as an adult, which will likely require more time, and could involve tooth extraction and orthodontic surgery. Here are examples of Dr. Hacken's expert knowledge and experience treating severe orthodontic problems.
CROWDING OF THE TEETH
Patient started treatment at age 11 and wore braces for 26 months.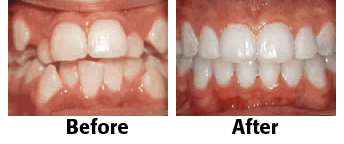 OPEN BITE - FRONT TEETH DON'T TOUCH
Patient sucked her thumb as a young child. She started treatment at age 13. She had braces and a special appliance — called a crib — to retrain the tongue, for 28 months.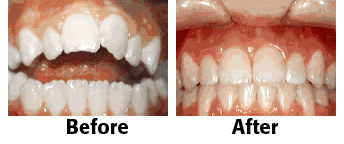 DEEP OVERBITE - LOWER FRONT TEETH BITE INTO PALATE
This adult patient, age 25, required braces and jaw surgery to correct his severe overbite, with treatment taking two years. His problem could have been corrected without surgery if he had been treated before he was a teenager.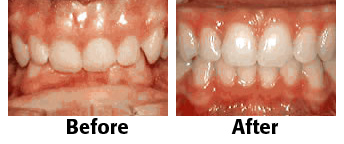 MISSING LATERAL INCISORS
This patient's lateral incisors were congenitally missing. She had braces for 20 months to move the teeth into their correct positions, then the missing teeth were replaced with bonded "Maryland" bridges.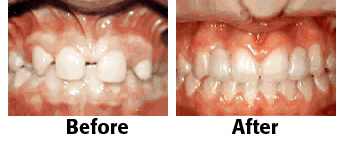 UNDERBITE - LOWER FRONT TEETH IN FRONT OF UPPER TEETH
Patient's underbite was causing her jaw joint discomfort and excessive wear patterns on her teeth. Treatment lasted about 30 months starting at age 32.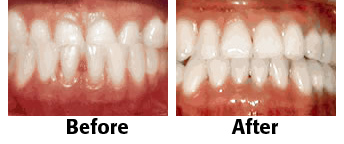 OPEN SPACES BETWEEN TEETH
Braces closed the spaces between the patient's teeth and gave him an ideal bite in 24 months. Special glued-in retainers help keep the spaces closed.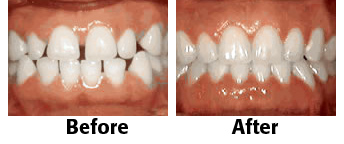 OVERJET - PROTRUDING FRONT TEETH
At age ten, patient had a big overjet with the top teeth protruding beyond the bottom. She had two phases of treatment. The first helped her jaws to grow more harmoniously and the second aligned her teeth and bite, by age 13.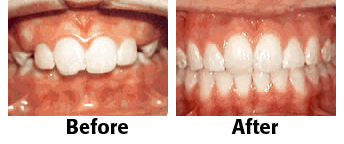 NON-BRACES TREATMENT
The patient was first seen at age seven for crowding of the lower permanent teeth. A procedure was performed to reduce the width of the adjacent baby teeth and the permanent incisors aligned on their own in nine months.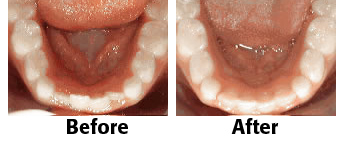 PHASE-ONE
When first seen at age eight, the patient's lower front teeth were crowded and touching the palate, and the upper front teeth were extremely displaced from their normal positions. After 12 months of Phase-One treatment with an expander and partial braces, the patient's appearance and dental function were vastly improved.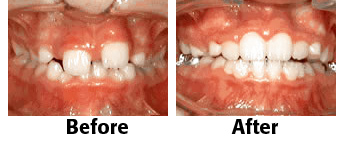 PROCEDURES
SURGICAL ORTHODONTICS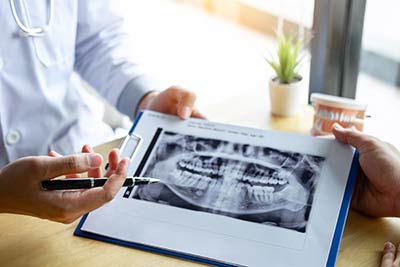 The need for surgical orthodontics occurs when the jaws do not line up correctly, and a proper bite cannot be achieved with orthodontic treatment alone. Orthognathic surgery will help properly align the jaw, and orthodontic braces will then be used to move the teeth into their proper position. Learn more here.
DIODE LASER TREATMENT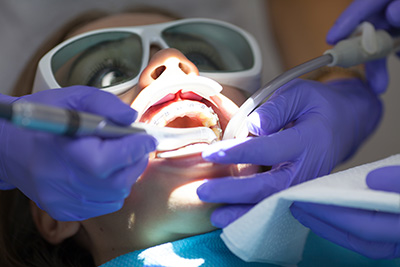 Diode laser treatment provides several benefits for patients receiving orthodontic care. By using a specialized diode laser, we are able to safely and effectively remove excess gum tissue in order to expose more of the tooth's surface for better aesthetics and function. Your gum tissue serves as a "frame" for your teeth; orthodontic lasers are used to sculpt the gums around the teeth in a way that helps improve the overall appearance of your smile. The best part of laser treatment? In most cases, there is no need for needles! Learn more here.
iTERO® DIGITAL IMPRESSIONS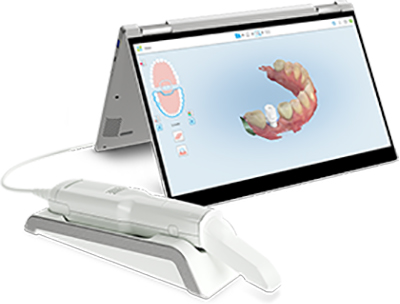 Photo Courtesy of iTero®
No more goop, gagging, or discomfort. Using an iTero scanner, your orthodontist can take a highly accurate digital impression of your teeth and jaw. The new technology completely eliminates the tray and putty impressions, where the experience is comparable to stuffing a big wad of gum in your mouth. The iTero scanner ensures a more accurate impression from the start, resulting in improved treatment and a more comfortable patient experience. Learn more here.

CARESTREAM CBCT IMAGING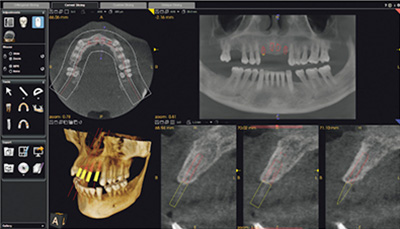 Photo Courtesy of Carestream Dental (Kodak)
Carestream CBCT is a digital, 3D imaging system that allows us to provide quick, comfortable, and effective orthodontic imaging for precise diagnosis, treatment planning, and the evaluation of certain conditions. The data gathered is used to reconstruct a 3D image of your anatomy: dental (teeth); oral and maxillofacial region (mouth, jaw, and neck); and ears, nose, and throat (ENT). Learn more here.
INVISALIGN® CLEAR ALIGNERS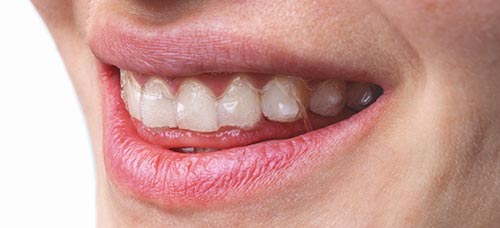 Dr. Hacken specializes in treating patients with Invisalign clear aligners. He is able to use the process with unparalleled success, even when other orthodontists tell patients they're not candidates for the aligners. Invisalign clear aligners can treat a wide range of teeth-straightening conditions, including crossbites, crowding, open bites, gapped teeth, overbites, and underbites. Invisalign clear aligners are virtually invisible, smooth and comfortable to wear, and they're also easy to put on and take off. That means you can continue doing all the things you normally would, from brushing and flossing to eating whatever you like. Learn more here.
For most people, achieving a healthy, beautiful smile is the reason for receiving orthodontic care. If you're self-conscious about your smile, correcting your teeth with braces will greatly improve the way you look and feel.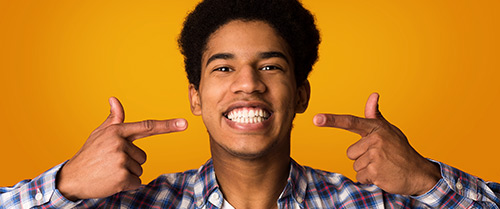 Gone are the days when a metal band with a bracket was placed around each tooth. You can now choose clear or metal brackets and, in some cases, the color of your appliance. Wires are far less noticeable, and the latest materials are designed to move teeth faster with more comfort. Today, any age is a great age to wear braces!
When your treatment is complete, you will have the smile you've always dreamed of and the confidence to show it off!
The first step toward achieving a beautiful, healthy smile that rocks is to
schedule an appointment.


574.277.1211
51565 Bittersweet Road, Granger, IN 46530
Mon-Thu 7A-4P


574.234.2143
926 E. Jefferson Blvd, South Bend, IN 46617
Mon-Thu 7A-4P


574.862.4633
901 East Waterford, Wakarusa, IN 46573
Mon-Thu 7A-4P