Greenleaf Family DentistryAn Elkhart, Indiana Dental Firm With A Focus On Comfort, Care, Concern, Compassion... and Exceptionally High Quality Dental Services
Elkhart, Indiana has a lot going for it including the type of people. the arts and of course industry. However, Elkhart also has several outstanding dentists including Greenleak Dentistry which has an undeniable reputation for quality dental services, Patient Compassion, Dental Technology and a Talented and Caring Doc and Dental Staff... all within the confines of well appointed, comfortable dental offices. At Greenleaf Family Dentistry it all starts with founder and lead dentist, Bill Flora. When you meet Dr. Flora you quickly understand how he has become so popular as a dentist and dental firm. According to Dr. Flora there are several common sense philosophies that Greenleaf follows to assure that they keep their reputation as one of the best Dentists in Elkhart / Elkhart County. "At Greenleaf Family, great quality dentistry is expected. Our viewpoint is to win the confidence of patients by 'proving' to them that we care. We must walk the talk and walk it every single day. Our focus is on Patient Comfort, Exceptional Patient Care, Concern for our Patients and os course, always Compassion towards our Patients. These to us is what makes up the solid foundation for Greenleaf Family Dentistry.
While Greenleaf Family Dentistry has earned their reputation for excellence in dentistry they are also all about meeting the needs of the people in the Michiana community. Flora says "To boast is one thing…..to follow through with a personal touch with everyone who walks through the Greenleaf doors, calls on the phone, who we meet in the supermarket, pass at the mall, or see at a fast-food drive through... this is what takes time and effort. Making a difference in our community, neighborhoods, and schools is our goal and sets us apart." Looking at the awards and recognition that Greenleaf, Bill Flora and his staff has garnered adds a lot of credibility to statements that might otherwise just be considered talk.

Why Patients Prefer Greenleaf Family Dentistry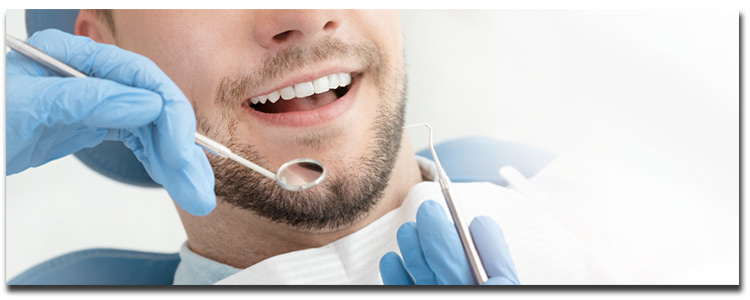 A Formula For Success
When you add up the facts they make perfect sense. People prefer Greenleaf Family Dentistry for the following reasons:
• Greenleaf has over 25 years of successful dental practice in Elkhart
• Dr. Bill Flora has stood solid on his practice of taking care of every patient, making them comfortable, offering exceptional patient care, being concerned for their welfare and being compassionate.
• The Greenleaf Team is one of the most talented and caring Dental Staffs in the region
• Dr. Flora has invested back into his practice to offer the latest technologies and the most comfortable offices.
• The Greenleaf docs and staff do whatever it takes to make their patients look better and feel better
• Greenleef Family Dentistry and Dr. Flora are always involved in the community and always giving back
MEET THE DOCTORS
Dr. Bill Flora
Principal Dentist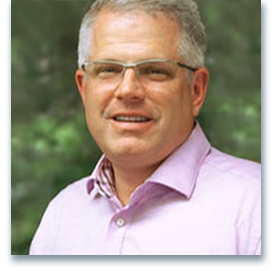 After graduating from Indiana University School of Dentistry in 1992, Dr. Bill Flora returned to his roots in Elkhart with one goal in mind: He would create a dental practice that would make a difference in his community. He soon realized that one of the biggest elements missing in health care was the personal touch, so he vowed to build his practice on the four C's; Comfort, Care, Concern and Compassion.
Continuing education is also a commitment Dr. Flora makes to his patients. He regularly attends courses that enrich his procedures, his practice, and his professionalism.
To learn more about Dr. Flora click here.
Dr. Loren Nelson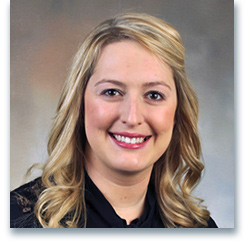 Dr. (Sellers) Nelson was born and raised in Elkhart, IN. She graduated from Elkhart Memorial High School in 2006, received her undergraduate degree from Indiana University in Bloomington, IN, in 2010 and went on to receive her Master's in Biology from Indiana University, Purdue University-Indianapolis.
Dr. Nelson attended and graduated from the Indiana University School of Dentistry in May 2017. While at IUSD, Dr. Nelson was elected Vice President of her class and served as Treasurer of the Student Professionalism and Ethics Association. She received the Dr. Angela Hazlewood Murat Memorial Scholarship as well as the Eleanor J. Bushee Senior Student Award for Outstanding Leadership and Academic Excellence.
To learn more about Dr. Nelson click here.
MEET THE STAFF
Greenleaf Family Dentistry is the leading cosmetic dentistry practice in Elkhart, providing quality treatments including dental implants and TMJ treatment. However, one thing that separates them from the rest is their dedicated and kindhearted staff. Each one of the team members is devoted to providing patients with the highest quality treatments, without sacrificing the care and compassion they deserve.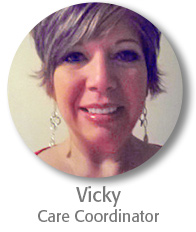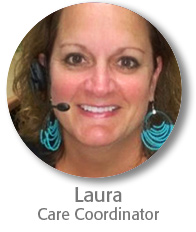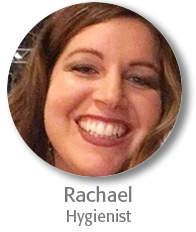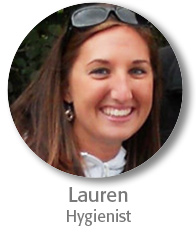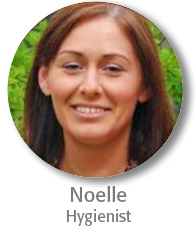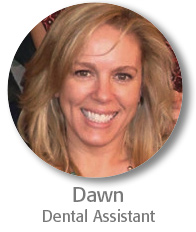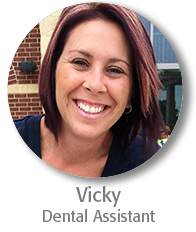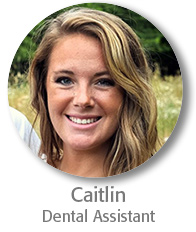 To learn more about the staff members, click here.
GREENLEAF DENTAL SERVICES


GENERAL DENTAL CARE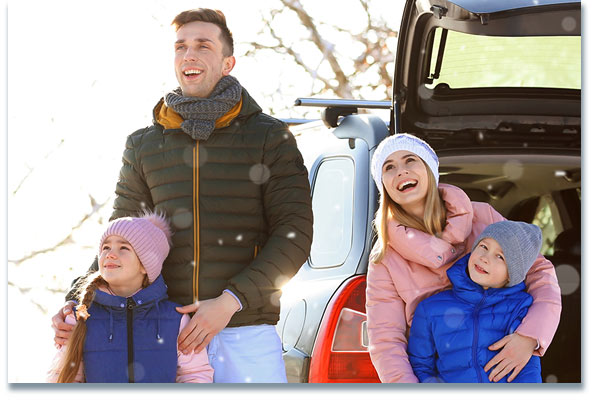 The staff of Greenleaf Family Dentistry are committed to their patient's oral health and total wellness. As a leading provider of general and cosmetic dentistry for Michiana and the surrounding areas, Dr. Flora has the tools and experience to help his patients live a life full of health and confidence.
Dr. Flora continues to apply a special focus on the type of treatments his patients deserve. Implementing the latest dental advancements and a patient-focused touch, each dental experience in our office is centered on patients' total satisfaction from beginning to end.
I.V. SEDATION DENTISTRY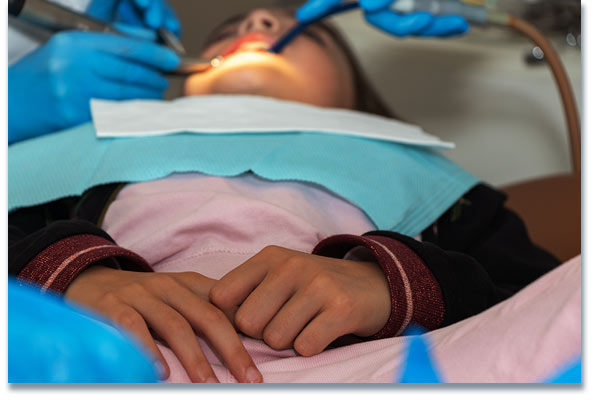 For many, a simple visit to the dentist may cause feelings of fear and anxiety. Dr. Flora is one of few dentists in the Michiana area that is licensed and able to provide patient's with the option of intravenous sedation, as well as oral sedation. Though we always try to make all of our patient's as comfortable as possible in our office, these methods may reduce anxiety and help some feel more relaxed while having their necessary dental work completed.
To learn more about sedation dentistry click here.
CLEAR BRACES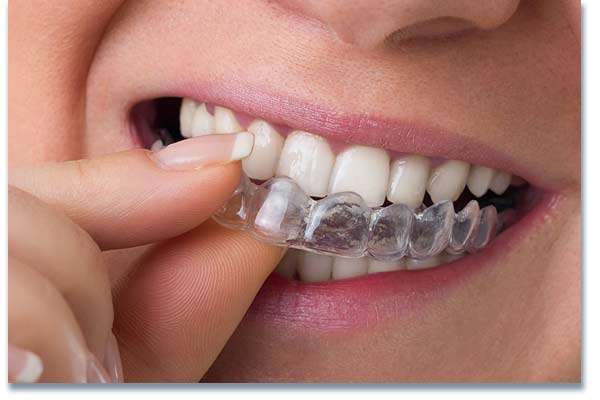 Clear Braces are a great alternative to metal bands and brackets. An intraoral scanner is used to record the patient's teeth on a computer. This digital record is sent to one of the state-of-the-art 3D printers to print models that will be used to make the clear trays that straighten the teeth.
This system straightens the teeth using a series of clear trays, or aligners. These aligners are customized to fit the contours of your teeth, resulting in a comfortable fit. The clear trays are easily removed and should be taken out when eating, drinking, brushing and flossing your teeth.
To learn more about Clear Braces click here.

DENTAL IMPLANTS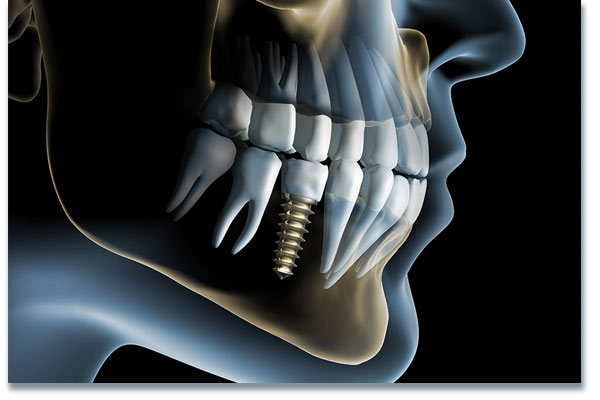 Dental implants are essentially replacements for missing teeth. Titanium anchors are placed in the spot of the missing tooth (or teeth) and can be done in our Michiana dental office the same day you come in for treatment. Once the anchors are attached, the area will need time to heal. When the healing process is complete, Dr. Flora will attach a beautiful, natural-looking crown atop an abutment he has placed. This is a minimally invasive procedure that has many long-term benefits.
To learn more about dental implants click here.

TEETH WHITENING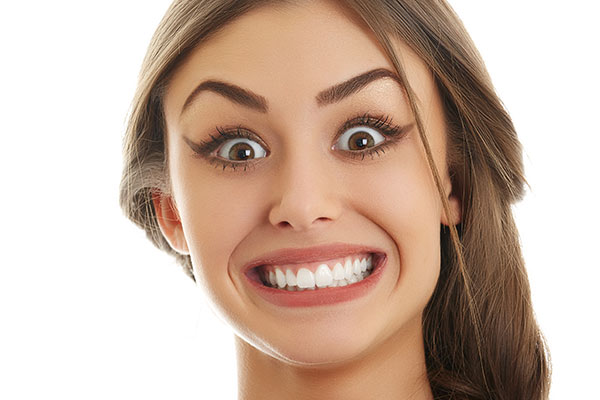 Teeth whitening is the easiest way to bring life back to your smile. Teeth whitening helps lighten the color of your teeth by removing discolorations and stains. Many over-the-counter teeth whitening products promise wonderful results, but fail because everyone's smile is unique, and different smiles require different teeth whitening options. A custom teeth whitening kit is among the best ways to enhance the way you look and feel about your smile.
To learn more about teeth whitening click here.

SAME DAY CROWNS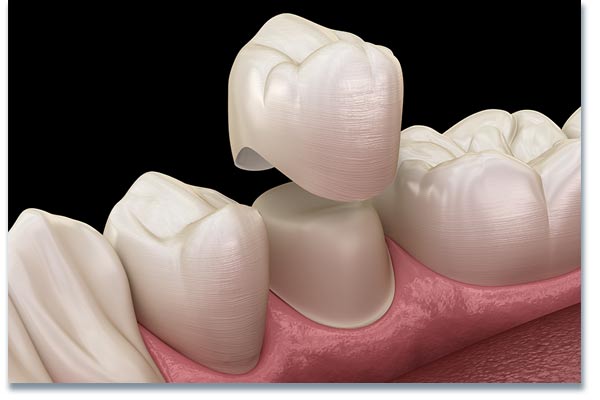 Using the E4D Dental Tooth Crown System, Dr. Flora is able to offer you same day crowns, fillings and veneers at Greenleaf Family Dentistry. Your entire visit and treatment can be completed in just one appointment. You no longer need to worry about follow up visits or temporary crowns that need constant replacing.
To learn more about same day crowns click here.

SMILE MAKEOVER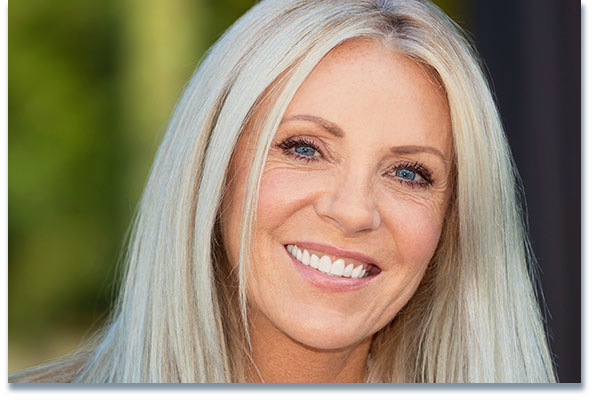 Smile design is like a dental work of art that transforms an imperfect smile into one worth showing off. Whatever the inspiration for your new smile, Dr. Flora has the ability to design a smile that meets your desires. After careful consideration, Dr. Flora will design a smile that enhances your facial features personally using advanced cosmetic dentistry. Dr. Flora approaches your treatment plan like an architectural blueprint. To optimize it, he creates a diagnostic wax-up of your new smile. The diagnostic wax-up will give you the opportunity to address any concerns and allows him to make any necessary adjustments before any permanent cosmetic dentistry is put in place. This process provides you great confidence that your smile makeover will be handled with accuracy and attention to detail.
To learn more about smile makeovers click here.

ROOT CANALS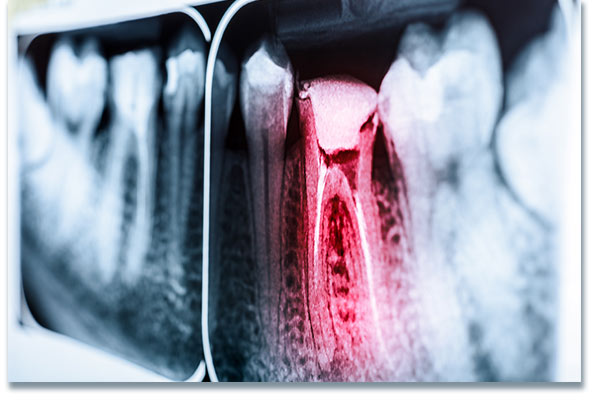 Root canal treatment helps to stop damage caused by tooth decay or an infection, and usually becomes necessary only once the decay has broken through the protective layer of dentin and into the pulp chamber, infecting the sensitive dental pulp (the living tissue inside of a tooth). A root canal procedure can save a tooth that would otherwise die, helping to prevent the need for extraction – which is a costly proposition! Thankfully, root canals are affordable, highly effective, and they usually last a lifetime.
To learn more about root canals click here.

PORCELAIN VENEERS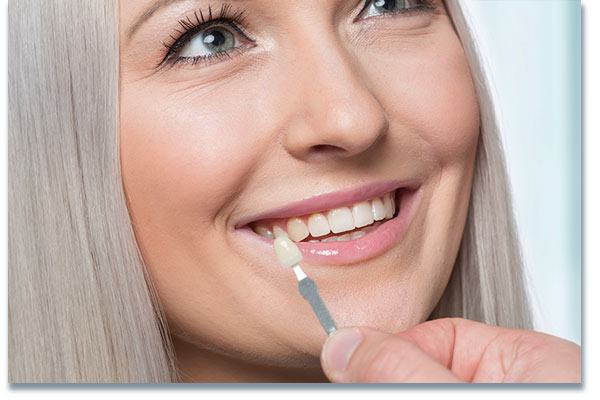 A porcelain veneer is a thin shell made of porcelain that covers flaws of the teeth. Porcelain is an extremely durable material that matches the likeness of tooth enamel in color, translucency, and texture. It resists decay and is not susceptible to staining, making porcelain veneers a long-lasting solution that looks completely natural.
Many general and cosmetic dentists offer porcelain veneers, yet, Dr. Flora has quality continuing education to make him stand out from the rest. He has devoted extensive continuing education to perfecting his preparation and placement of veneers and retaining structural stability in his patients' bite – ensuring his veneers not only look amazing, but also last a very long time!
To learn more about porcelain veneers click here.

TMJ TREATMENT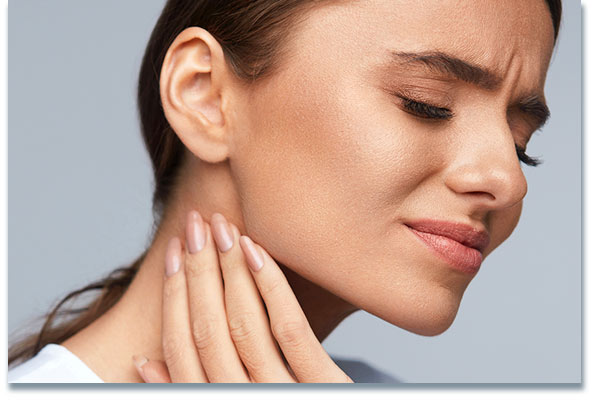 TMJ is short for "temporomandibular joint". These are small joints that attach the jaw to the skull and are among the most complex joints of the entire body. Because the TMJ is located in an intricate area of teeth, muscles and nerves, disorders of the TMJ may cause patients to experience a range of discomforts throughout the entire body. TMJ disorders are typically the result of malocclusion, also known as a misaligned bite. Malocclusion happens when the upper and lower teeth do not close together correctly and cannot support the facial muscles in common functions like speaking, chewing or swallowing. This puts stress on the muscles of the face resulting in pain in areas such as the face, head, neck, shoulders, and upper or lower back.
To learn more about TMJ treatment click here.

SLEEP APNEA / SNORING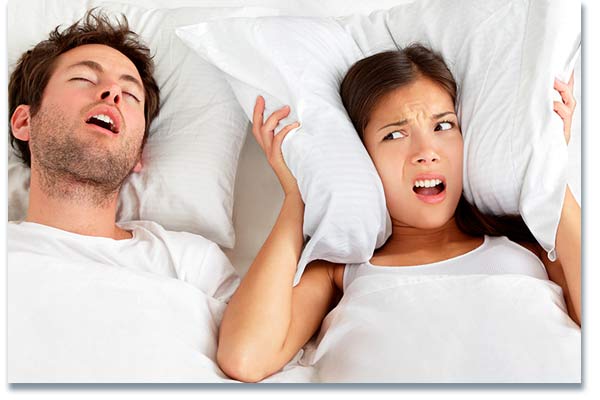 Snoring occurs when the airway or passage through which we breathe becomes partially blocked or occluded. As the diameter or size of the airway passage is shrinking, the net result is a muffled sound secondary to vibrations in the throat, or snoring.
In many situations, this compromise is minor and the body continues to get adequate amounts of oxygen to cause little or no harm. However, this is a red flag as it could also be one of the early signs or a part of sleep apnea.
Most all sleep apnea sufferers snore in between bouts of apnea, or oxygen interruption. A sleep study should be done to determine the seriousness of one's condition.
To learn more about sleep apnea and snoring treatments click here.

CROWNS & BRIDGES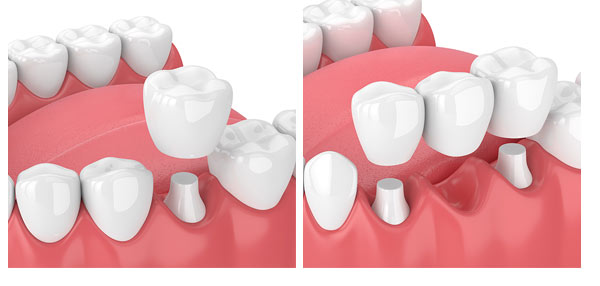 A dental crown (illustration above left) can be used to restore strength, function, and esthetics to a tooth that has severe decay, a failing filling or is at risk of fracture. Proactively treating these suspect teeth with all-ceramic crowns offers greater longevity to maintain a healthy smile.
A dental bridge (illustration above right) is used to replace one or more missing teeth. A bridge is held in place by a crown on both sides of a space, bonded to a false tooth (or teeth) between them. These crowns are then firmly bonded to the remaining surrounding teeth.
To learn more about crowns and bridges click here.
METAL-FREE FILLINGS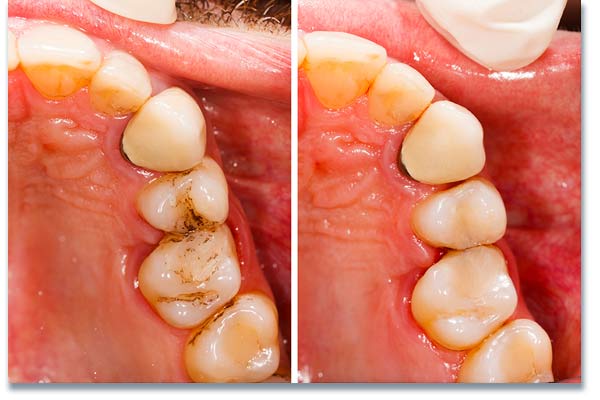 Metal-free fillings bond better to the tooth structure than metal fillings, making them an ideal restoration option. These fillings are composed of a composite resin material that can be color-matched by Dr. Flora to blend naturally with the rest of your smile. Strong bonding properties reduce the need for tooth reduction compared to metal amalgam fillings, making them a more conservative restoration. Older metal fillings are more destructive.
To learn more about metal-free fillings click here.

INLAYS & ONLAYS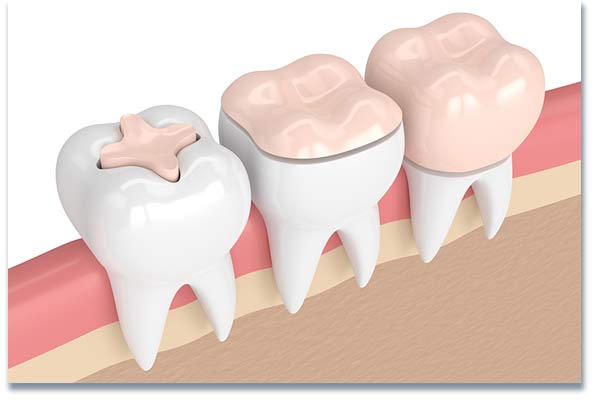 Dr. Flora offers inlays and onlays to Michiana area patients to restore a decayed or broken tooth. Conserving tooth structure while strengthening and protecting the health of a tooth is achieved with an inlay or onlay. Porcelain inlays or onlays are placed like a puzzle piece into the missing tooth structure. Dr. Flora has a keen eye to complete this technique-sensitive procedure. Conserving the natural tooth is always the priority option and an inlay or onlay is a great dental restoration when a crown is too aggressive.
The illustration above shows an inlay on the left tooth, an onlay on the center tooth and a crown on the right tooth. The color difference is for the purpose of showing definition.
To learn more about inlays and onlays click here.
ATHLETIC MOUTHGUARDS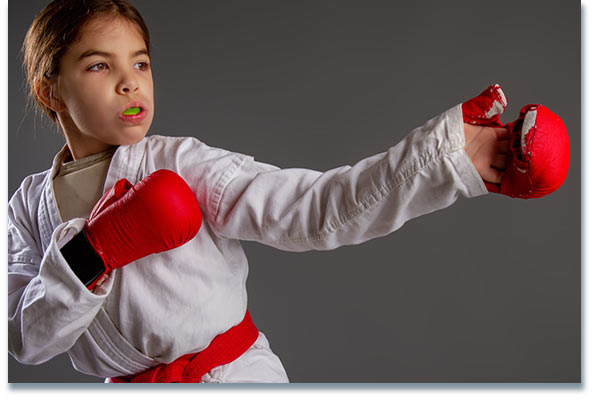 A custom-fit mouthguard provides superior comfort with the greatest support. A custom mouthguard is designed to fit the precise dimensions of your teeth and supporting structures, allowing for normal speech pattern. A mouthguard by Dr. Flora can be customized depending on your specific sport. These custom-fit mouthguards have the ability to absorb impact and protect your teeth unlike any store-bought mouthguard. This means significantly less risk to the teeth, gums, and face and may also reduce the risk of serious injuries such as concussion.
To learn more about athletic mouthguards click here.
CHILDREN'S DENTISTRY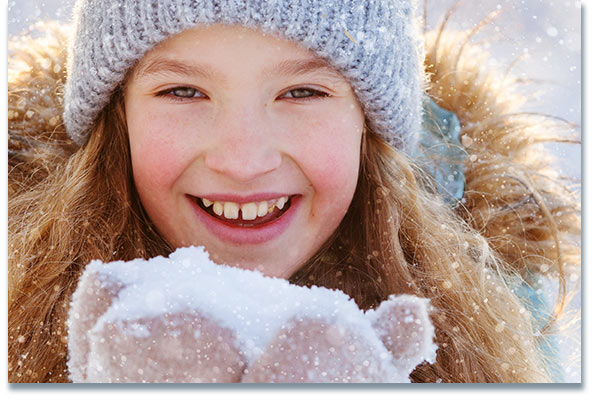 We know that some families choose to see a pediatric dentist. The American Academy of Pediatric Dentistry recommends that when your child has lost their baby teeth and/or reached the age of 12, they begin to see a general dentist.Pediatric dentists specialize in management of children's and baby's teeth. General dentists, such as Greenleaf Family Dentistry, specialize in the health and appearance of permanent teeth.
Use of the Latest Technology Means Having A Great Dental Experience!
DIGITAL RADIOLOGY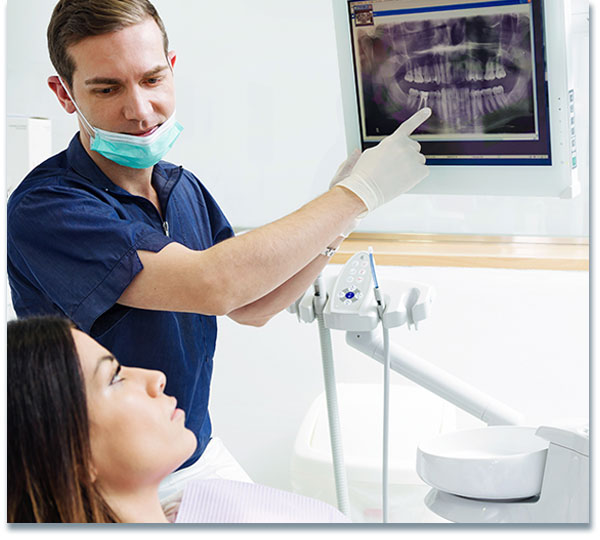 Greenleaf Family Dentistry has been using digital radiographs instead of traditional X-Rays since 1999. (Of course, the original systems have been replaced since then.) There are multiple advantages of using this technology. Probably the most significant is the reduced radiation exposure to the patient - at least 75% less. Secondly, there is a minimal impact on the environment with digital, due to the elimination of developer chemicals and fixing solutions. Plus, the immediate availability of images - no waiting for film development - and images can be enhanced in size and clarity on screen for improved diagnosing of dental pathology.
3D Printers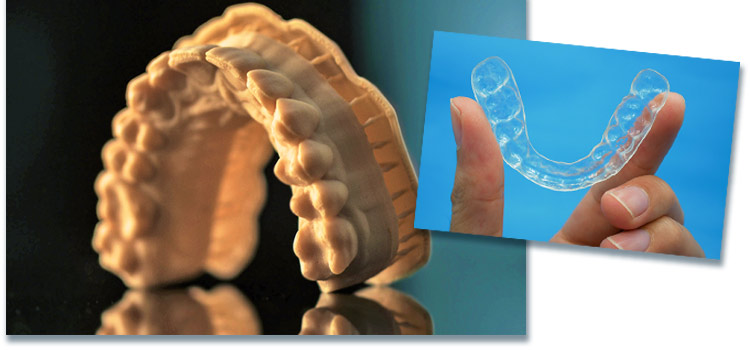 Digital scanners are used to create digital images of the patient's teeth, which are then programmed into state-of-the-art 3D printers to print models that will be used to make the clear aligner trays that will gradually straighten the patient's teeth.

Cone Beam Computer Tomography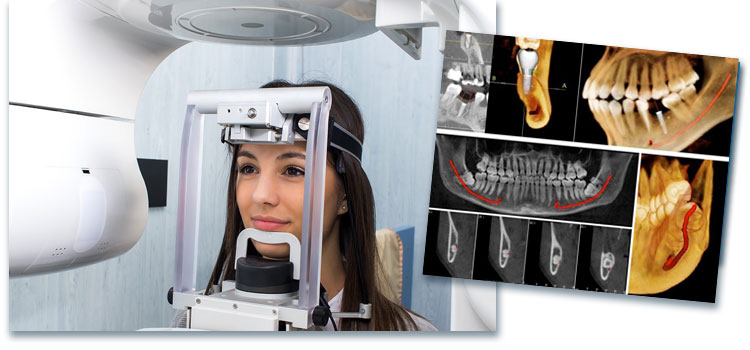 This technology uses one-tenth the radiation of a traditional CAT Scan machine, while allowing technicians to see a three-dimensional image of all relevant structures. (A digital x-ray allows only a 2-dimensional image to be seen.) This 3-D imagery is essential when assessing dental implants, TMJ, dental pathology, impacted teeth, traumatic injury, and root fractures.

Digital Panoramic X-Ray and Extra-Oral Bitewing X-Rays



This technology produces digital panoramic x-rays and bite wing x-rays with 80% less radiation when compared with traditional x-rays.
Bitewing x-rays are done outside the mouth, eliminating the gagging discomfort usually associated with bitewing x-rays
E4D Same Day Crowns



The Planmeca E4D System creates the dental impression with a digital scanner, then one of three milling machines creates the specific restoration for the patient's mouth
within approximately two to three hours.
Intra-Oral Camera


An intraoral camera is a state-of-the-art dental device that allows the patient to see for themselves what is going on with their teeth, and hence they are able to help the dental staff make informed decisions about what to do.

DIAGNOdent Laser Cavity Detection


In order to maintain healthy teeth, the earliest possible diagnosis of problems is essential. DIAGNOdent aids in the early detection of cavities. Even very small lesions and incipient caries can be detected, enabling early intervention to protect and preserve the tooth substance.

TVs in Patient Exam Areas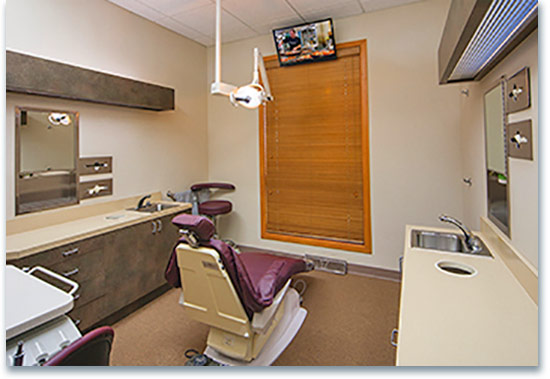 Adding to a pleasant experience in the exam chair is the addition of a TV mounted on the ceiling or high on the wall above the chair in each exam room. Those times of waiting during pauses in procedures go by so much quicker thanks to this technology!


1520 Osolo Road
Elkhart, Indiana 46514
574.262.9619