George Mighion Dentistry
If You Need A Good Family Dentist Or Cosmetic Dentist In Mishawaka,
Dr. George Is Here To Save The Day!
Looking for a great dentist in the Mishawaka / South Bend area? You may want to check into George Mighion Dentistry. Dr. George (as his patients fondly refer to him) is a local dentist focusing on Family Dentistry, Cosmetic Dentistry and Sedation Dentistry. That's not to say that George Mighion Dentistry is limited to those areas of dental practice, in fact far from it, but Dr. George and the team at Mighion is certainly well-known for those areas of dentistry in the Mishawaka and South Bend area.
When it comes to Family Dentistry, Dr. George Mighion and his team are one of Mishawaka's preferred largely due to their caring approach to their dental patients. From the kids to the grandparents, Dr. George Mighion takes exceptional care of them all. Dr. George takes a gentle approach to dentistry to his family dentistry patients and they rave about his bedside manner. However, make no mistake, Geroge Mighion is also a well trained doctor that studies his field with passion.
When you think of Cosmetic Dentistry in the Mishawaka area George Mighion Dentistry's name also rises to the top. As the practicing dentist at Mighion Dentistry, Dr. George has been changing his patient's lives for well over 20 years. His passion for dentistry and his love of learning to be the best has kept him on the on the leading edge of dentistry. Using the latest technology and finest materials available, Dr. George Mighion makes his patients want to smile... and they smile beautifully once Dr. George does his magic!

Dr. George Mighion
makes his patients want to smile...
and they smile beautifully
once Dr. George does his magic!

George Mighion Dentistry Introduction Video


George Mighion Dentistry
Making First Impressions Memorable!

If you want to feel great, you certainly want to look your best. That's difficult to do if you don't feel good about your teeth... and it's certainly even more difficult to make a great first impression. That's exactly why the folks at George Mighion Dentistry focus on complete oral health and cosmetic dentistry. Feeling great about your smile is going to make you feel better about most everything else. Ensuring that your mouth is healthy and free of pain is also significant in the way you feel. That's why Dr. Georg goes the extra mile to make sure your teeth are healthy and that they look amazing!
Dr. George A. Mighion and his Mishawaka, IN dental team want to make your experience at the dentist a pleasant one. It's their goal to help you achieve your goal of having a healthy, attractive, and functional smile that you're proud to show off. Whether you are ready for a new family dentist in Mishawaka or are considering options in cosmetic dentistry, Dr. Mighion and his team can help.
The George Mighion Dentistry Difference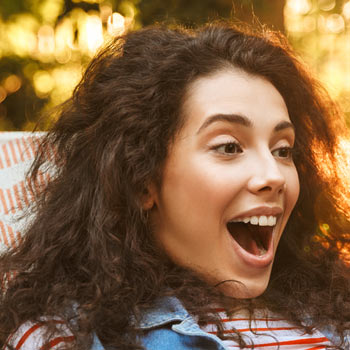 Like most other great dentists, what gives them that competitive edge is typically- personality (everyone want a caring compassionate dentist), experience, talent, continuing education, incorporation of the latest technologies, a good staff and of course, convenience. Well with Dr. George Mighion and his Mishawaka dental team, they somehow have combined all of these competitive advantages into one practice, to make for one of Michiana's most sought after dentists.
To further that, Dr. George delivers a multitude of services to his patients including Cosmetic Dentistry, Family Dentistry, Implants, Sedation Dentistry, Orthodontics and more. That makes George Mighion Dentistry a local Mishawaka dentist that offers pretty much every good reason for patients to put him on their "serious about this dentist" list!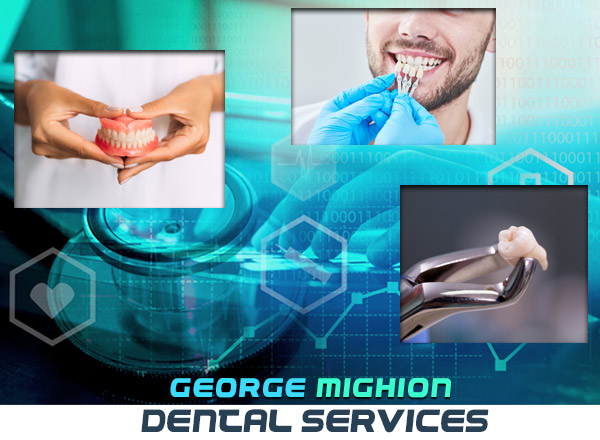 DR. GEORGE MIGHION DENTISTRY SERVICES
Dr. George A. Mighion has expertise in both cosmetic and family dentistry. He believes that a great smile can last a lifetime. With the proper dental care and good advice from a caring professional, there is no doubt that your odds of that improve dramatically. Beyond the look and functionality of your teeth, you should also be concerned with your gum health, too. Periodontal disease can have far-reaching effects on your smile and on your overall health with links to many systemic diseases. Oral cancer screening is another important preventative area that a dentist like George Mighion DDS can help you with.
Also, if you need help with dental restorations, have a toothache or other dental emergency, or are ready to explore options to restore and improve your smile, preventative dentistry treatments are offered in Dr. Mighion's dental office.
Dr. Mighion offers a complete list of services including:
Complete Family Dentistry
Learn More about these George Mighion Dentistry Services click a link below:
DENTAL EXAMS BY DR. GEORGE MIGHION
DENTAL BONDING BY MIGHION DENTISTRY
COMPOSITE FILLING BY DR. GEORGE
EMERGENCY DENTAL CARE TIPS

Comprehensive Cosmetic Dentistry
Check Out Dr. Mighion's Cosmetic Dentistry Services below:
TOOTH ACHES
TEETH WHITENING
PORCELAIN VENEERS
OZONE THERAPY
Dental Implants
Information on George Mighion Dentistry Implants:
DENTAL CROWNS
DENTURES
DENTAL BRIDGES
FULL MOUTH RECONSTRUCTION
WISDOM TOOTH EXTRACION
DENTAL SEALANTS


Orthodontics
6 MONTH SMILES

Periodental Dental Services
GUM DISEASE SERVICES

Sedation Dentistry
MORE ABOUT SEDATION DENTISTRY

TMJ and Headaches Help (caused from Dental Issues)
LEARN ABOUT MJ & HEADACHES
Sleep Apnea
INFORMATION ON SLEEP APNEA HERE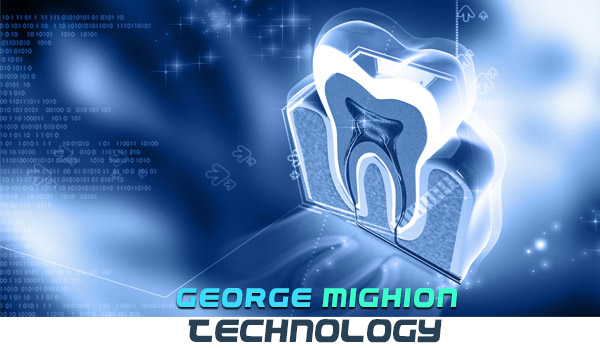 Dr. Mighion for Gentle and Cutting Edge Dentistry
At Dr. George Mighion Dentistry, they care about patient comfort as well as results. Dr. George is one of those professionals who continually strive to bring his patients the latest in dental technology so that they get the most out of each dentist appointment. While technologically advanced Mighion is also a big believer in holistic dental care and he carefully blends the two together to bring patients the very best of both worlds... and more effective dental care.

The Latest in Modern Dental Technology Used in Dr. Mighion's Mishawaka Dental Office
According to George Mighion, remaining at the forefront of dentistry means constantly evaluating and implementing the right technology for our patients. At their Mishawaka dentist location they practice conservative dentistry in a state-of-the-art office, offering accurate diagnoses and efficient, comfortable care.
Digital X-rays & Digital Imaging
Radiography is important for proper diagnosis and effective treatment. Now digital radiography offers more concise, clear images with up to 80% less radiation. With instant review on a chairside monitor and the conveniences associated with the storage and transfer of digital files, digital X-rays offer marked advantages over their conventional counterparts.
We leverage digital imaging technology, including Planmaca's Cone Beam technology so that we can leverage the many benefits of 3D imaging as well as use them to share helpful information in patient consultations.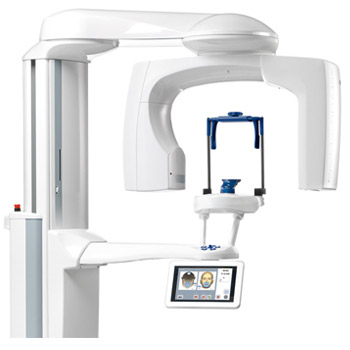 E4D Dental Crowns
Dr. Mighion can repair a compromised tooth in a single visit with E4D dental crowns. By combining digital scanning, advanced imaging and rendering software, an accurate color matching system, and a precise milling machine, E4D creates lifelike all-porcelain crowns and other restorations in about an hour.
For more on E4F Dental Crowns click here
Ozone Therapy
A revolution and modern medical miracle, we've harnessed the safe healing power of ozone gas to destroy cavity-causing bacteria and reverse its effects. This comfortable treatment means less drilling, less risk of infection, and much less stress at dental visits. Dr. George leverages ozone therapy with endodontics (root canal therapy), periodontal disease treatment and well as in cavity treatment.
OralID Oral Screening
Very simply, early detection of oral cancer saves lives and a screening every six months is imperative to your oral health. Dr. Mighion not only provides an expert sight exam, but also uses OralID to spot problems before they are visible to the naked eye. A comfortable, accurate screening tool, OralID uses a special light to detect areas of potential concern.
Laser Dentistry
The George Mighion Dentistry Team in Mishawaka uses the Convergent Dental's Solea All Tissue Laser tool to help with a variety of procedures, including frenulum release, to help with gummy smiles, as well as to give Dr. Mighion the ability to offer pain free dental fillings without anesthesia. Laser dentistry offers a variety of benefits including the fact that you won't need sutures after laser dental procedures. If you like the sound of that you can find out more by calling Dr. Mighion's Mishawaka Dental Office at: 574.393.8663 or you can visit their website at: drgeorgemighiondentistry.com


GEORGE MIGHION DENTISTRY TEAM
The Dental Team at George Mighion Dentistry is truly one of a kind. With years of experience, combined with talent and compassion Dr. George and his staff are certainly win the hearts of their patients. Dr. Mighion and his team are dedicated to delivering clinically excellent care while always focusing on your unique needs.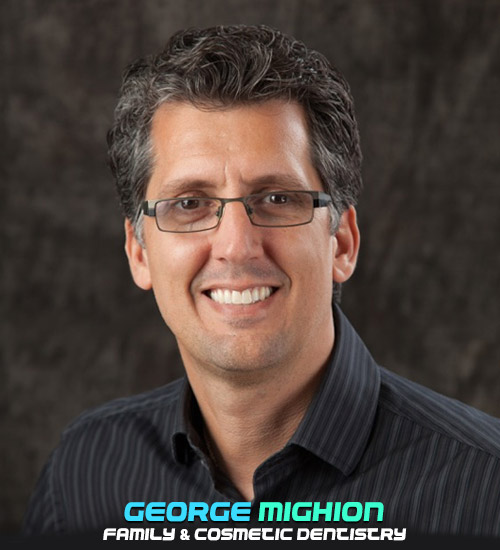 George "Dr. George" Mighion
Dr. George has been changing people's lives for over 20 years. With a passion for dentistry and a love of learning, he has dedicated his life to staying on the leading edge of dentistry. Using the latest technology and finest materials available, Dr. George creates beautiful smiles in a comfortable and caring environment.
Originally from Mt. Clemens, Michigan, Dr. George moved to South Bend in 1979 after the loss of his father. He graduated from Marian High School in 1988 then went on to attend Indiana University Bloomington receiving his Bachelor of Science in Biology with a Minor in America Military History in 1992.
After graduating from the Indiana University School of Dentistry in 1996, Dr. George returned to South Bend and began practicing dentistry. Initially he practiced as an associate in Mishawaka, but in 1998 he purchased this same practice. In January 2003, he moved his growing practice to its current location and expanded the facility shortly after.
Dr. George uses a modern holistic approach to his dentistry. He believes in looking at how one's dental health may be affecting their overall health and well-being. Dr. George has trained with some of the most recognized dentists in the world such as the prestigious Hornbook Group for cosmetic dentistry and The New York Implant Institute for dental implants. Additionally, he was a participant in the Mini Residency for Sleep and Breathing under Dr. Olomos, and was trained in Oral Conscious Sedation by DOCS and cosmetic braces thru Six Month Smiles.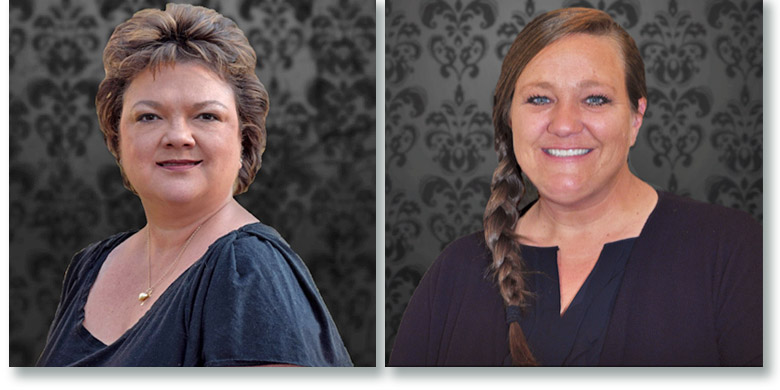 LINDA (left) & Deb F (right)

Linda: Expanded Functions Dental Assistant & Smile Design Specialist
Linda is an extremely knowledgeable dental assistant who is great at helping patients relax and feel comfortable. She has been in the dentistry since 1994 and is highly skilled. Linda has been a vital part of the Geroge Mighion Dentistry Team since 2001. Linda was born and raised in South Bend. She is a graduate of John Adams High School and received her dental education at Indiana University at South Bend. Additionally, Linda teaches Expanded Functions Dental Assisting at IVY Tech College in South Bend. Linda has two grown children and a grandson. She enjoys spending time around the campfire when she can.
Deb F: Expanded Functions Dental Assistant & Smile Design Specialist
Deb has been an Expanded Functions Dental Assistant for over 25 years and is highly skilled. Her favorite part of dentistry is seeing the life changing results that cosmetic dentistry can provide for her patients. Deb and her husband Brian have been married for 22 years and have two wonderful daughters, Ali and Olivia, and two fur babies, Konan and Willow. When she is not at work she enjoys spending time with friends and family, gardening and traveling. Deb was born and raised in South Bend, Indiana. She is a graduate of Marian high school and Indiana University.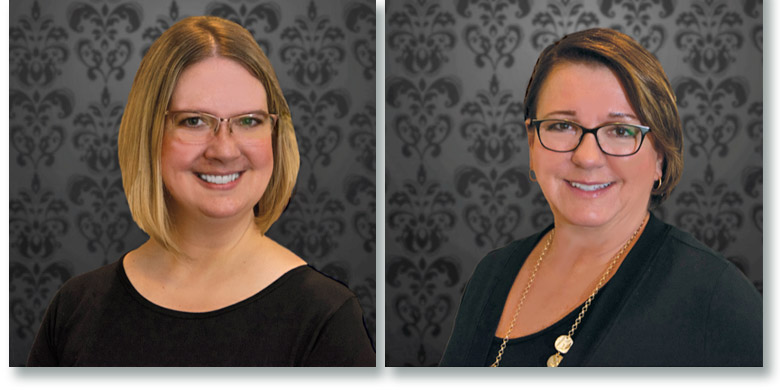 DEBBIE R (left) & DEBORAH B (right)
Debbie R: Sterilization Technician
Debbie has been a valuable part of the George Mighion Denistry Family since April 2017. She ensures that all of their dental tools and equipment are sterilized for each patient's safety. Additionally, she prepares procedural trays and efficiently cleans all of their treatment rooms after each appointment. Debbie was born and raised in South Bend - Mishawaka area. She is a graduate of Mishawaka High School and has an associate degree from International Business College in Fort Wayne, IN. Debbie is married and has two beautiful. When she is not working, she enjoys spending time with her family and two dogs.
Deborah B: Dental Hygienist
Deborah has a passion for dentistry and has been in the dental field for 40 years. She initially began her dental career as a dental assistant and enjoyed caring for patients in this position for 20 years. Deborah's love of dentistry called her back to school and a few years later she proudly graduated from Indiana University at South Bend's Dental Hygiene Program. Her dedication to the patient's health and well-being is unwavering. Deborah has made George Mighion Dentistry her home since 2004. On her days off you can find Deborah enjoying her grandchildren, landscaping around her home, or relaxing with a good book.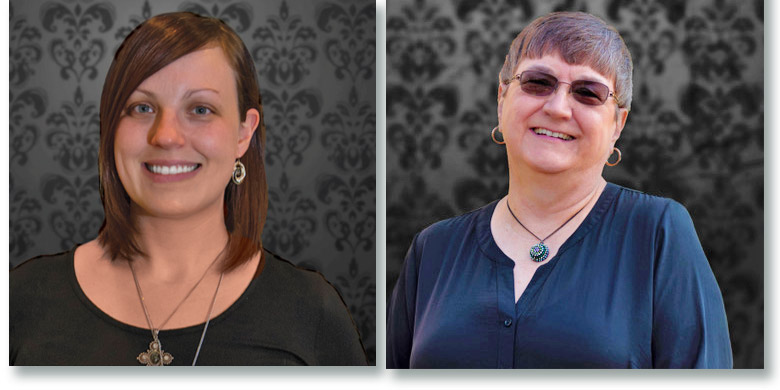 CARING (left) & BEVERLY (right)
Caring: Dental Hygienist
Caring earned her Bachelor's of Science in Dental Hygiene from Indiana University South Bend in the Spring of 2017. Immediately after she joined the George Mignion Dental Team. Since then she has been filling the office with a contagious laugh, cheery disposition and a ``can do`` attitude. Caring's infectious smile and sunny disposition will change the way you feel about going to the dentist. Caring is a Michiana native graduating with academic honors from John Adams High School in 2005. She lived in Tulsa, Oklahoma for a brief period but returned to the midwest in 2009. She was a certified trainer and key manager for Bonefish Grill for years prior to and after receiving her bachelors degree. She even won the title of Employee of the Year for her store in 2014.
Beverly: Insurance Specialist
Beverly, known lovingly at George Mighion Dentistry as "Aunt Bev", has known Dr. Mighion for many years as she is his wife's aunt. She retired from Associates Financial / Citi Group after 35 years of service. Initially, Dr. Mighion pulled her out of retirement in 2012 to help with a large project within the office. However, he was quick to notice how curious and meticulous she was so he never let her go. Beverly tirelessly works with insurance companies to maximize our patient's benefits and she really doesn't take no for an answer. A life long resident of Michiana, she is a graduate of John Adams High School. Beverly is a dedicated volunteer for Pet Refuge and has enjoys being a foster mom for cats. Additionally, Beverly is a member of the Michiana Hoosiers Unit Marine Corp League Auxiliary.

CHRISTINA (left) MICHELLE (center) & KYLEY (right)

Christina: Administrative Team - Medical Insurance Coordinator
To say that Christina wears multiple hats within the Mighion administrative team is definitely an understatement. She is energetic, knowledgeable, and is always willing to go the extra mile for patients and other team members. Her contagious personality makes you feel like you're an extension of her own family. Christina has been an integral part of Dr. Mighion's dental family since 2010. During that time she took a short hiatus to go back to school and obtain a degree in nursing, but just couldn't stay away. A long time resident of Mishawaka and graduate of Mishawaka High School, Christina has been happily married for 20 years. Together with her husband, they have four children and four grandchildren. When she is not busy helping patients, she enjoys doing crafts, going to the beach, and spending time with her husband.
Michele: Treatment Coordinator
Michelle has been a part of the dental field for over 12 years. With an extensive background as a clinical assistant in both general dentistry and oral surgery, she now uses her procedural knowledge to help effectively process dental insurance pre-determinations and schedule in-office treatment with Dr. Mighion. Michelle is cheerful disposition and warm smile greets you, She may very well be the person answering the phone eager to address questions and concerns. Michelle has one adult daughter and an adorable 4 year old bulldog/beagle mix. She enjoys walking, gardening, reading, and other quiet activities in her spare time.
Kyley: Hygiene Coordinator
Kyley joined the Mighion Dentistry Family in February of 2019. You'll often find her with a smile on her face eager to assist patients and support her team members. Kyley is the firm's dental hygiene concierge. She is your "go to" should you need accommodations or if you have any questions related to your upcoming dental hygiene appointment. A graduate of Penn High School, Kyley discovered her love for dentistry and working with the public while attending the dental assisting program offered through the Elkhart Area Career Center. Kyley was born and raised in Osceola, and still resides there. In her free time she enjoys spending time with friends and family, and her German-Australian Sheppard puppy "Rhett."

DR. GEORGE MIGHION DENTISTRY
PATIENT REVIEWS
SUPER FRIENDLY
Most definitely the best dental experience I have ever had and let me tell you I dislike going to any dentist. Completely friendly funny and informative. Great experience!
Sara G
HE'S THE BOMB
Dr. George makes you feel like no other dentist I've ever been to. He is the real deal!
John F

IF I WERE A DENTIST
If I were a dentist and needed dental work... this is the guy I would go to. Great all the way around.
Debra Z

FIVE STARS PLUS 1
There are not enough stars to rate Dr. Mighion. He and his team are by far the best.
NEVER GO TO ANOTER DENTIST
I found about Dr. George through a concierge service. They said he was one of the best in Michiana. They were wrong. He's the #1 Best in Michiana! Thanks Dr. George.
Cynthia M


3420 HICKORY ROAD MISHAWAKA, IN 46545
574.393.8663

DENTAL EMERGENCIES
Dr. Mighion offers emergency care to patients of record only. If you are experiencing a dental emergency, please contact our office. We'll assess your emergency as soon as possible and provide further instruction and appointments as necessary.
HOURS
Mon-Wed 8A-5P
Thurs 9A-5P
Closed Fri-Sun
DENTAL SITES WORTH KNOWING ABOUT
American Dental Association
Indiana Dental Association
Doctors of Oral Conscious Sedation
American Academy of Sleep Medicine
American Academy of Cosmetic Dentistry
International Congress of Oral Implantologists

OTHER HEALTHCARE SITES WORTH KNOWING ABOUT
WebMD
National Institutes of Health
MD Anderson Cancer Center
Memorial Sloan Kettering Cancer Center
Mayo Clinic
Cleveland Clinic
Massachusetts General
Wexner Medical Center Ohio State
Johns Hopkins Medical Center
Bascom Palmer Eye Institute
Wills Eye Institute
Wilmer Eye Institute Johns Hopkins
Hospital for Special Surgery
Kessler Rehabilitation Center