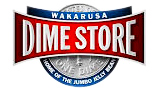 MICHIANA'S FUN & CANDY SHOP
The Wakarusa Dime Store
Michiana's Popular Little Candy Store Delivers The Goodies!
If you want to feel like a kid again all you have to do is step foot inside the nostalgic Wakarusa Dime Store. Filled with so many candy varieties, colors, tastes sizes and shapes you become mesmerized instantly as you enter the store. The Wakarusa Dime Store is unique in not just appearance but by the way it is run as well. Operated by husband and wife team, Mac and Deb McNally, the store runs with the same family an community traditions and values as it did when it was first originated way back in 1907 (it was originally a department store). Yet still today when you stroll down the stores aisles, all buggy-eyed, you will hear giggles and laughs and sighs as their customers reminisce with their favorite candy.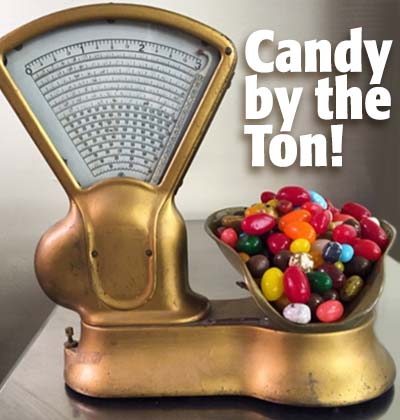 When you visit Wakarusa Dime Store it's like going back into time. Surrounded by candies of yesteryear, this place just makes you feel good!Janice B South Bend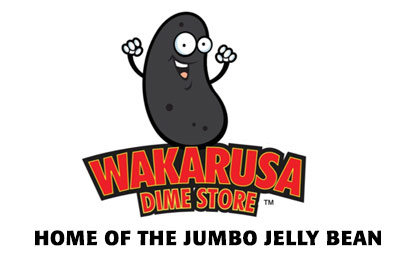 Wakarusa Dime Store, Home of the World Famous Jumbo Jellybean.
TRY ONE.
Your life will never be the same.
One of the things that Wakarusa Dime Store is known for is their Giant Jelly Beans. With a wonderful selection of flavors, these huge jellybeans are a favorite of the entire community... now that truly is a mouthful!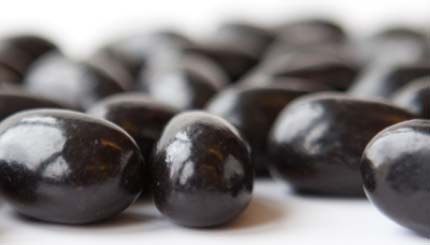 BLACK LICORICE was the flavor of the original Jumbo Jelly Bean developed by Lou Wolfberg in 1969. Still a favorite today.

History of The Wakarusa Dime Store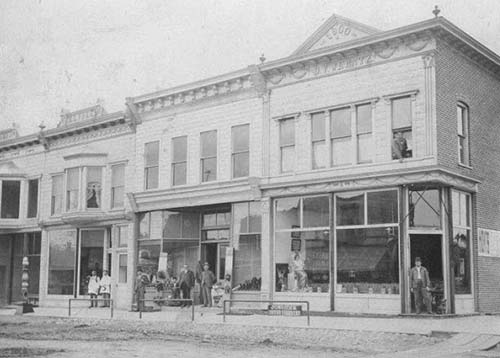 Photo Credit: Wakarusa Public Library
The Wakarusa Dime Store has deep roots in the American dream. Mose Wolfberg, a German immigrant, traveled much of Elkhart County and beyond with a pack on his back, selling his wares from farm to farm. He eventually chose a permanent location for his budding business. In 1907 Mose opened Wolfberg's Department Store in the small North-Central Indiana town of Wakarusa. A variety store was soon added, which is today the Wakarusa Dime Store.
In the late 1960's the task was assigned to Lou Wolfberg, Mose's son, to develop a candy for the new Maple Syrup Festival. The resulting Jumbo Jelly Beans were introduced in 1969 and 100 pounds were sold that year. The sweet treat developed by Lou Wolfberg has become more famous than he ever could have imagined. Today over 75 tons are sold annually. Building a following world-wide, the Wakarusa Dime Store Jumbo Jelly Beans have truly earned the title of "World Famous".
The Wolfberg family operated the store until 1983. The current owners bought the store in 1995 and continue to run it with the same commitment to quality and tradition as Wolfberg did himself. With equal parts of fondness for yesterday and a vision for the future, the current owners have compiled the greatest assortment of fine candies along with nostalgic candies that will take you back in time to the days of your youth. We invite you to take that trip, as you visit either of our stores or peruse our website.
One of the things I've heard
them say that I totally agree with is...
Life is Short,
Eat Candy,
Have Fun
I Love these guys!
Ron M - Elkhart
Jumbo Jellybeans



To see, taste and purchase between 15 and 20 varieties of Jumbo Jellybeans, visit our website store, or one of our historic storefronts in Wakarusa or Granger, Indiana.

Nostalgic Favorites




Yes, we have Wax Lips (and Wax Moustaches, too) plus hundreds more of your long gone and hard-to-find favorites!
To see, taste and purchase our full selection of Jumbo Jellybeans, Nostalgic Favorites, Taffys and Fine Candies, visit our website store, or one of our historic storefronts in Wakarusa or Granger, Indiana.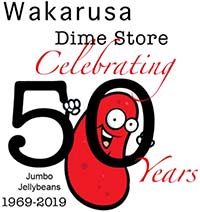 The Wakarusa Dime Store
Home of the World Famous Jumbo Jellybean

103 E. Waterford Street, Wakarusa, IN, 46573
574.862.4690

340 W. Cleveland Road, Granger, IN 46545
574.855.4473
Here are some other places you might find interesting!
Action Park Paintball (Mishawaka, IN)http://actionparkpaintball.com/
The Twisted Cow (Elkhart, IN) http://twistedcowfrozentreats.com/
Mega Blast (Goshen, IN) http://www.megablastlasertag.com/
Shipshewana Trading Place (Shipshewana, IN) https://shipshewanatradingplace.com/

Dan O'Day Dance Club http://www.danodaydanceclub.com/
Eby's Family Fun (Bristol. IN) https://www.ebysfamilyfun.com/birthday-parties
Legend Park (Mishawaka, IN) https://legendpark.com/
Tree-Mendus Fruit (Eau Claire, MI) http://www.treemendus-fruit.com/index.html
Simonton Lake Drive-In (Elkhart, IN) http://www.simontonlakedrivein.com/

The Savory Kernel (Granger, IN) https://thesavorykernel.com/
Buy Me Toys.com (Mishawaka, IN) http://buymetoys.com/catalog/
Vegetable Buddies (South Bend, IN) http://www.buddiesdtsb.com/
Silver Beach Carousel (St. Joseph, MI) https://www.silverbeachcarousel.com/
Media Madhouse (Elkhart, IN) https://www.facebook.com/Media-Madhouse-289535320773/
Captain Mike's Fun Park (Bridgman, MI) http://captainmikesamusementpark.com/

New Buffalo Railroad Museum, (New Buffalo, MI) http://new-buffalo-railroad-museum.org/
Curious Kids' Museum (St. Joseph, MI) http://www.curiouskidsmuseum.org/
Studebaker National Museum (South Bend, IN) https://studebakermuseum.org
Hart City Scuba (Elkhart, IN) http://www.hartcityscuba.com/
Amish Acres (Nappanee, IN) https://www.amishacres.com/